Steam sauté is a procedure for cooking that omits the need for oil, and I have used this method on several occasions with wonderful results on vegetables. The use of stocks in place of oil adds flavor while making the dish healthier, and in fact, the vegetables seem to taste better to me.
This easy recipe has no oil or salt added to the dish, and the onions, garlic, and tomatoes are steam sautéed, which works and tastes just as good without the oil and salt.
This recipe is just one ingredient short of being a ratatouille, and eggplant would fit the bill to complete that dish. Can can add the eggplant along with the squashes in step 2 and proceed in the similar manner.
Ingredients
2
Cups
Vegetable stock
2
Cups
Onions, julienne
1
Tbsp
Garlic, minced
2
Cups
Tomatoes, diced
3
Cups
Zucchini, cut into half-moon slice ¼" thick
3
Cups
Yellow squash, cut into half-moon slices ¼" thick
1
Tbsp
Italian seasoning blend
½
Tbsp
Smoky paprika
Procedure Steps
1.
Steam sauté the onions and garlic in the vegetable stock, bring to a simmer, and allow to simmer down until the onions are translucent.  Add the tomatoes and continue to simmer until thickened.
2.
Add the remaining ingredients and stir well while simmering until vegetables are tender, or about 10 minutes.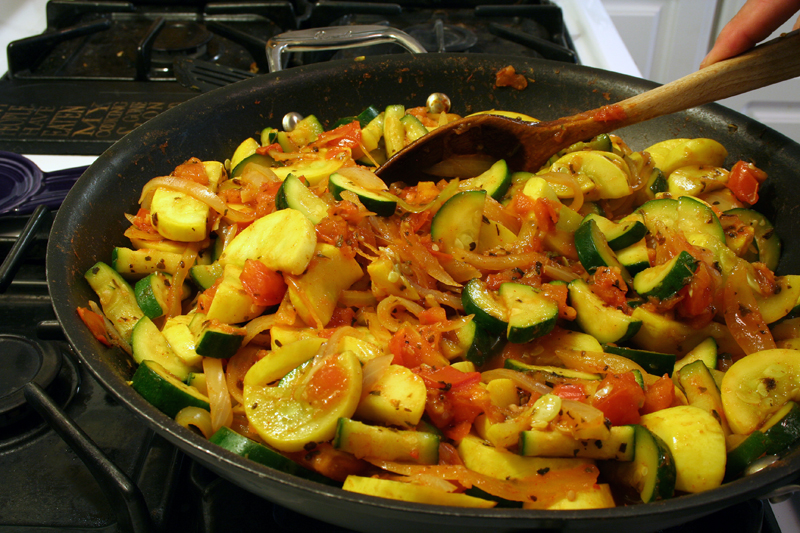 This recipe was prepared on Eat To Live, Week 4, and linked from Eat To Live, Week 4 Recap of our ETL diet and lifestyle, you can follow our complete progress at Eat To Live.