This is a three-part post! First, the Spirit of New Orleans is highlighted in the embedded video entitled The Soul of New Orleans, then I present my Chicken,  Sausage, and Shrimp Gumbo, a perfect treat for Mardi Gras parade watching, and then finally more Mardi Gras history and current events in and around New Orleans.
Follow along with Drick Perry and his "Drick's Rambling Cafe" with his post today entitled The Food We Eat, sharing the Mobile, AL Mardi Gras traditions with his Gulf Coast Seafood Gumbo, while I share the New Orleans side of the carnival festivities.
The Mardi Gras Series
Previous posts in our Mardi Gras series include Drick's:
Roast Beef Sandwiches dripping with mouth-watering gravy / Eggs Creole, a brunch casserole perfect for guest / Shrimp & Grits – 2 recipes / My take on bouillabaisse and always a crowd pleaser / Duck & Sausage Gumbo / Mardi Gras Pick-Me-Ups / Cajun Pastalaya / Mardi Gras Shrimp Mold / Marinated Shrimp & Mushrooms.
And my previous entries include:
Welcome to Mardi Gras 2010 / an awesome King Cake recipe / a parade tradition and fun post on Sloppy Joe's with Sweet Potato Fries / see a little Paris in New Orleans & his Eggs Florentine Omelet / his New Orleans Roast Beef Poboy.
The Soul of New Orleans
The Soul of New Orleans is a wonderful short video narrated by Wright Thompson, and highlights the current elation that the city is feeling now. With Mardi Gras in full swing and parades rolling on weekend days and weekday nights, and with the New Orleans Saints in the Super Bowl for the first time this Sunday (02/07/2010), the city is alive more than ever before since Katrina. This Spirit of Louisiana and The Soul of New Orleans is especially represented with this fantastic video.
I have copied the narration from the video and highlighted with hyperlinks to the various people, food, places and events as they relate to this video and blog post.
The Soul of New Orleans

Narrated by Wright Thompson

The soul of New Orleans is in a trumpet and a low ceilinged bar

It's in the ubiquitous fleur de lis found everywhere from the Saints helmet to the chest of beloved horn man Kermit Ruffins

Kermit Ruffins: "The Saints is the soul of New Orleans baby"

The soul of New Orleans is in every streetcar, every oyster, every drink, from Sazeracs in thick-bottomed glasses, to those 72-ounce Bourbon Street beers

It is in Sean Payton and Drew Brees, and Darren Sharper, and Reggie Bush

These are strange and beautiful days in New Orleans

The Saints are in the Super Bowl, and the love affair between the town and this team is deep, and it is strong, and it is everywhere

Children heard singing: "Who Dat, who dat, who dat say dey gonna beat dem Saints?"

Chris Rose, Pulitzer Prize Winning Author: They are probably the best ambassadors of the recovery we've got. They carry a message from New Orleans that we're alive, we're energetic, were unified, and damit, were tired of feeling like losers.

The soul of New Orleans is on the left hand of Jesus, his thumb and forefinger are missing. People see the work of God in those missing digits.

When Katrina approached Louisiana it down graded and turned, avoiding a direct hit, Jesus you'll hear, flicked the storm away.

Archbishop Gregory Aymond: "I am glad that we have decided not to put the fingers back on the statue, it's a sign that God is using us to rebuild, and it's also a reminder of God's fidelity during a very difficult time for our city."

The soul of New Orleans is in the things that returned, from the restaurants to the football team

This city inspires an irrational love for traditions and places

People mourn the ones who didn't come back after Hurricane Katrina, and became even more fierce about the ones that did

The storm changed New Orleans, but not only for the worst, a new generation of leaders from Brees to Chef John Besh are determined to make the new New Orleans the best New Orleans

Chef John Besh, Owner/Executive Chef, Restaurant August:  "I don't think New Orleans has a place for people that are lukewarm. I think, you're either with us or you're against us. You have a city here made of people that want to be here, and that makes all the difference in the world."

The soul of New Orleans is in its defiant beating heart, look at the roster, you'll find cast offs, undrafted free agents, at late round flyers.

People see themselves as triumphant underdogs too! They love the Saints and not because the team provides distraction from their fall, but because the team is a reflection of their rise.

Nothing is more miss-understood about post Katrina New Orleans than this; the Saints are not a symbol of rebuilding, but of what has been rebuilt.

Rita LeBlanc, Owner/Executive V.P., New Orleans Saints: "When you come to New Orleans you see a community rebuilding itself! Every person you'll encounter talks about it, they talk about the rebuilding of this team, and how much hard work we've put into our team, and also our city."

The soul of New Orleans is a Monday night three years ago, thirteen months after a doctor stored dead bodies in a catering freezer, the Super Dome reopened.

The game began, and less than two minutes in the Saints blocked a punt and recovered for a touchdown, people say they'd never heard a stadium sound like that.

For 37 seconds the announcer stayed quiet, the only noise coming from a screaming frothing crowd.

Dress Brees, Saints Quarterback: "I know there is a direct correlation between our success, and the belief that our city has in us, and I want to win a championship for our city."

The soul of New Orleans is in a city reborn, and in a football team and the people who love it. The New Orleans Saints are in the Super Bowl; yes, these are strange and beautiful days.

Kermit Ruffins: "Who dat?"
Chicken, Sausage and Shrimp Gumbo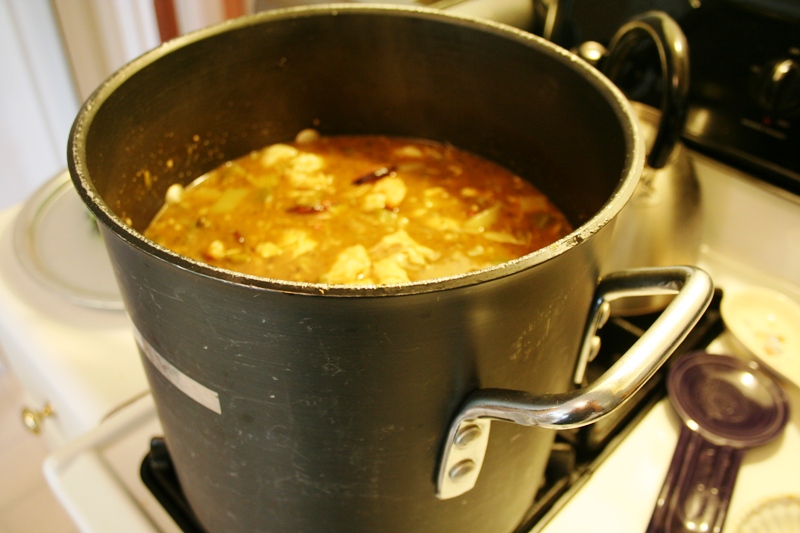 One of the best ways to host a Mardi Gras parade watching party, especially when it falls early in the year, and to stay warm, is to have a large pot of gumbo ready for your parading guests.  There must be about as many variations as there are the folks who make their own gumbo. I typically will make a gumbo on a weekend afternoon and as usual, it was a little different this time around. Some of the various gumbos out there include Filé Gumbo, Okra Gumbo, Seafood Gumbo, Gumbo Z'Herbes, Chicken Gumbo, Duck Gumbo, and on an on.
This time around, I made a chicken, sausage, shrimp, filé and okra gumbo, and it has a roux in it too! At home, I will make at least 2 to 3 gumbos a year, mostly at request of the family and typically for Benjamin's birthday every year. He wanted a seafood gumbo, but I could not get the blue gumbo crabs so I opted for the chicken variety, it is also not as expensive as the full-blown seafood gumbo with crab, shrimp and oysters.
If you can get a hold of gumbo crabs, they really do add a spectacular flavor to a seafood gumbo. Gumbo crabs are the ones that are too small to eat boiled and are usually sold frozen in bags of 6 or a dozen, and typically just need to be rinsed and cleaned a bit. I add them to my seafood gumbo in the middle of the preparation and there is nothing like it to adding that extra background flavor. When serving a seafood gumbo to guests I like to include one of the crab halves in every bowl, eating that gumbo soaked crabmeat is a real treat.
The gumbo recipe here is the one I made awhile back and it also has some Tasso in it, which is a highly seasoned pork shoulder meat. It is highly seasoned with a Cajun spice rub and then smoked with hickory, oak, or pecan wood in a cool smoker until dried. You can order it from various Cajun meat purveyors or it can be omitted, however, it imparts extra smoky and spicy flavoring to any gumbo or Cajun dish. ( )
Yield: 3 gallons
Ingredients
½
Lb
Butter
½
Lb.
Flour
3
Cups
Onions, large dice
3
Cups
Celery, large dice
3
Cups
Green bell pepper, large dice
¼
Cup
Garlic, minced
1
Each
Whole chicken, 4 lb. average
To cover
Cool water, with 2 Tbsp chicken base or cool chicken stock
2
Lb.
Andouille sausage, sliced ¼" thick
½
Lb.
Tasso, diced
2
Cans
Stewed tomatoes, (14-ounce each)
2
Lbs.
Okra, sliced
1
Tbsp
Italian Seasoning mix
1
Tbsp
Worcestershire sauce
1
Each
Bay leaf
1
Tbsp
Hot Sauce (Crystal brand preferred)
2
Tbsp
Filé
2
Lb.
Shrimp, 21-30 count, peeled and deveined (P&D)
1
Bunch
Green onions, chopped
To taste
Salt and white pepper
Procedure Steps
1.
First, you make a roux. In a large cast iron skillet or sauté pan melt the butter then whisk in the flour until dissolved. Then over a medium heat stir the mixture with a wooden spoon until the very dark stage, it will start to take on a nutty smell like toasted almonds. Remove from the heat and continue to stir for a few minutes and allow to cool.
2.
Clean the chicken, remove any excess fat, and rinse well in cool tap water. Place the whole chicken into a large stockpot and cover up to an inch above it with the chicken stock. Alternatively, cover with cool tap water and add 2 tablespoons of chicken base. Place the stockpot on the stove over high heat and bring to a boil. Reduce the heat and simmer for about an hour, or until the chicken starts falling off the bone. Once the chicken meat is cooked, remove it from the stock and place into a large bowl to cool.
3
While the chicken is simmering, prepare the onions, celery, bell peppers (Trinity) and garlic and have them ready. Open the two cans of stewed tomatoes.
4.
After the chicken is removed from the stock turn up the heat to high, then using a wire whisk blend in the roux until smooth. Then add the Andouille sausage and the Tasso to the stockpot, and stir well. Then add the Trinity and the garlic and stir well. Then add the two cans of stewed tomatoes, Italian seasoning, bay leaf, Worcestershire sauce and hot sauce and stir well. Bring to a boil and then reduce heat to a simmer.
5.
Once the chicken is cooled, remove the skin and discard it, then pull the chicken meat from the bones and cut larger pieces of meat into bite-sized pieces and reserve the meat until later.
6.
In the stockpot add the okra, stir well and bring back to a simmer until the okra is cooked.
7.
In a medium mixing bowl add the filé and about a ½ cup cool tap water. Then whisk the file into a slurry until all the dry powder is dissolved. Fold in the slurry into the gumbo. Simmer for a few more minutes until well incorporated into the gumbo.
8.
Gently fold in the reserved chicken meat the shrimp and chopped green onions into the gumbo.
9.
Allow to simmer until the shrimp are pink and heated through.
10.
Season to taste with salt and pepper.
Mardi Gras 2010 Current Events

This year Mardi Gras seems extra special for New Orleans with the Saints going to the Super Bowl on the first of two big weekends before the Fat Tuesday climax. Therefore, to help celebrate Mardi Gras I am listing some links here of noteworthy importance with respect to Mardi Gras in New Orleans in 2010:
February 2010 photo contest: Magic of Mardi Gras
See, share Mardi Gras Krewe du Vieux photos, videos
Alla, Carrollton and King Arthur Mardi Gras parades adjusted for Super Bowl
Mardi Gras? Nah, it's New Orleans' Saints Super Bowl warm-up
Fleur de Lists: Carnival '10 in Numbers and Notes
Laissez les bon temps rouler! Let the good times roll at Mardi Gras – February 16th!
Nothing compares to Mardi Gras
Even though it's not hosting the Super Bowl, New Orleans will draw fans this weekend