In addition, they make for a perfect Mardi Gras parade-watching treat.
Therefore, today I share with you a few recipes and a little Mardi Gras too. Along with Drick Perry and his Drick's Rambling Cafe foodie blog site, we are continuing our focus of several Mardi Gras related blog posts in the forthcoming weeks and leading up to the famous "Fat Tuesday" event. His blog is focused on the Mobile, AL Mardi Gras traditions and mine is on the New Orleans, LA side of the coin.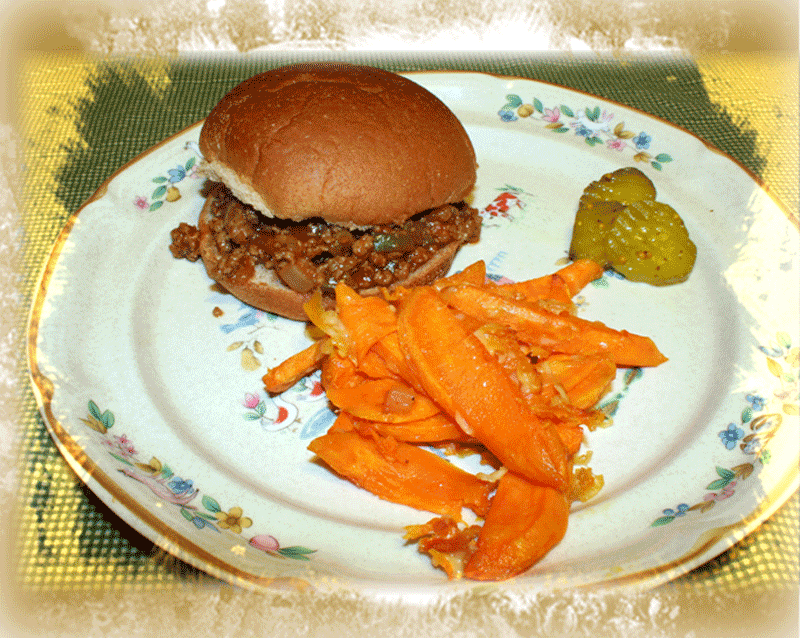 These are recipes that Monique has made for years, over nine years in fact, and is another one from the Weight Watchers magazine "Six O'Clock Solutions", and found on page 13. It also is served with a side of Sweet Potato Sticks, a recipe found in the same book on page 68. These hearty and tasty sandwiches are wonderful and the homemade barbecue sauce that binds the ground meat with the onions and peppers is fantastic. This sauce base has become the inspiration for a special barbecue sauce that I am still perfecting for possible en mass bottling in the near future. With the side of sweet potato fries, this is another 2-for-1 recipe special today. These two menu items adapted from the WW cookbook combine for a total of 411 calories, perfect for our 400 calorie per meal diet plan.
We sit together as a family for dinner just about every evening and when Ben finished his meal before Monique and I even seem to get started we knew it was "goooood"! Ben is our litmus test for all things that are tasty and I can assure you that your kids will love this sandwich and oven baked fries every time.
The Krewe of Thoth
If you have the fortune to live in a neighborhood on or near a Mardi Gras parade route then you know how much fun it is to host a party from your house and watch a parade from your front porch. I had that fortune many years ago when living on Henry Clay Avenue in Uptown New Orleans to see the Krewe of Thoth line up on the Sunday morning before Mardi Gras day in front of our porch steps. This year the parade is scheduled to roll on Sunday, February 14, 2010 at noon.
Parade route image and following text excerpted and provided by Mardi Gras Parade Schedule.com
The Krewe of Thoth was founded in 1947, has a membership of 1,200, and is named after the Egyptian god of wisdom. He is the inventor of science, art, and letters. The body of a man and the head of an ibis traditionally represent the god Thoth. His mythological counterparts were the Greek Hermes and the Roman Mercury.
The Krewe of Thoth was organized in 1947 in the uptown neighborhood. It presented its first ball and five-float parade with 50 members the next year. Because it designs its parade route to pass in front of 14 institutions that care for persons with disabilities and illnesses, the men of Thoth have become known as the "Krewe of the Shut Ins".
The official website for the Krewe of Thoth is http://www.thothkrewe.com/. The website features a greeting from the Captain, a history of the Krewe, a route map, and a photo gallery of past parades and balls.
On to the recipes, and here is a preparation suggestion for the seamless orchestration of this meal!
TIP: When preparing both of these recipes together prep the sweet potato sticks first and have them ready to go on the sheet pan, but wait to put them into the oven. Then preheat the oven to 425° F, and start the prep on the onions, green bell peppers, and the sauce for the Sloppy Joe recipe. Put the sweet potatoes in the oven when ready and start browning the beef, onions, and peppers in step 1 of the Sloppy Joe recipe. This should ensure that the sweet potato fries are ready when the beef mixture is ready to go. This helps with not having to wait around for one or the other recipes to finish.
Sloppy Joe's
Yield: 8 servings.
Ingredients
1 ½
Lb.
Ground round beef
1
Cup
Onions, chopped
½
Cup
Green bell pepper, chopped
1
Can
Tomato sauce, ( 8-ounce)
1
Cup
Ketchup
1
Tbsp
Dark brown sugar
1 ½
Tbsp
Worcestershire sauce
1 ½
Tbsp
Lemon juice
1 ½
Tbsp
Yellow mustard
½
Tsp
Garlic powder
¼
Tsp
Black pepper
8
Each
Whole wheat hamburger buns
Cooking spray
Procedure Steps
1.
Coat a nonstick sauté pan with cooking spray and heat over a medium-high burner until hot. Add the beef, onion, and bell pepper, and cook until beef is completely browned and no pink remains. Stir often to crumble the beef. Drain in a colander and set aside. Use a paper towel to wipe the sauté pan clean.
2.
While the beef mixture is browning in a separate bowl, combine the tomato sauce, ketchup, dark brown sugar, Worcestershire sauce, lemon juice, yellow mustard, garlic powder, and the black pepper. Then pour this liquid mixture into the sauté pan.
3.
Turn heat to a medium high and then add the drained beef back to the sauté pan with the sauce ingredients. Heat through for 10 minutes on a medium-low heat setting, stirring periodically.
4.
Spoon the beef mixture evenly over the bottom halves of the whole-wheat buns then cover with the top halves of the buns. Serve with pickles and the sweet potato fries.
Sweet Potato Fries
Yield: 8 servings.
Ingredients
4
Medium
Sweet potatoes, or 2 pounds, peeled
1
Tbsp
Olive oil, extra virgin
½
Cup
Parmesan cheese, grated
Cooking spray
Procedure Steps      Note: Preheat oven to 425° F.
1.
Cut potatoes lengthwise into ½-inch-thick slices. Cut slices into ¼-inch-wide strips.
2.
Place the strips in a large bowl and drizzle with the olive oil, tossing them to ensure even spread of the oil on all pieces.
3.
Add the cheese and toss again to ensure even coating. Then transfer the potato sticks to a coated cookie baking sheet in one even layer.
4.
Bake in the preheated 425° F oven for 35 minutes or until crisp and slightly browned. Turn the fries over every 10 minutes or so to assist in even cooking. Serve with the Sloppy Joe's.
According to the Weight Watchers recipes the nutritional values for each:
Sloppy Joe's: Calories 272, Protein 22.1g, Fat 6.7g, Carbohydrates 30g, Fiber 2.9g, Cholesterol 54mg, Iron 3.2mg, Sodium 673mg, Calcium 43mg.
Sweet Potato Fries: Calories 139, Protein 3.1g, Fat 3.1g, Carbohydrates 25.1g, Fiber 3.1g, Cholesterol 3mg, Iron 0.7mg, Sodium 75mg, Calcium 71mg.