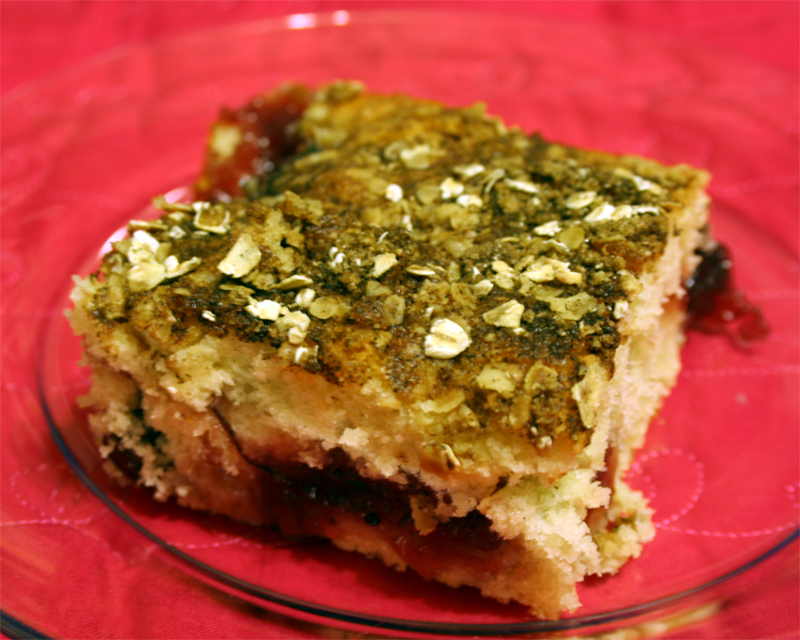 This coffee cake includes a sweet whole berry cranberry sauce filling, and sprinkled on top with an oat, brown sugar, and spice mix that makes this a perfect breakfast meal or afternoon tea delight, or dessert after any main meal.
This is another recipe that we adapted from the Weight Watchers magazine "Six O'clock Solutions" cookbook, the original recipe found on page 83. The only real modification we made with this recipe is using butter in place of the reduced-calorie stick margarine. One half cup of this margarine would have a nutritional value of 400 calories, 44.8 grams fat, and compared to a half cup of butter with 800 calories and 88 grams of fat, which comes out to double the margarine amounts. Using simple recipe kitchen math, the butter adds an additional 400 calories, 44 grams of fat, 72 grams of sodium, and 26.6 grams cholesterol to the entire recipe, when we divide these whole recipe counts by the 9 servings and add this to the nutritional counts of the original recipe the per serving nutritional data comes to 308 Calories, 12.3 grams Fat, 47.3 grams Carbohydrates, 0.8 grams Fiber, 51.6 grams Cholesterol, and 202 mg Sodium. With a cup of coffee, this fits in with a good 400 calorie per meal diet plan.
Additional nutritional data and information found at: Nutrition Data, know what you eat.
Ingredients
½
Cup
Butter, softened
2/3
Cup
Sugar, granulated
1
Large
Egg
1
Tsp
Vanilla extract
1 ¼
Cups
Flour, all-purpose
2
Tsp
Baking powder
¼
Cup
Milk
2
Large
Egg whites
Cooking Spray
1
Cup
Cranberry sauce, whole-berry
3
Tbsp
Sugar, granulated
2
Tbsp
Oats, regular oat meal
1
Tbsp
Allspice, ground
1
Tbsp
Brown sugar
Procedure Steps
1.
Preheat oven to 350° F.
2.
Cream the butter, and then gradually add the 2/3 cup of granulated sugar, beating at medium speed until smooth. Add the large egg and vanilla extract, beat well.
3.
In a separate bowl combine the flour and baking powder and stir well. Add 1/3 of the flour mixture to the butter mixture alternating with the milk; continue adding the flour mixture and milk beating well between additions until all the flour mixture and milk have been added.
4.
In a separate bowl beat the egg whites at high speed until stiff peaks form. Gently fold in the egg whites into the batter. Spoon half the batter into an 8-inch square baking pan coated with cooking spray.
5.
Combine the whole-berry cranberry sauce with the 3 Tbsp granulated sugar then spoon this over the first layer of batter in the baking pan. Then spoon the remaining half of the batter over the cranberry mixture.
6.
Combine the oats, allspice and brown sugar then sprinkle over the batter. Bake in the Preheat oven to 350° F oven for 45 minutes or until tested with a wooden toothpick comes out clean. Let cool on a wire rack for 10 minutes or so, and then cut into 9 squares.