In addition, the Eiffel Tower Restaurant in New Orleans and Mardi Gras 2010
Join Drick Perry from Drick's Rambling Cafe as we celebrate Mardi Gras, he is covering Mobile, AL while I cover New Orleans
Before we get to the omelet recipe, let me indulge you with a little New Orleans restaurant and Mardi Gras history. In 1981, engineers determined that the restaurant perched 562 feet on the third level above the Champ-de Mars in Paris weighted too much and was causing the tower to sag, so the eatery was brought down to earth. For 44 years the bird's-eye- bistro better known for its veau, the Restaurant de la Tour Eiffel would end.
The 11,000 pieces of the dismantled restaurant sat in crates, looking like an Erector set, and nothing less than a chunk of the Eiffel Tower – not actually the tower, but the restaurant that perched above Paris for 44 years. Five years later, and more than $3 million invested John Onorio, a hotel executive and Daniel Bonnot, a famous chef would open the lavish not-so-venerable Paris landmark on St. Charles Avenue, with every inch of the steel in place. The resurrected tower restaurant would open its New Orleans doors on Friday, December 12, 1986 with a sell out crowd and would continue to draw in diners or "bon vivant's" to enjoy the romantic setting and fine French cuisine under the tutelage of Daniel Bonnot, the French born chef.  The Uptown location a short walk from the Vieux Carrie (French Quarter) would add a touch of style and sophistication missing from the New Orleans restaurant scene.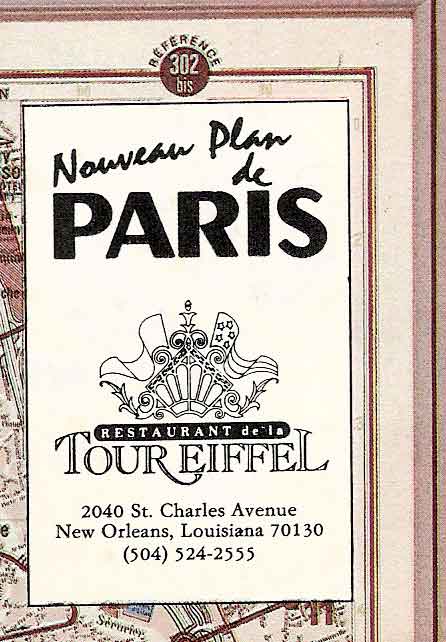 One of the benefits of the 2040 St. Charles Avenue location is that during Mardi Gras it is the main parade route for all Uptown Krewe's, rolling just a few steps from the front doors of the restaurant. This gave them the benefit of offering special Mardi Gras early parade dinner specials and also lunch and brunch menus on Saturday and Sunday daytime parades. "Jazz Brunch, From Paris to New Orleans", on Sundays from 10:00 a.m. to 3:00 p.m. and featured a jazz trio performing the typical New Orleans style music. The menu consisted of several soups (Les Soupes), appetizers (Hors D'Oeuvres), Salads (Les Salades), several egg dishes (Les Oeufs), entrees (Les Entrée's), and desserts (Les Desserts et Café). Click on the thumbnail image of the menu cover at the right to view inside the"Jazz Brunch" menu, circa 1987.
Continuing with our focus features on Mardi Gras, join me with Drick Perry from Drick's Rambling Cafe as he is showcasing the wonderful recipe Eggs Creole dish, another great brunch item for your parade going parties. You can find Drick specializing in coastal favorites with a Mobile, Alabama flair that only he can deliver.
Several of the famous Uptown Krewe's that roll down St. Charles are several listed from the first busy parade week along with their dates and times. A complete list of Mardi Gras parades and their schedules can be found at Mardi Gras Parade Krewe's, 2010 Mardi Gras Parade Schedule.
Mardi Gras Uptown Parade Schedule, Feb. 5 – 11, 2010 (The second week schedule will follow in a forthcoming article).
Friday, Feb. 5, 2010
Saturday, Feb. 6, 2010
Pontchartrain, 2:00 pm
Sparta, 6:00 pm
Sunday, Feb. 7, 2010
Carrollton, 12:00 pm
King Arthur, 1:15 pm
Wednesday, Feb. 10, 2010
Thursday, Feb. 11, 2010
Babylon, 5:45 pm
Muses, 6:15 pm
Chaos, 6:30 pm
Working as the daytime Sauté Cook on the front line it was my duty to prepare all egg dishes including omelets. As you can see from the brunch menu the main egg (Les Oeufs) dishes consisted of Eggs Benedict, Eggs Sardou, Eggs Creole, and Eggs Pontalba. The menu also allowed diners the option of specials such as omelets, and other menu items, the Sauté Cook position prepared all omelets.  NOTE: Click on image for a larger view.
The new restaurant, which had become a landmark in the new setting, would only last a few years. The Restaurant de la Tour Eiffel would shut it doors as the original restaurant owners Onorio and Bonnot would file for bankruptcy, the operating costs far outweighing the income from sales receipts. The price of the entrees did not reflect in the plate, I have to say that the romance had left and paying a steep price for the surroundings did not match with diners expectations.
Through several incarnations and periods of being shut, the Erector Set-like building sat vacant for over three years like a 200-ton white elephant. In its 20-year history, various entrepreneurs have attempted to operate restaurants and nightclubs out of the structure and failed, with a new layer of rust accumulated with each flop. In 2004, the Eiffel Tower building got another shot when Bob Koehl, then director of the New Orleans Culinary Institute reopened the facility as a training school for professional chefs in the building, having signed a 20-year lease, with plans of using it as a banquet facility. In addition, in 2005 after hurricanes Katrina and Rita the location was commandeered as an Army National Guard base in the chaotic aftermath of the disaster. Now it is known as the Cricket Club, for the New Orleans Culinary Institute operations.
Florentine Omelet
Ingredients
2
Each
Eggs, large
1
Tbsp
Water, cool
¼
Tsp
Salt
¼
Tsp
Black pepper, cracked
1
Tsp
Parsley flakes
½
Tbsp
Butter
Procedure Steps
1.
Crack the eggs into a small bowl and add the water, salt, pepper and parsley
2.
With a fork or wire whisk gently fold the ingredients together but do not over mix
3.
Heat a 6" sauté or omelet pan until very hot then add the butter to melt
4.
Pour in the omelet egg mixture and using a rubber spatula gently fold the cooked edges of the egg over and under without scrambling
5.
When the omelet is about 80% set up flip it over and then add your filling of choice
6.
If you want to have a filling ingredient such as cheese this is when you add it to the omelet
7.
Once the omelet is set and cooked turn it onto the serving plate with what is known as the tri-fold procedure. A tri-fold is where the top edge of the omelet will turn onto itself and inside and curl under.
8.
Top with the creamed spinach (see recipe below)
9.
Serve with your favorite side of vegetables and/or potatoes.
Creamed Spinach
Ingredients
2
Lb.
Fresh spinach, ( 1 lb cooked)
½
Tbsp
Olive oil
½
Cup
Onions, minced
8
Ounces
Cream cheese, softened
¼
Cup
Parmesan cheese, shredded
To taste
Salt and white pepper
Procedure Steps
1.
Steam or boil spinach then drain with approximately a 1 lb. cooked yield, and then chop.
2.
Heat olive oil in a medium saucepan and sauté the onions until translucent. Add the drained and chopped spinach and the softened cream cheese. Mix well and stir over low heat. Add the parmesan cheese and season to taste with the salt and white pepper.