In addition, football party time
This past weekend my New Orleans Saints blew past the Arizona Cardinals in an NFC Divisional Playoff game in the Superdome and we enjoyed a fresh batch of salsa with some guacamole and chips.  Looking forward to the next game on Sunday, the NFC Championship Game, again, in the Louisiana Superdome when the New Orleans Saints square up against the Minnesota Vikings, we will try our best to save a little of the salsa by kick off at 6:40 EST.
I have been making this salsa recipe since 1988, when I learned from a pro who had worked in Mexican restaurants, and have been tweaking it ever since. A new wrinkle in this addition of the recipe includes a 4.5-ounce can of Old El Paso green chiles, which were given to me by MyBlogSpark. And included in the "Tackle the Taste" gift pack that includes two free 4.5 ounce cans of Green Chiles, as well as a football-shaped ceramic serving platter, two sets of football-themed plates and cocktail napkins, and a themed table runner which arrived in the mail several days ago. In addition, you can win a "Tackle the Taste" gift pack too!
The Old El Paso Green Chiles gift pack, product information, online coupon link, and prize packs are provided by Old El Paso through MyBlogSpark, and do not in any way change my opinion of the Old El Paso product. I have been using their green chiles for years and find them useful in any preparation that requires this ingredient.
In addition, for a $0.55 coupon on one can of Old El Paso Green Chiles, you can click: Old El Paso Green Chiles Coupon
Contest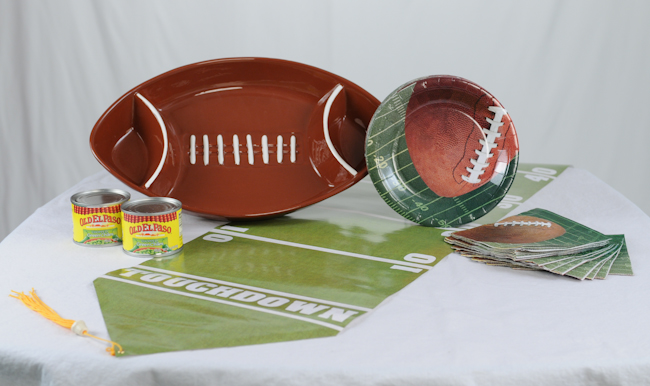 If you would like to win one of these "Tackle the Taste" gift packs please post a comment on this blog post about your favorite recipe that includes green chiles. The contest will run until 2400 EDT on Thursday, January 21, 2010. In addition, the winner will be announced on Friday, January 22, 2010, and contacted for the mailing information. The winner's physical mailing address will then be sent to the MyBlogSpark.com offices where they will ship out your "Tackle the Taste" gift pack. The winner will be selected by a random number selection system, each comment will be assigned the number in order as they appear in this blog post.
Salsa
This salsa recipe is actually more like a cross between pico de gallo and salsa in that it is quite thicker than your normal salsa, but wetter than your typical pico. I love chunky salsa and the addition of the green chilies adds a small touch of mild heat that otherwise was not there before. Still, my favorite part of the recipe is the cilantro; I can never seem to get enough cilantro.
Ingredients
1
Bunch
Cilantro leaves
8
Cloves
Garlic
1
Tsp
Garlic salt
½
Medium
Red onion, large chunks
4
Medium
Roma tomatoes, large chunks
2
Tbsp
Jalapeno peppers, sliced
1
Can
Green Chiles, 4.5 ounces
½
Cup
Green onions, chopped
1
Medium
Lime, juiced
1
Tsp
Cumin
½
Tbsp
Worcestershire sauce
1
Tbsp
Olive oil
1
Can
Crushed tomatoes, 28 ounces
Procedure Steps
1.
In the bowl of a food processor, add the cilantro, garlic, and garlic salt. Process until chopped fine.
2.
Add the remaining ingredients with the exception of the crushed tomatoes. Pulse several times until the tomatoes and onions are chopped and all the ingredients mixed well.
3.
Pour out the mixture into a large bowl then add the crushed tomatoes and stir well to incorporate.