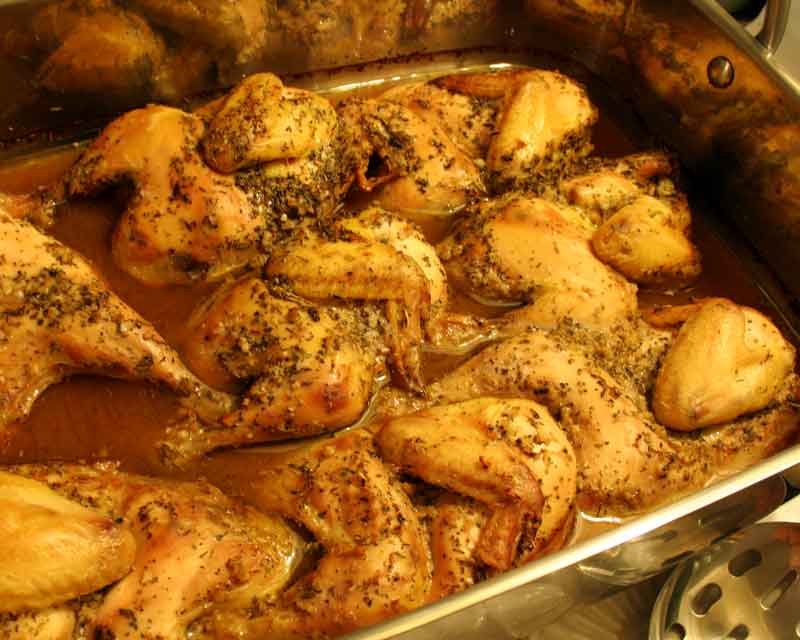 Once in the oven this roasting pan of Cornish hens will be delivering wafts of oh so good and "follow your nose" aroma you will be waiting with knife and fork in hand to get at these tasty morsels. Another recipe adapted from one of our favorite Weight Watcher cookbooks, this one comes in at only 185 calories per serving for a half Cornish hen. We actually set up the hens with the white wine mixture the night before, so this also gave them some marinating time as well. The next day after returning home, all I had to do was turn on the oven and slip in roasting pan in the oven, an hour later we were delving into the tasty hens. Step 3 of the procedures involves removing the skin and then cutting the hens in half lengthwise, the following is a photo journal of this process. These are photos of Monique working on the Cornish hens, and she is improving on her knife handling skills!
| | |
| --- | --- |
| | |
| Pulling skin off the Cornish hen | Pulling more skin off the Cornish hen |
| | |
| Splitting the Cornish hen breast plate bones | Splitting the Cornish hen back bones |
In addition, here are a few photos of the Cornish hen split halves in the roasting pan and then with the marinade/sauce covering them before roasting.
| | |
| --- | --- |
| | |
| Cornish hens split in roasting pan | Cornish hens covered with marinade sauce |
Yield: 8 servings
Ingredients
4
1-pound
Cornish hens
2
Cups
Dry white wine
2/3
Cup
White wine vinegar
¼
Cup
Soy sauce
2
Tbsp
Fresh rosemary, chopped
1
Tbsp
Fresh thyme, chopped
8
Each
Garlic cloves, minced
Procedure Steps     Preheat oven to 350° F.
1.
Remove giblets and necks from hens and reserve for another use, such as a stock, or discard.
2.
Rinse hens under cool water, and then pat dry with paper towels.
3.
Remove the skin from all but the wings of each hen, and then cut them in half lengthwise.
4.
Place hens with the meat side up in a large roasting pan.
5.
In a bowl, combine the dry white wine, white wine vinegar, soy sauce, the fresh herbs, and the minced garlic. Then pour this mixture evenly over the hens and roast, uncovered in the 350° F oven for 1 hour, or until juices run clear. Baste the hens occasionally with the wine mixture.
Calories 185, (33% from fat), Protein 26.2g, Fat 6.8g, (Sat 1.8g), Carbs 2g, Fiber 0.1g, Cholesterol 80mg, Iron 1.6mg, Sodium 279mg, Calcium 29mg. The original recipe can be found in the Weight Watchers Magazine Six O'clock Solutions, page 57, 2001. Moreover, the plated final dish served with a Greek salad for a side dish. Cornish Hens with Rosemay Wine Sauce and Greek Salad