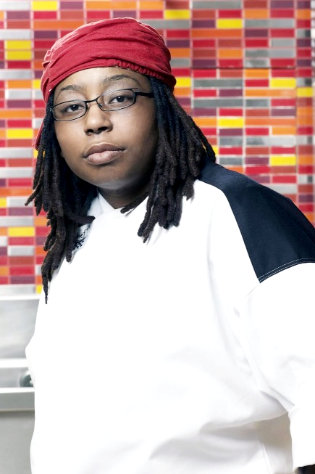 Hell's Kitchen contestants are given just 45 minutes to develop prepare and present an entrée and can be quite a challenge for any budding chef. Moreover, what was so amazing is the gumbo recipe that Tennille Middleton pulled off in such a short period. Her Short Shrimp Gumbo and Cheddar Grits must be the quickest gumbo I have ever seen done; she did not win this competition so not sure that a "short gumbo" is the best way to go in this sort of event. This listed on the page as her favorite recipe.
The learning point here is actually what not to do with a gumbo, and that is to take a traditional slow cooked recipe and distill it into a 45-minute preparation. The ingredient list is about the most unorganized and with 35 in total and must max out for a gumbo.  The original recipe follows:
Short Shrimp Gumbo and Cheddar Grits
INGREDIENTS
12 shrimp (peeled, deveined with tails on)
4 oz. Vermont white cheddar cheese, shredded
1/4 lb. salted butter
2 cups chicken stock
2 cups grits
1 cup half and half
¼-cup kosher salt
¼ cup pure ground black pepper
2 TBSP sugar
4 oz. super lump crabmeat, picked for shells
1 sprig fresh thyme
½-gallon water
¼-cup kosher salt
¼-cup brown sugar
2 sprigs fresh thyme
1 orange, quartered
¼ pound all-purpose flour, sifted
¼ pound unsalted butter
½ cup ½"diced celery
½ cup ½" diced Spanish onion
¼ cup ½" diced green peppers
2 bay leaves
2 teaspoons minced garlic
¼-pound fresh okra
1 tsp file powder
4 oz. ½" diced Andouille sausage
4 cups seafood stock or clam juice
1-cup chicken stock
¼-cup chef tomatoes
¼-cup tomato sauce
2 TBSP tomato paste
1-cup pale ale beer (Sierra Nevada recommended)
1-teaspoon Tabasco sauce
½-teaspoon cayenne pepper
½-teaspoon paprika
METHOD
Shrimp/Brine:
Combine brine ingredients (water, kosher salt, brown sugar, thyme, oranges) in stockpot and heat over high flame until sugar is dissolved. Place in stainless bowl quickly to cool. Add shrimp to brine.
Grits:
In soup pot, bring chicken stock to a boil.  Add grits, salt, pepper and sugar.  Cook over medium-high heat stirring often.  Gradually add in butter and half-and-half, thirds at a time.  When grits have thickened, stir in cheddar and crab.  Reduce heat and cover.
Gumbo:
Add butter to cold Dutch oven and heat over medium heat. Add Andouille and cook until brown and slightly crisped. Add celery, onion, peppers and garlic, sauté until tender. Add flour, tomato paste and spices. Allow the mixture to brown and flour to cook before adding fluids. Once mixture has thickened, add stocks, tomato sauce, tomatoes and beer. Add bay leaves and allow mixture to come to a boil. Reduce heat and simmer. 10 minutes prior to serving, add shrimp, okra and Tabasco.
Entrée:
In center of large bowl, place a scoop of grits. Ladle gumbo mixture around grits, and plate with 6 shrimp. Sprinkle with filé powder.
While the recipe sounds like it might be good, the only thing resembling a gumbo here is the use of Andouille sausage, okra and filé powder. The addition of the flour and tomato paste together might resemble some sort of a roux; however, I have never added both at the same time, so this is only conjecture. Having not tested this recipe either, I am only going on intuition or 21+ years of restaurant experience, but this seems more like an elaborate etouffee. In any case, her variation on "gumbo" just goes to show you that there are many ways to prepare the same dish. There must be a different gumbo for everyone who makes one; none is ever the same it seems.