Holt Lake Bar-B-Que & Seafood Restaurant
Smithfield, North Carolina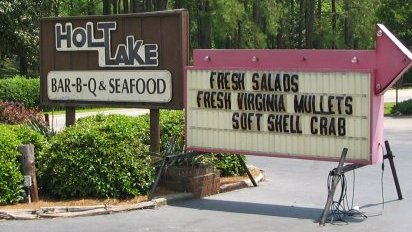 Some time ago, Monique was invited by her steel industry associate Norma Dressler to visit the outlet shops and mall in Smithfield and at dinnertime they went to eat at Holt Lake. Monique ordered the seafood platter, which consists of fried shrimp, oysters, flounder, scallops and a stuffed crab all with Cole slow and French fries too. She ate half of the platter and brought the rest home in a take out box. About an hour and a half later, I warmed up the leftovers and it was the best fried seafood I had eaten in North Carolina. The shrimp were crunchy on the outside and tender on the inside, the flounder was perfect and the stuffed crab delightful. At Holt Lake Norma introduced Monique to her favorite server, Angie Holt Hamilton, one of the family members who continue to operate the restaurant.
About a month after her initial visit, Monique and I made the trek back to Smithfield and shopped at the outlets, then ate at Holt Lake for dinner. Monique introduced Angie and she served us at our table too. Again, the seafood was great, fresh Gulf oysters fried to crispy perfection and the shrimp were excellent too. We still needed to try out their BBQ and other family dinner delights as well.
Monique and Angie
Last weekend my parents were in town visiting and we all made the drive to meet some of their friends the Bitzer's at Holt Lake for Saturday evening dinner. Our party of eight also included Ben and his friend Dan, turns out we sat at Angie's section, but another server waited on us instead. Something about rotating tables during the dinner service hours, Angie was okay with the assignment it seemed.
Pork & Chicken Combo
The family friendly and casual atmosphere reminds me of many seafood joints found on the Gulf coast in Louisiana and Mississippi. Water, sweet and un-sweetened tea is provided in pitchers at every table, and drinking cups filled with ice are brought out just after being sat for each diner along with an extra bucket of ice for refills. The casual service is reminiscent of Brunings Seafood restaurant at the West End Lakefront location, which met its demise with Katrina in 2005. Easily this is the best place in North Carolina for fried seafood that I have had the pleasure of tasting and experiencing.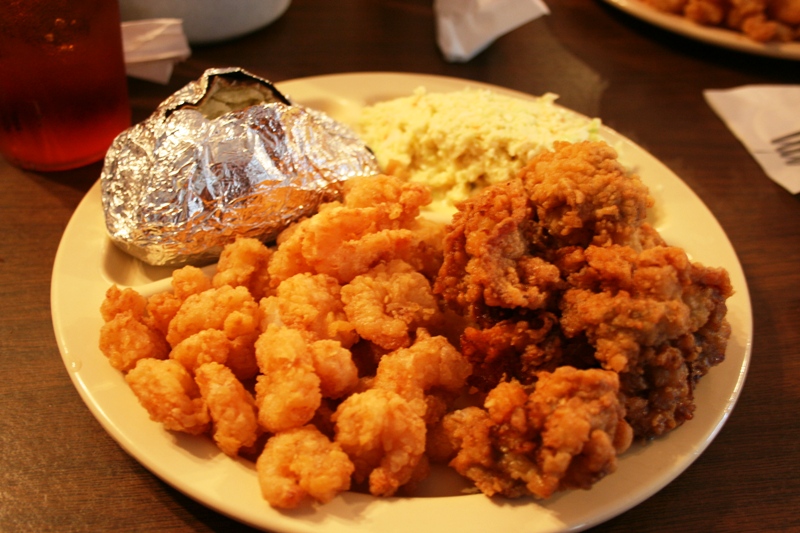 Shrimp & Oyster Combo
Joe ordered the oyster platter, Ben and Dan both got the shrimp platter, Monique ordered the pulled pork and fried chicken dinner, Martha had the chicken liver platter, Maryanne tackled the red snapper platter, Don ate the pulled pork sandwich, and I ordered the two-combo platter with fried shrimp and fried oysters. From all accounts, everyone was very happy with his or her meals. I tasted some of the fried chicken and pulled pork, both are quite tasty and the chicken is crunchy and not greasy at all. The pulled pork is tender with a hint of smoke and in typical Carolina fashion of being a dry BBQ served with the vinegar-based sauce. Not my cup of tea, while the pork is tender, just me, but I prefer a wet BBQ in the Memphis BBQ and Texas BBQ styles…I like a lot of thick sauce.
Large Shrimp Plate
Overall, the menu is very reasonably priced and they offer a take out service with drive-up window too. All entrée items give you a selection of two side items from their vegetables list including slaw, French fries, potato salad, applesauce, boiled potatoes, string beans, Brunswick stew, baked potato (after 2:00 PM) and a side salad. Any vegetable can also be ordered on the side for $1.50 or the baked potato for $2.25.
Dan & Ben at the Table
The pork menu includes plate selections of both small ($6.00) and large ($7.25) portions of Pulled Pork, a Pork Chop Plate for $6.00 and an Old Timers Tray for $6.00. The chicken menu selections include Chicken Tenders for $6.50, a small plate (1/4 chicken) of either Dark for $6.00 or White for $6.50, a large plate (1/2 chicken) of either Dark for $7.00, White meat for $7.00 or Mixed for $7.25. They also have fried Chicken Livers for $6.00, Chicken Gizzards for $6.00 or a Liver – Gizzard Combo for $6.50, in addition to a Chicken Salad Cold Plate for $6.50 and a Char Grilled Chicken for $7.50. Combination plates of the Bar-B-Q pork and Fried Chicken also offer options for either Dark for $7.00 or White chicken meat for $7.50.
Sandwich menu offers reasonably priced items at $3.00 each such as the Pork Chop sandwich, Bar-B-Q, Chicken Filet, Chicken Salad, Grilled Chicken, and a Hotdog for $1.25; lettuce, tomato and cheese is 25¢ extra.
Family & Friends at the Table
The seafood menu offers a Small Oyster for $11.00 and a Large Oyster for $12.50, Small Fried Shrimp for $8.00 and a Large Fried Shrimp for $9.50. Small Boiled Seafood for $11.00 or a large for $12.25, Fried Scallops is $11.00 for the small and $12.25 for the large. Fried Flounder filet is available in both the small and large sizes also at either $9.25 or $12.00, a Whole Fried Flounder sells for $9.00. Other fried fish includes Catfish for $8.50 and Trout for $7.25. Devil Crab is available in two sizes with the small 2 Crabs portions selling at $7.75 and the large 3 Crabs for $9.25. An 8-0unce portion of Fried Clam Strips sells for $8.00 and then Combination platters are available in varying sizes of mix and match your own fried seafood including Combination of Two for $11.00, Three for $12.00 and Four for $13.00. In addition, rounding out the seafood menu is the Seafood Platter, which consists of Fried Shrimp, Oysters, Fish, Scallops, and Devil Crab for $15.00, no substitutions on this item.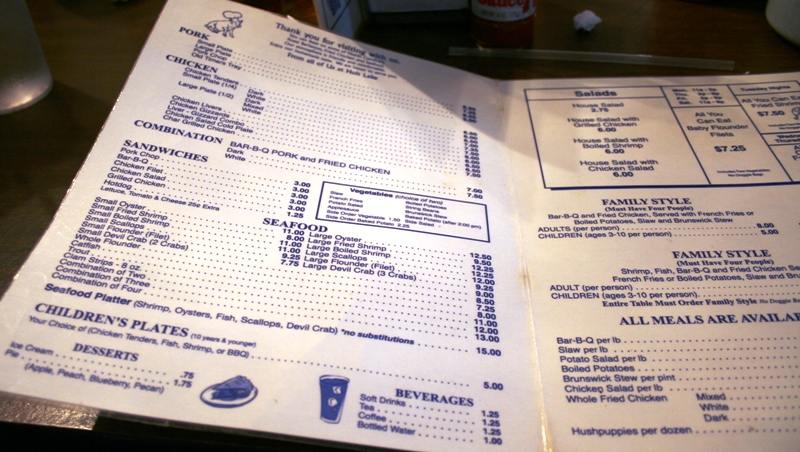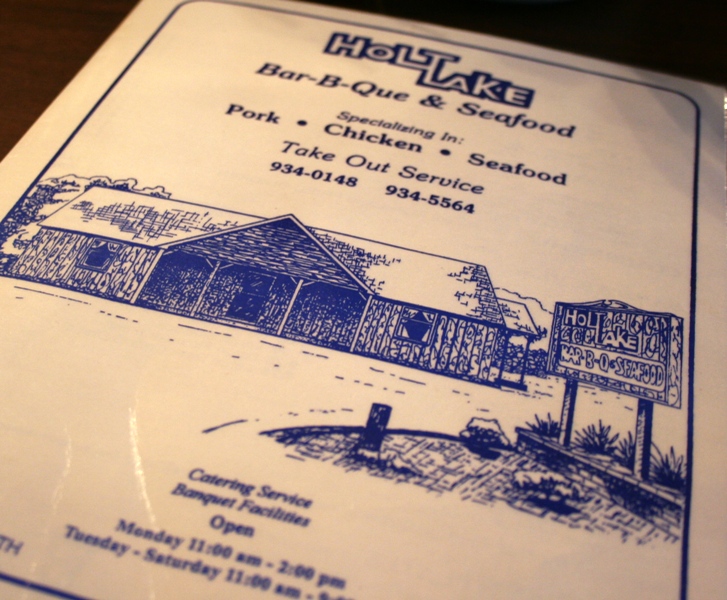 Menu Cover and Inside Pages
The menu also offers a variety of family style menu selections for a minimum of four people with an all you care to eat selections for $7.50 per person, the entire table must order to participate in these unlimited portion options. In addition, daily specials can range from Red Snapper, Virginia Mullets to Soft Shell Crabs, just to name a few.
The restaurant also offers private party rooms, banquet facilities, catering services and business meeting space.
Holt Lake Bar-B-Que & Seafood
3506 US Highway 301 South
Smithfield, NC 27577-9495
(919) 934-0148
Open
Monday 11:00 am – 2:00 pm
Tuesday – Saturday 11:00 am – 10:00 pm
Accepts
Cash, American Express, Discover, Visa, MasterCard