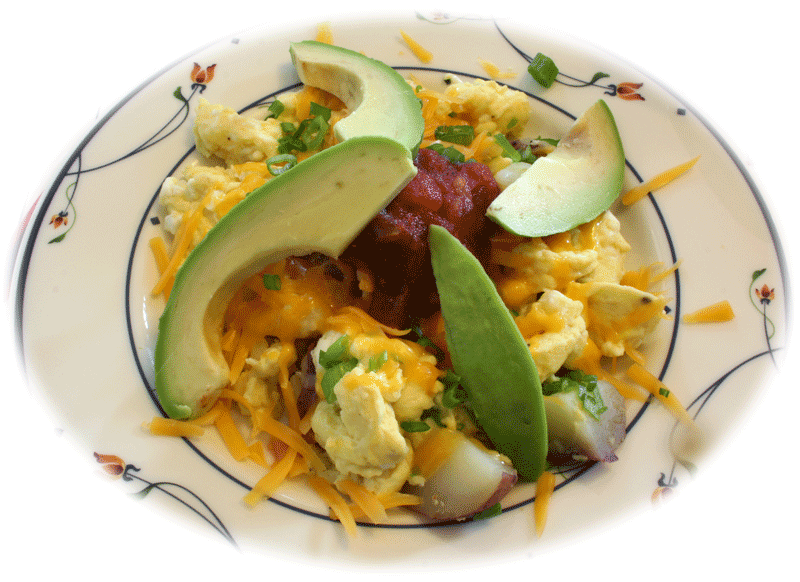 Something about eggs, cheese and salsa makes for a perfect breakfast, brunch, or evening meal. No matter the time of day, eggs have an appeal that transcends all meals and just about every occasion. We enjoyed a batch of salsa and avocado laden scrambled eggs with shredded cheddar cheese, quartered new red potatoes, and a sprinkling of chopped green onions. A delight indeed, as this recipe will make enough for two servings, and easily adjusted for four or six servings as well. Simple elegance is always a treat and this quickly prepared meal fits both.
Yield: 2 portions
Ingredients
4
Large
Eggs
¼
Cup
Milk
¼
Tsp
Salt
¼
Tsp
White pepper
½
Tbsp
Butter
½
Cup
New red potatoes, boiled whole until tender, quartered with skin on
½
Cup
Cheddar cheese, shredded, divided
2
Tbsp
Salsa, divided
1
Whole
Avocado, sliced into eights and divided
1
Tbsp
Green onions, chopped, divided
Procedure Steps
1.
Crack and whisk the eggs with the milk and the salt and white pepper.
2.
Melt the butter over medium heat and add the quartered new potatoes to heat through and brown a little then add the egg mixture and scramble until cooked through.
3.
Portion the cooked eggs and potatoes mixture onto two serving plates.
4.
Garnish each plate with evenly divided portions of the shredded cheese, salsa, avocado and then the green onions.