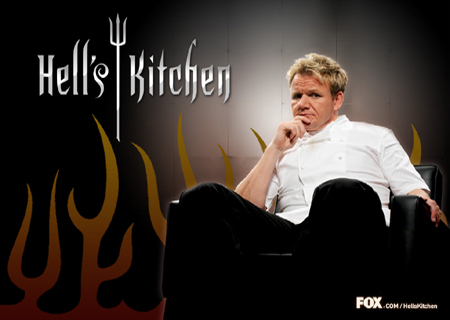 Continuing from the "Lessons Learned" post from Hell's Kitchen (HK) Season 6 of yesterday, here are a few more I wanted to share.
Another ingredient that Ariel uses in the Pan-Seared Black Cod with Shiitake Ponzu and Baby Bok Choy recipe is Wondra flour. The quick thickening and mixing flour primarily used for sauces and gravy preparations and Ariel's use of it as a dusting for the black cod filet is a peculiar application. Wondra is great because it will not clump or glob up when mixing into hot or cold liquids for thickening, however, its use for dusting fish has never been tried in any of my kitchens. I would be interested to learn if anyone else has used Wondra for flouring or dusting fish, seafood, veal, chicken or other proteins. Interesting too that the General Mills hyperlink to the Wondra specifications mentions in the last sentence…"It is also ideal for breading fish and poultry".
According to the General Mills site: "Quick mix Wondra flour is the perfect answer for lump-free sauces and gravies. Through an exclusive, patented agglomeration process, General Mills creates tiny flour "pellets" that dissolve instantly in liquids. Wondra also stands up to heat. It resists separation, even when subjected to heat for extended periods of time".
For the same competition Dave Levey prepared a recipe of Grilled Halibut Cheeks over Grilled Romaine Hearts with Fresh Ruby Red Grapefruit and Orange Beurre Blanc Drizzle with Mixed Roasted Baby Beets. Whew, now that is one long descriptive menu item title! The preparation that caught my eye on this one is the Beurre Blanc. Beurre Blanc in the literal French translation means white butter. And is a favorite among trendy kitchen chefs, yet it's preparation has been in use since it's invention at the start of the 20th century by chef Clémence Lefeuvre.
At the Columns Hotel kitchen, our Beurre Blanc base consisted of a sauté of minced shallots then a flame of white wine and reduction of lemon juice or lemon pulp until the au sec stage, or almost dry. Then the addition of softened butter cubes whisked in at the end and off the heat, seasoned to taste with salt and white pepper at the end, and then strained if necessary.
At the Eiffel Tower Restaurant kitchen, a Beurre Fondue was similar in preparation with the exception that thickened and reduced heavy cream is incorporated into the softened and whisked butter preparation. The heavy cream addition aided in holding the butter sauce for service without worry of separation or breaking. The Beurre Fondue matches the similar preparation technique that Dave uses for his halibut recipe in that heavy cream is incorporated.
Dave's Beurre Blanc recipe:

2 cups white wine (preferably fruity, user's choice)
1/4 stick of unsalted butter sliced into pats
Juice of 2 Ruby Red Grapefruit
1/2 cup orange juice
1 TBSP heavy cream (optional)

In a small stainless steel pot, add wine and fruit juice. Bring to a simmer and reduce until you have something close to a paste.  (Keep an eye on your reduction as it may only take a few minutes.) Remove from the heat and immediately whisk the butter into the reduction; it will begin to emulsify and become glossy.  Add the heavy cream, as this will help in stabilizing the sauce. Set aside.
Dave's Beurre Blanc replaces the more commonly used lemon juice or lemon pulp with grapefruit and orange juice. The white wine of course typically becomes a price point in most kitchens for food cost considerations, typically an inexpensive but good wine desired. And Dave's use of heavy cream as a stabilizer is perfect for kitchen service usage, nothing is more irritating than having your sauce break or separate and then to whip up a Beurre Blanc in the middle of service. However, in my experience the heavy cream was thickened by reducing a bit to a sauce consistency, then cooled and whipped into the butter sauce. In addition, the same goes for hollandaise sauce, difficult to prepare that in a hurry!
The wonderful point about Beurre Blanc sauce is that it has a blank canvas style inspiring endless variations. So refreshing to learn more variations on a theme and the palette of flavors, ingredients and techniques is only limited by ones imagination. Take Beurre Rose (red butter) for example, replacing the white wine with any red wine will produce a pink or red tinted sauce, perfect for other cuts of meat such as filet of beef, lamb or game meats such as rabbit. Another example is the wasabi Beurre Blanc shown in the image at left.
Come back tomorrow when I wrap up with Tennille Middleton's Short Shrimp Gumbo and Cheddar Grits!
The seared ahi with wasabi buerre blanc image was originally posted to Flickr by n1s at http://flickr.com/photos/79253201@N00/1451560264. It was reviewed on 18:16, 7 April 2008 (UTC) by the FlickreviewR robot and confirmed to be licensed under the terms of the cc-by-sa-2.0.