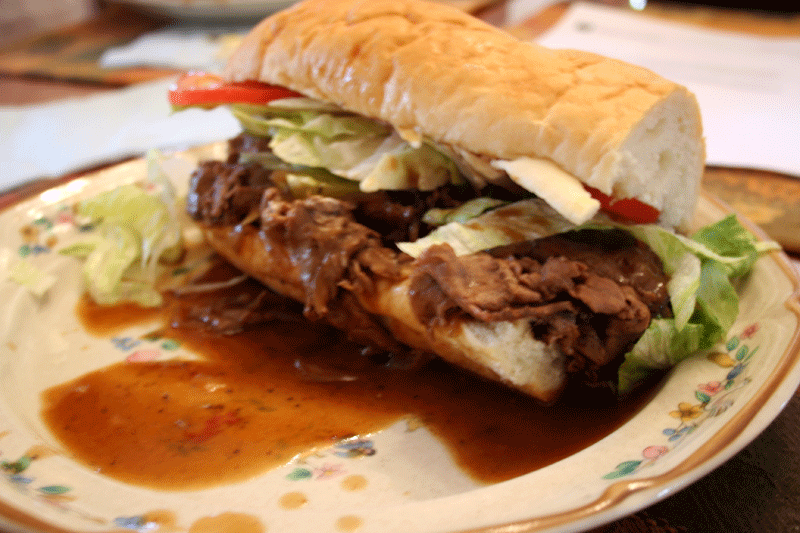 Monique went to New Orleans and Baton Rouge this past weekend to visit with family and attend her sisters baby shower, and it was a surprise visit for most of them on Sunday. But on Saturday she wanted to get some local eats while on the whirlwind tour and ended up at a place called Cocodrie's and ate a "Peace Maker" where Fried Shrimps & Fried Oysters are combined to form one of the best po-boy's around. When I told Ben about her lunch his jaw just dropped, and then he started talking about the last time I had made some Hot Roast Beef po-boy's at home.
To appease Ben's taste for good ole N'Awlins flavor, I ventured out to the grocery late Sunday morning and I bought a pound of thin sliced rare roast beef, a loaf of French bread and some Iceberg lettuce and tomatos for what would be his lunch treat at half-time while we watched the Saints game on CBS.
Now in other parts of the world a po-boy might be known as a sub, grinder, or hero, but what really sets it apart from all the other sandwiches is that the bread is a crusty French bread loaf. In southeast Louisiana the best store bought brand of French bread for po-boy's is Reising's from Leidenheimers bakery. The crusty outside combined with the light and airy inside make Reising's French bread the best all around in New Orleans.
A Lesson in Po-Boy History
During the early years of the 20th century, two brothers, Benny and Clovis Martin, migrated to New Orleans from rural Raceland, Louisiana. When the Martins first reached the city, they found employment as streetcar conductors. Later, they opened a sandwich shop near the French Market and made a culinary discovery: if they concocted sandwiches out of the traditional loaf of French bread, with its tapered ends, the resulting sandwiches would vary in size. The solution was relatively simple: the modern, more or less symmetrical po-boy loaf, which could be cut into equal size sandwiches.
As for the name, during the late 1920's, the New Orleans streetcar conductors went on strike. The Martins vowed to feed their striking brethren for free. When one of the strikers entered their shop, the call went out: "Here comes anther po-boy!"
The ingredients that go into a po-boy are virtually limitless, depending on one's imagination: hot roast beef with gravy, ham and cheese (known in New Orleans as a "combination"), fried seafood (oysters, shrimp, softshell crabs, catfish), hot sausage, meatballs–even French fries, yup, a French Fry po-boy can be had at most corner grocery store deli's around the city. And the counter sandwich maker typically will ask you… "and do you want that dressed?" When the New Orleans po-boy is "dressed," the reference has nothing to do with fashion: "dressed" in New Orleans nomenclature means that lettuce, tomatoes, and mayonnaise are added, and pickles too on some! Nothing fills you up quick and easy like a fresh hot po-boy made with fresh French bread.
Hot Roast Beef Po-Boy
Ingredients
1
lb.
Roast beef, thin sliced
2
Each
Tomatoes, sliced thin
¼
Head
Iceberg lettuce, shredded
½
Cup
Mayonnaise (Recommend Blue Plate brand )
12
Slices
Pickles
1
Loaf
French bread (Recommend Leidenheimer's brand)
Gravy Ingredients
½
Cup
Onions, small diced
2
Cups
Beef stock
¼
Cup
Dark roux
1
Tbsp
Worcestershire sauce
1
Tbsp
A1 Steak sauce
Preparation Steps
1.
For the gravy sweat down the onions in a little olive oil then add the beef stock and bring to a boil. Add the roux and whisk well until smooth. Add Worcestershire and steak sauce stirring well. Simmer 20 minutes. Then add the thin sliced roast beef and allow to heat through.
2.
Quarter the French bread in 4 even pieces, and slice each piece ¾ of the way without cutting through.
3.
Spread mayonnaise evenly inside the French bread then layer the top side with sliced pickles, sliced tomatoes, and lastly with the shredded lettuce.
4.
On the bottom half gently and evenly lay the roast beef then ladle some of the hot gravy on top of the beef. Fold the top half over onto the bottom half and enjoy with a cold drink or frosty mug of brew.