Have you ever wanted to expand your out of production "China" from 6 to 12 place settings? Or maybe you have some "Silverware" inherited from your family and the set is missing some soup spoons? Or it could be possible that one of your fine "Crystal" goblets is cracked? Where can you find the items to expand your collection or replace the broken or damaged pieces? Replacements, Ltd. is the answer.
I first heard of Replacements many years ago from Martha Boudreaux, my mom who had found one of their advertisements in an issue of Better Homes and Gardens in the 1980's. She was in need of some pieces to replace broken or chipped items for her collection. We also joined their mailing list and started getting the once a month listings for our selected patterns, now we also get an email in addition to the hard copy list. You can also find pieces from their online resource database that has over 297,000 patterns from more than 8,000 manufacturers which can be found at www.replacements.com. Their current inventory includes more than 13 million pieces of China, crystal, silver and collectibles. Their web site was launched 10 years ago in 1998 and has won several awards. You can read all about their exciting history and how Bob Page started the business from what originally was a weekend hobby in the 1970's and now is a multi-million dollar corporation that employees 540+ associates.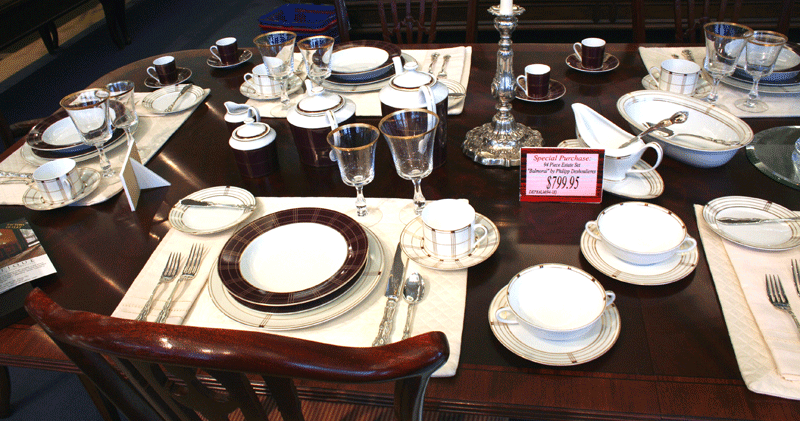 With my parents Joe and Martha Boudreaux in town visiting for a few days Monique, Ben and I decided to take a Saturday day trip to Replacements, Ltd. and also to visit some of the pottery shops in Seagrove, NC, which is another story for another blog post. Replacements is located just off of I-40 in Greensboro, NC where the main warehouse of 225,000 square feet is located and contains more than 50,000 shelves of the cataloged China, Crystal and Silver. There are three other remote storage locations that make up another 190,800 square feet of warehouse space, and there are plans to triple the current main warehouse space to put all of the inventory under one roof.
We arrived at the front entrance and made our way to the showroom and were immediately greeted by one of the associates stationed at the reception area. Guided tours start every 30 minutes and we were just 5 minutes away from the start of the next tour, so we gladly waited while our group of five and three others formed at the front. The 12,000 square foot front showroom displays only a small portion of the vast collections stored in the warehouses.
The tour guide was very informative and started making our way through the showroom and then to the Great Wall of China! While not a complete display of all the China sold it does represent the most popular patterns sold and it quite an impressive wall indeed! On the other side of the wall is a display of special collections, such as Disney plates, political plates, television plates, commemorative plates and theme plate collections.
Past the Great Wall of China hall we exit into the warehouse floor which is equal to the same space as 4 football fields put together side to side.
Remember they also have three other remote storage locations that add another 190,800 square feet! Now that's a lot of floor space, and then each rack has 16 shelves that reach at least 18′ high!
Bob Page seems like a really nice person to work with, he allows both associates and visitors to bring well behaved pets into the showroom, warehouse and office spaces. Yes, the place is pet friendly, and Bob supports many local and national animal groups as displayed in an area near the Great Wall of China. They also feature a "Featured Pets Archive" where you can learn about some of the pets and their owners too!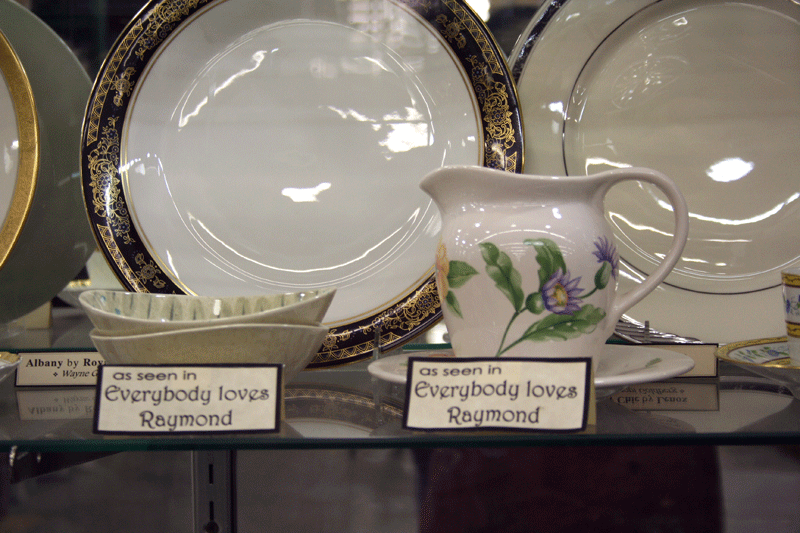 Another interesting point made along the tour is that many television, commerical and movie production companies request assistance for particular pieces for use in their features, advertising or shows. On display are some items from Everybody Loves Raymond, Seinfeld, Cold Mountain, and the Fancy Feast Commercial. Highlighted in the photo are a few pieces found on Everybody Loves Raymond.
Next on the tour we get to see some of the restoration services that Replacements provides for customers silverware and China. These services also include matching patterns of unknown silver or China using an imagining technique to find from over 297,000 known patterns in their database. Their China Pattern Identification Instructions will guide you through the process of what to look for and how to submit your request. If you have a piece that cannot be identified you can take a tissue and pencil sketch etching of any crystal pattern and send it to them for identification. You can also send them photocopy's of plates, crystal and silverware, color copies are preferred.
Once we passed by the displays we walked on over to the silverware restoration area were we saw a few folks working on various pieces. They are able to not only polish up and clean old silverware, but they can also restore handles and broken pieces to like-new conditions. This is just one other service that their skilled restoration staff have become known for over the recent years. Then we walked by the caged silverware stacks which consisted of many tall blue bins stacked high and contained within the fenced in area as shown in the second image on the left.
Once through the silverware area we were led through various offices and then into the museum area. The offices include imaging services, a mailroom, service center, research, telephone sales, customer service, and Internet services staff areas. The museum houses many cases of China, silver and collectables, over 2,000 pieces and some which date back over 200 years old.Once back into the showroom there are many examples of silverware, China and collectables for sale, are you interested in a spatula for $1,000.00?
If you are ever in the Greensboro, NC area you should plan a visit to Replacements, Ltd., or if not then you can take an online tour. So if you are missing a special piece of China, silver or crystal pay them a visit in person, or order online, or telephone, either way you won't be dissapointed!