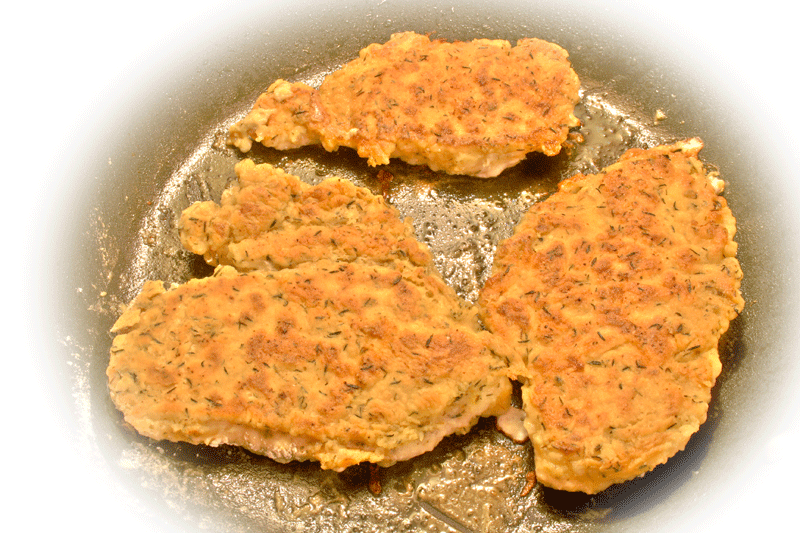 This was one of those meals that I just threw together from what was on hand in the pantry and fridge and also decided to use up some other ingredients before making the grocery trip for the week. I had some button and portobello mushrooms that were prime candidates, and some green onions too. We also had some tomatoes that needed using up and added them to the menu as well. Along with some boneless skinless chicken breasts I decided to come up with sautéed chicken breast with a brandy mushroom sauce served with rice pilaf and baked tomatoes.
First I started with cutting the chicken breasts in half since they were thick and this would allow them to cook quicker and also double my portions. I then decided to marinate the chicken in beer, taking an idea from the ole "6-pack chicken" recipe that I've done many times and which Emeril made famous some years ago. Once the chicken breasts were cut I covered them with the contents of a 12-ounce bottle of beer and then added about 1 Tbsp of sea salt, 1 Tbsp of my Cajun Spice Blend, 1 Tbsp of Italian seasoning and mixed the spices well with the semi-brine. While this is not as much a brine as the original recipe, it is a variation that I think adds a good background flavor to the chicken. The chicken can be marinated for a few days if you wish before service time, I have the complete recipe listed below for ease of reference.
While the chicken was taking a nice cool beer bath, I started prep on the rice pilaf. I took an onion and medium diced about 1 cup and sweat-ed them down in a little olive oil. Then I added the sliced button mushrooms (1 cup) and some chopped green onions (1/2 cup) and allowed them to sweat down before I added the chicken stock. Then I brought this to a boil and added 1 cup of converted rice then brought it to a simmer then covered for 15 minutes. I removed the lid to stir the rice on occasion to prevent any sticking, I also seasoned the rice with a pinch of sea salt, a little Italian seasoning and 1 tsp of Cajun Spice Blend. I allowed the rice pilaf to simmer about 5 more minutes and then turned off the heat but let the pot sit on the stove top allowing the rice to continue to absorb the now just slightly steaming stock.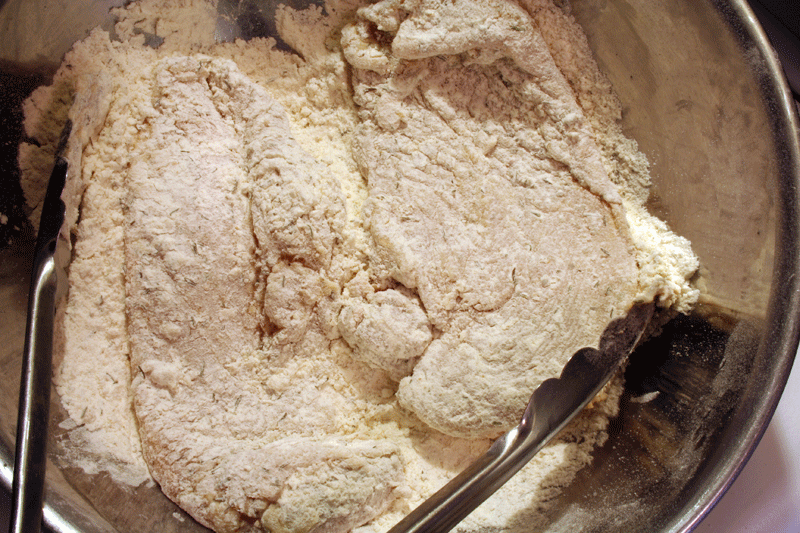 As the rice was simmering I started with flouring the marinated chicken breasts and began the sauté process. I took a couple cups of flour and mixed in some dry thyme leaves, salt and white pepper. Then individually I took each chicken breast from the marinade and allowed any excess liquid to drip off before dredging them through the seasoned flour. Meanwhile the sauté pan was getting very hot then I added some olive oil to pan and allowed it to get hot too before adding three pieces of the lightly floured chicken to the pan. I allowed each piece of the tender chicken to sauté on the first side until golden brown, then I flipped them over to finish the other side. Once browned on all sides I transferred the sautéed morsels to a sheet pan the oven to finish cooking them through.
Once all the chicken was done with the sauté I started the brandy mushroom sauce which utilized the portobello mushrooms and the remaining onions. In the same sauté pan that I just used for the chicken I sweat down the julienne onions in a touch of olive oil and then added some of the beer marinade to deglaze the pan and allowed the liquid to reduce to the au sec stage, or also known as almost dry. Then I added the portobello mushroom slices to sauté and once soft I flamed in about a half-cup of brandy, then I stirred in some beef stock and allowed this to reduce a bit. I then thickened this with about a quarter-cup of a dark roux that I had left over from a jambalaya I had made last week. I allowed this to thicken up and held on low heat until ready for service.

I also made a small batch of Baked Tomatoes and had these in the oven before the rice was started. Like clockwork and a well orchestrated symphony I pulled everything together in about an hour and we were sitting at the dinner table with light conversation and a fine meal shared with family.
The recipes included in this post are separated into the three listed below, 1. Chicken marinade and sauté, 2. Rice pilaf, and 3. Brandy mushroom sauce. The baked tomato and roux recipes are linked to previous posts in this blog.
Culinarily yours, CCR =:~)
Sautéed Chicken Breast
Ingredients

2

Lbs.

Chicken breasts, boneless and skinless

1

12 oz

Beer

1

Tbsp

Sea salt

1

Tbsp

Cajun Spice Blend

1

Tbsp

Italian Seasoning

2

Cups

Flour

1

Tsp

Thyme leaves, dry

1

Pinch

Sea Salt

1

Tsp

White pepper

2

Tbsp

Olive Oil

Preparation Steps (Note: Pre-heat oven to 375º F.

1.

Cut chicken breasts in half to form 2 thin breasts from each, and place in a small bowl.

2.

In the small mixing bowl with the chicken breasts add the beer, sea salt, Cajun spice blend and the Italian seasoning, mix well and allow to marinate up to 1 day if desired.

3.

In the other small mixing bowl add and mix the flour, thyme leaves, pinch of sea salt and white pepper.

4.

Heat the sauté pan until very hot and add 1 Tbsp olive oil and heat well.

5.

Remove the chicken from the marinade and allow excess liquid to drip off, then dredge 3 or 4 pieces of the chicken into the flour mixture shaking off any excess flour and then sauté in the hot olive oil. Sauté one side until golden brown then turn to brown the other side. Transfer to the sheet pan in a pre-heated 375ºF oven to finish cooking then dredge the remaining chicken, add more oil to the pan to get hot and sauté them as the first batch.
Ingredients

½

Tbsp

Olive Oil

1

Cup

Sweet Onion, diced medium

1

Cup

Button Mushrooms, sliced

½

Cup

Green Onions, sliced

2 ¼

Cups

Chicken stock

1

Cup

Converted rice

1

Pinch

Sea salt

1

Tsp

Cajun Spice Blend

1

Tsp

Italian Seasoning

Preparation Steps

1.

Heat the olive oil in the sauce pot and then sweat the onions over medium-high until soft, then add the mushrooms and green onions and continue to sweat over medium-high heat.

2.

Add the chicken stock and bring to then add the remaining ingredients and return to a simmer and cover.

3.

Allow to simmer for 15 minutes covered, then stir rice some and allow to cook another 5 minutes. Turn off heat and allow to sit on stop top covered for about 10-15 minutes before serving.
Brandy Mushroom Sauce
Ingredients

½

Tbsp

Olive oil

1

Cup

Sweet Onions, julienne

2

Cups

Portobello mushrooms, thick cut

½

Cup

Beer

½

Cup

Brandy

2

Cups

Beef Stock

¼

Cup

Dark Roux

To taste

Salt and white pepper

Preparation Steps

1.

In the sauté pan heat the olive oil and then sauté the onions until soft then add the beer and allow to reduce to almost dry, au sec. Then add the mushrooms and sauté until soft.

2.

Add the brandy to flame and allow to reduce to au sec as well.

3.

Add the beef stock and bring to boil then reduce heat to a simmer.

4.

Stir in the dark roux to thicken the sauce and continue to simmer for 20 minutes then serve with sautéed chicken breast.