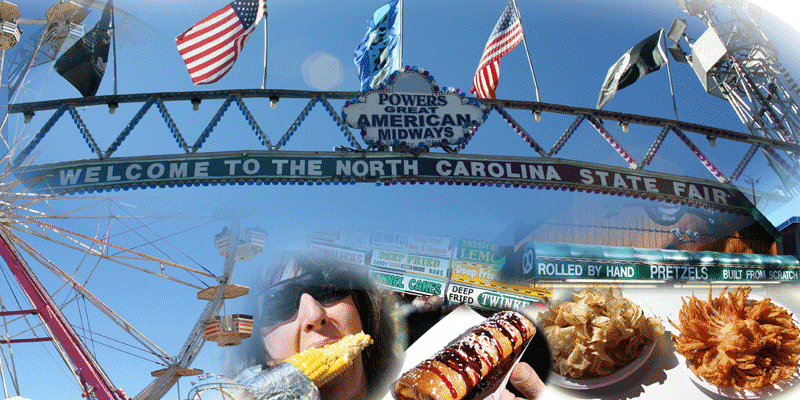 Having chatted about it for over two years since we first heard of the event in the fall of 2006 or about 6 months after settling in our move from Louisiana, we decided it was high time for us to attend the North Carolina State Fair. Once we made the decision to attend this year I knew it would make a great blog contribution, and then excitement grew when selected to participate in the Foodbuzz 24 Meals, 24 Hours, 24 Blog Posts event on October 25, 2008 where 24 food bloggers from around the globe are selected to report back on 24 foodie happenings within 24 hours. All images in this article are linked to the original, so you can click on them for a larger view.
The N.C. State Fair is a massive expanse and undertaking, so let's start with breaking it down in plain numbers to present an idea of its size, scale and magnitude. The first North Carolina State Fair was held in 1853, and has been held every year since, with short interruptions only for the Civil War and WWII. It's been held at the present site in Raleigh since 1928 and is the state's largest event and is the largest ten-day agricultural fair in the United States.1 The fair runs for 11 days this year and opened at 3:00 PM on Thursday, October 16 and runs until midnight on Sunday, October 26, 2008. Last years record breaking attendance of 858,611 folks may be hard to beat with the current economic conditions as current figures are early and even with the addition of opening 1 day earlier than years past the total attendance count through Friday is down by just over 10%. Yet with over 350 food vendors serving up edible delights this year proves to be an all out eating bonanza and according to the fair surveys food is the top reason folks attend the event.
Fair food fare firsts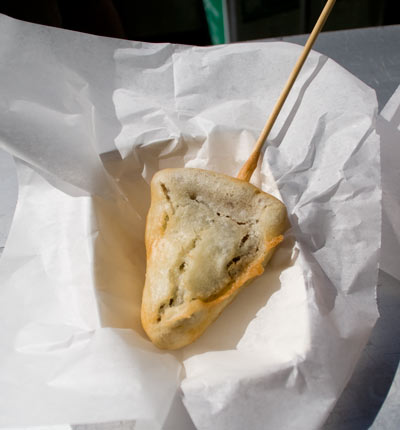 Chef Alan Rubin of Murphy House is offering Fried Pecan Pie and Deep-Fried Mac'n'cheese as two new firsts to the State Fair this year. Chef's D'lites also has the Deep-Fried Mac'N'Cheese as well as Deep-Fried Banana Pudding (which we tried) and the Deep-Fried Fruit Cobbler. See Deep-Fried @ The N.C. State Fair.
The Deep Fried Pecan Pie and Deep Fried Mac'n'Cheese is also reviewed in the video segment from 30Threads ThreadCast that features new foods at the N.C. State Fair this year. One comment was that it tastes like a pie inside a cake, which makes for a very interesting flavor profile for the deep fried dessert. See Ginny Skalski from 30Threads on the ThreadCast video (embedded below) about new foods at the N.C. State Fair. 30Threads highlights top Internet blog posts on current events in the Triangle area which typically includes the region of Raleigh / Durham / Chapel Hill in North Carolina.

On an environmental note and what the fair deems "Funnel Cakes for Fuel" all of the oil used for deep frying food this year at the fair will be converted into bio-diesel after use and all the electrical generators at the fair will also be run on bio-diesel. Fair organizers expect to collect about 8,000 gallons of the liquid that gives life to corn dogs, funnel cakes, and fried candy bars. This year's fair has a sub theme of green and has an exhibit called Green NC where fair goers can learn about ways they can decrease their environmental impact and carbon footprint.
Food fare we tasted
We started out with a couple of items from John the Greek's booth which is located near entrance Gate 9 and not far from the Hog Racing Track. I ordered an Italian Sausage with Peppers & Onions Sandwich and a Philly Cheese Steak Sandwich for Ben. Both of these were great starters as Monique and I shared the Italian Sausage sandwich and Ben had the Philly Steak sandwich. Ben said it was the best Philly Cheese Steak sandwich he had ever tasted! I suppose it was the nacho cheese sauce ladled on top of the thin shaved steak with onions and peppers that made the difference, and not the typical Swiss cheese of traditional preparations. The Italian Sausage sandwich was your typical fare with a nice big bun and the peppers and onions were perfectly cooked, not too soft and not too tough.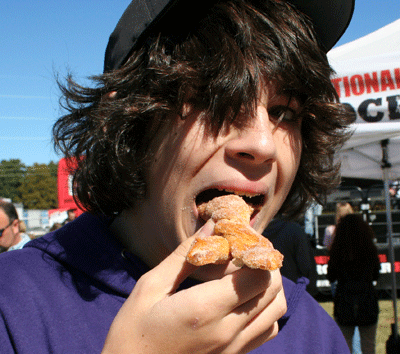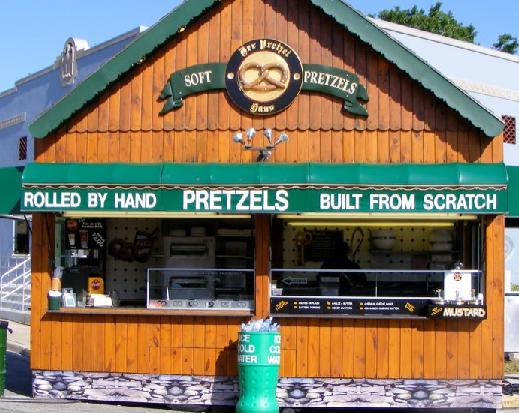 After we scarfed down John The Greek's high protein fare we got two of the soft hand rolled pretzels from Der Pretzel Haus. I got the Cinnamon Sugar Pretzel as requested for Ben and a Salted Pretzel dipped in Garlic Butter for Monique and I to split. Ben really scarfed down his pretzel and shared some with Monique too. Both were very tasty and fresh, the soft dough pulled apart easily and had a nice outer crust with just the right amount of coating for the cinnamon and sugar, and for the garlic butter pretzel.
These hand rolled pretzels have been made since 1995 by the St. Augustine, Florida based company. The Traveling Bakery makes stops at over 18 fairs from April to October every year along the east coast from southern Florida to the north in New Jersey.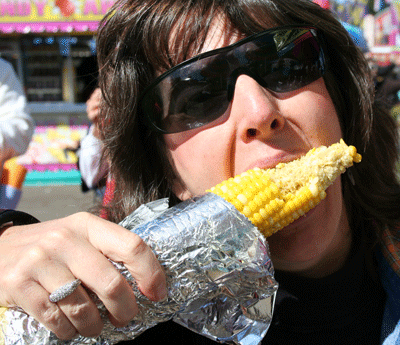 After some more walking around we decided it was time for some Roasted Corn on the Cob with Butter. This was some of the sweetest roasted corn on the cob. Roasting them in the husk really preserves the natural sweetness and improves the flavor as the husk imparts an earthy tone that cannot be achieved any other way.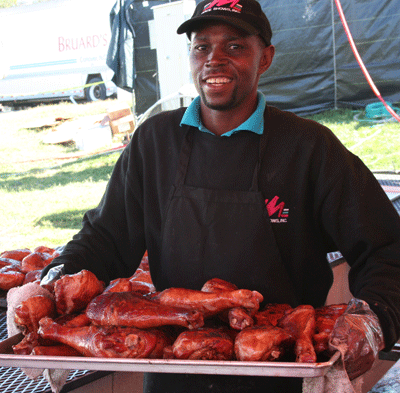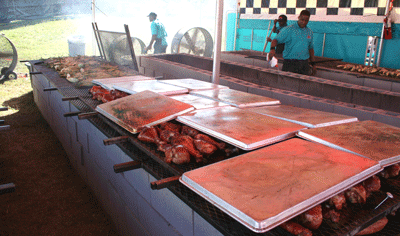 While we ate our corn I got a chance to meet some of the guys in the back at the pits as they worked the turkey legs and corn. It was a real treat watching them as they prepared the coals and pits for more turkey legs and corn cobs. We didn't try a Turkey Leg this time around, but I have had them at past events. So much food, so little stomachs…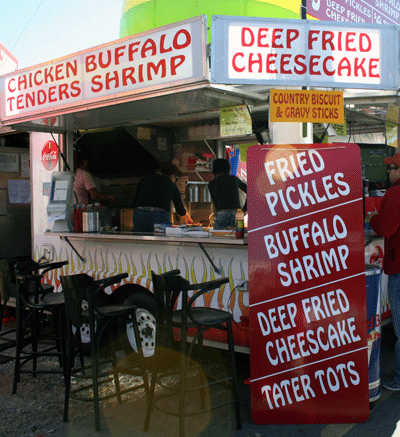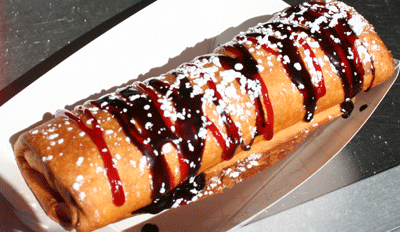 Then we walked our way on and not too far down the mid-way found the Fried Cheesecake with Strawberry & Chocolate Sauces and sprinkled with some Powdered Sugar on top. This was an interesting flavor combination, the soft and melted cheesecake took on a new flavor as the outer layer of fried dough did not overpower. It was a nice dessert treat. The dough was not a batter type but was rolled and wrapped around the cheesecake similar to and like an egg-roll fashioned item. This method proved to highlight the filling and not the dough flavor.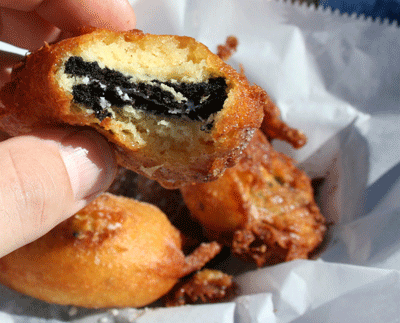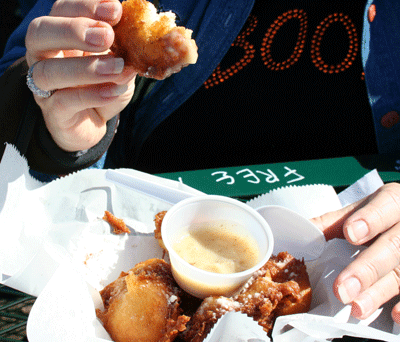 We then found Chef's D'lites Fried Oreo Cookie and Fried Banana Pudding with Banana Pudding Sauce and ordered up those. I was really happy with the fried banana pudding as it had firm banana chunks surrounded by a medium batter and the thick banana pudding for dunking. The fried Oreo cookie just tasted like a bunch of dough with a little chocolate in the middle, not much flavor there other than the sweet dough. I was not impressed with our order of the Deep-Fried Oreo cookies, there was way too much batter surrounding them and that masked the flavor of the cookie.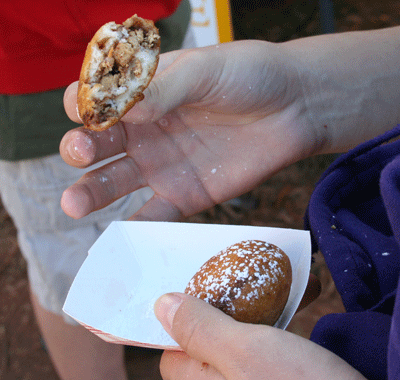 We finally found the Fried Candy Bars and ordered up the Fried Reese's Peanut Butter Cup Candy Bar for Ben and the Fried Milky Way Candy Bar which Monique and I split. Eric got a Deep Fried Three Musketeers Candy Bar, he like it too. The fried candy bars are another one of those that seems to take away from the original flavor profile of the food item with too much of a sweet thick batter. Both fried candy bars just tasted like a little chocolate that had been dipped in a very thick sweet dough batter and fried. I suppose a thick batter is necessary to prevent the chocolate from escaping into the deep-fryer, but these are nothing more that large pieces of fried sweet dough with a little chocolate in the middle.
Friends try the new fare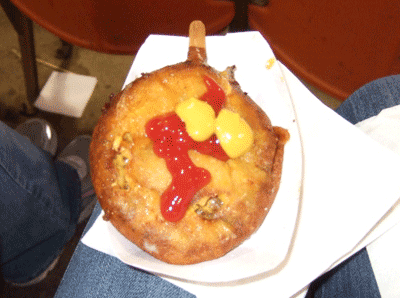 Our friends and Monique's co-workers at  Steel Fab Erin Bibb and Becky Patterson attended the fair on Thursday evening and were given the task of tasting some of the new items, capture some images of them enjoying the evening and then report their findings back to us. Here is what they had to say about the Deep Fried Cheese Burger, "Unfortunatly I was not crazy about the Fried Cheeseburger. If you are going to take on one of these…better eat some Tums first," said Becky.
The Deep-Fried Mac'N'Cheese got rave reviews from both Erin and Becky. Erin, "Ooooo…yummy! Crispy & cheesy!" "I really liked the fried mac'n'cheese, and thought they should be an appetizer item on a menu somewhere. Kids would love those," she said. Becky also commented on the Deep-Fried Mac'N'Cheese and said, "…super yummy! Two things that have always been a huge fan of is mac and cheese. Yum yum!" 
Next up on the fair food fare firsts they both tried the Deep-Fried Pecan Pie and both enjoyed that dessert treat. Becky said, "My favorite was the Fried Pecan Pie. I have never been a fan of pecan pie until now, it was super sweet with a little bit of chrunchiness in the middle." Erin said, "It's good, just really sweet & rich!" "The fried pecan pie, appeared to be the typical sweet, rich, pecan pie filling, incased in sweet dough. I liked this warm, "old-time" favorite, but definately couldn't eat the entire piece because it was so rich."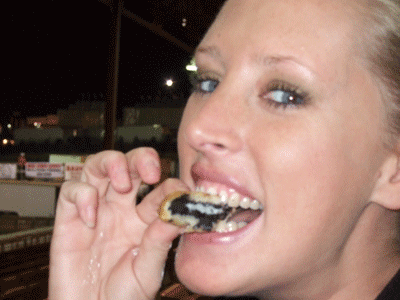 And then they delighted in the Deep-Fried Oreo Cookies. "The Fried Oreos are now another big favorite of mine sweet, slightly gooey, and crisp around the outside," said Becky. Erin on the Oreo, "Oh my God, these are good!" "The Oreo's tasted just like regular Oreo's, but had a sweet and crunchy crust around them. They were warm, sweet, tasty little treats. A glass of milk with these would have hit the spot!"
---
References
 1North Carolina Office of Archives and History- URL: http://nc-historical-publications.stores.yahoo.net/nocastfafi151.html