Emeril's One-Pot Sizzling Skillet ~ Mulligatawny Soup
This is our ninth recipe from Emeril's new cookbook, as we continue our participation in the One-Pot Blogger Cooking Party.
Along with nineteen other foodie blogger's, we are sharing recipes, photos and our experiences from cooking within the new cookbook. Today, I am going to share our experiences from making the Emeril's Mulligatawny Soup as found on page 186 from Emeril's new cookbook Sizzling Skillets and Other One-Pot Wonders which is available for order now, the book went on sale on Tuesday, September, 27, 2011.
Check out our other eight recipes which include three from the first week, where we kicked off the One-Pot Blogger Party here on CCR!
Emeril's recipe for Emeril's Mulligatawny Soup is included in the Big Pots chapter along with 24 other recipes that can be prepared from a large pot. This soup is perfect for any time of year, but extra special on a cool day, especially now with fall temperatures arriving this weekend here in the northeast.
About the recipe
Clarified butter (ghee), boneless, skinless chicken thighs, garam masalla, onion, carrot, celery, garlic, ginger, Granny Smith apple, Yukon Gold potatoes, sweet potatoes, and chicken stock make up most of the ingredients in this warming soup.
Along with some other exotic ingredients such as unsweetened coconut milk, and ground cashews, this soup is a winner!
From the top view…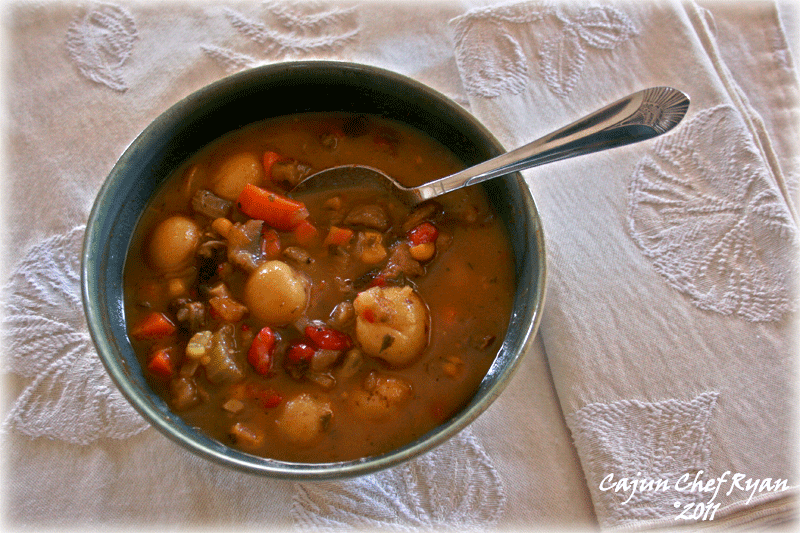 Emeril's One-Pot Sizzling Skillet ~ Mulligatawny Soup
Another view…
Emeril's One-Pot Sizzling Skillet ~ Mulligatawny Soup
We have enjoyed being a part of Emeril's One-Pot Blogging Party and want to thank Emeril, and the culinary team at Emeril's Homebase, and all the folks at William Morrow and Harper Collins, especially Kimberly Chocolaad, and Tavia Kowalchuk for their support and guidance.
Thank you!
Remember… be sure to visit:
Emeril's Official Website Emerils.com
Emeril's Facebook Page facebook.com/Emeril
Follow Emeril on Twitter http://twitter.com/#!/emeril
Bon appétit!
CCR
=:~)
©2011 CCR