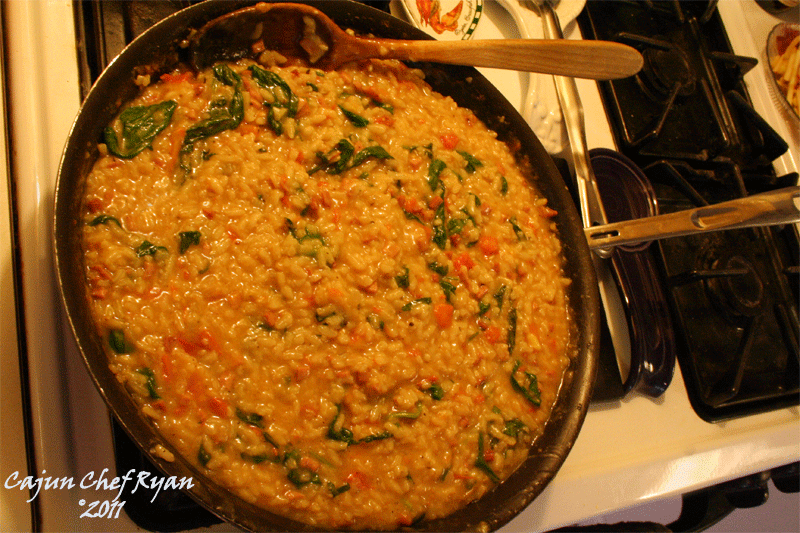 Emeril's One-Pot Sizzling Skillet ~ "BLT" Risotto
This is our eighth recipe from Emeril's new cookbook, as we continue our participation in the One-Pot Blogger Cooking Party.
Along with nineteen other foodie blogger's, we are sharing recipes, photos and our experiences from cooking within the new cookbook. Today, I am going to share our experiences from making the "BLT" Risotto as found on page 33 from Emeril's new cookbook Sizzling Skillets and Other One-Pot Wonders which is available for order now, the book went on sale on Tuesday, September, 27, 2011.
Check out our other seven recipes which include three from the first week, where we kicked off the One-Pot Blogger Party here on CCR!
Emeril's recipe for "BLT" Risotto is included in the Skillets and saute pans chapter along with 24 other recipes that can be prepared from a skillet or saute pan. We really enjoyed this dish, it is easy to prepare, but you do need to be standing over the skillet for about a half-hour to ensure the rice is cooking perfectly.
About the recipe
If you have never made a risotto you need to be prepared to stand over the stove for about thirty minutes will the additions of warm stock are added to the rice at intervals. Enough stock is added to allow the rice to just absorbed enough of the liquid, then more stock is added, typically in one-cup portions until the rice has absorbed all of the liquid and has become tender.
Along with 6-cups of chicken stock the recipe also includes bacon, spinach, diced tomatoes, garlic, thyme, dry white wine, unsalted butter, and freshly grated Parmigiano-Reggiano cheese.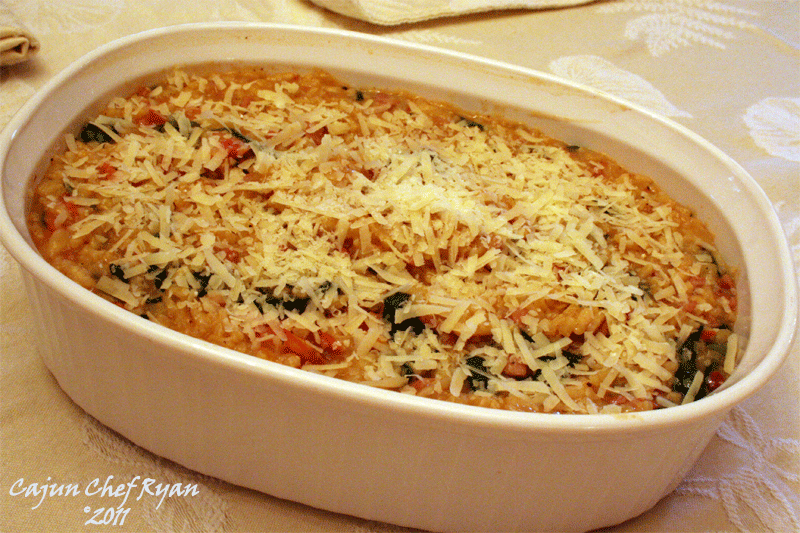 Emeril's One-Pot Sizzling Skillet ~ "BLT" Risotto Served
And dinner is served. This dish was an accompaniment with the Seared Scallops, which is another recipe from the cookbook which we already featured in this series.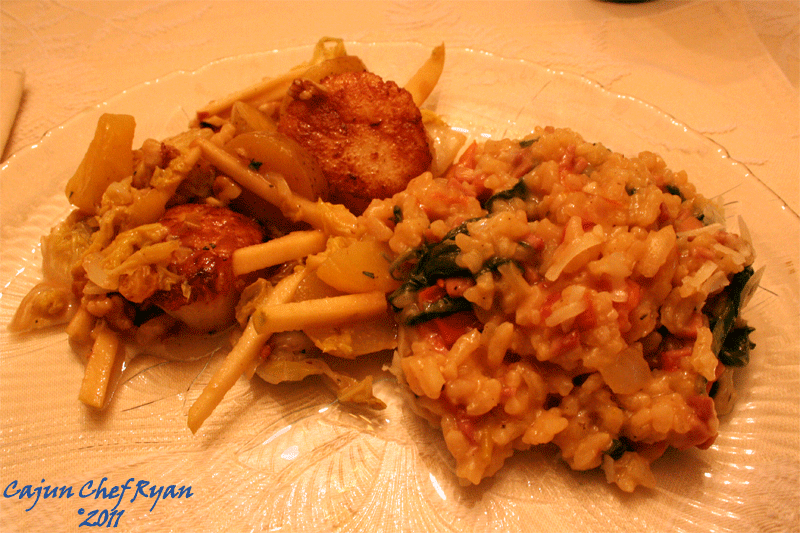 Emeril's One-Pot Sizzling Skillet ~ "BLT" Risotto Served
Be sure to visit:
Emeril's Official Website Emerils.com
Emeril's Facebook Page facebook.com/Emeril
Follow Emeril on Twitter http://twitter.com/#!/emeril
Bon appétit!
CCR
=:~)
©2011 CCR