Emeril's One Pot Sizzling Skillet ~ Cajun Shrimp Stew
To kick off the One-Pot Blogger Cooking Party along with nineteen other foodie blogger's, I am going to share the Shrimp Stew recipe from Emeril's new cookbook Sizzling Skillets and Other One-Pot Wonders which is available for pre-order now!
Harper Collins, the publisher of the book, has offered a preview of three select recipes from the new cookbook, and we are allowed to share these with you now, even before the new cook book goes on sale September 27, 2011.
Just in case you did not know, Emeril Lagasse is one of America's favorite chefs, and in Sizzling Skillets and Other One-Pot Wonders he brings us more than 130 easy, flavorful recipes that feature a single pot or pan, be it a skillet, baking dish, Dutch oven, pot, wok, or slow cooker. From Beef Bourguignon to Chicken and Andouille Jambalaya to Shrimp and Asparagus Risotto to Slow Cooked Pulled Pork, Sizzling Skillets and Other One-Pot Wonders makes Emeril's trademark recipes even easier to prepare at home while saving on time, space, and clean up.
The Recipe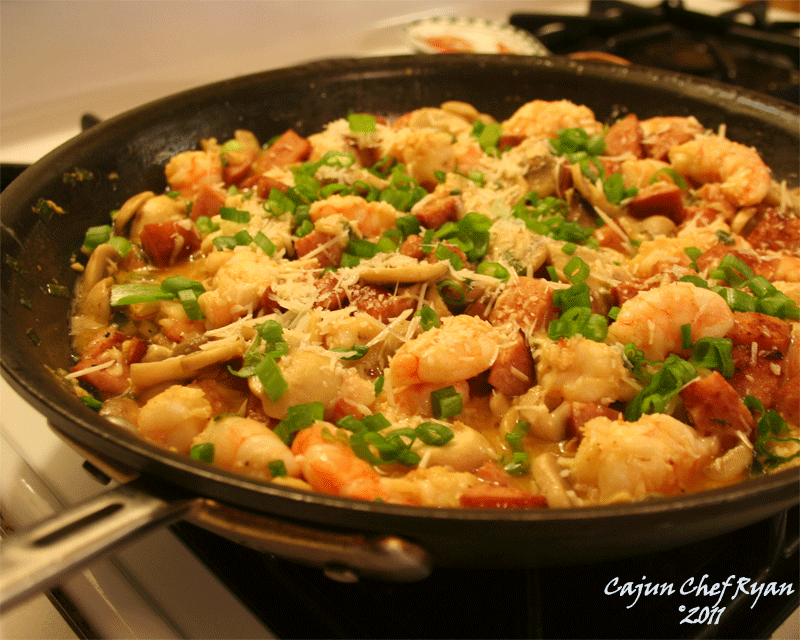 CCR's One Pot Cajun Shrimp Stew
This is one of the three recipes that we can share with you, and it is a perfect start to our One-Pot Blogger Cooking Party, of course you already know why I picked this one out as my first recipe right! It has Cajun written all over it, and shrimp is one of the most plentiful seafood bounty items you can get from the Gulf Coast, up and around the Atlantic Seaboard too. We get some great shrimp from both bodies of water, each has it's own flavor nuances and typically between the brown and white shrimp seasons you can be sure to find some fresh shrimp along the roadside stands from Lafite in Louisiana, and along the coast in North Carolina.
In the book this recipe is listed in the Dutch Oven chapter, but I made mine in a large skillet, either way, I think it tastes great, deep rich flavor from the roux, and it has that genuine Cajun heritage in every bite! I modified the recipe for the version made in the large skillet, added some smoked sausage, reduced some of the ingredient amounts such as the liquid, stock, and roux and incresed the amount of shrimp. Just goes to show you how versitile Emeril's recipes are to prepare.
Cajun Shrimp Stew
(as written in the cookbook Sizzling Skillets and Other One-Pot Wonders)
This comforting, simple stew is a Cajun dish that many home cooks in Louisiana enjoy, especially during the Lenten season. It is easy to make and feeds a bunch. The trick is getting the roux to the right color . . . about a notch darker than peanut butter should do the trick. A homemade shrimp stock makes all the difference in the world. Make sure to add the shrimp just before serving so that they stay nice and tender. Some families boil eggs in their shrimp stew (as it simmers) to make the dish even heartier.
Ingredients
1 cup vegetable oil
1 ½ cups all-purpose flour
2 ½ cups finely chopped onion
¼ cup minced garlic (about 12 cloves)
10 cups Rich Shrimp Stock (see below)
2 bay leaves
1 ¼ teaspoons freshly ground black pepper
¾ teaspoon cayenne
2 teaspoons chopped fresh thyme leaves
1 ½ tablespoons kosher salt
3 large baking potatoes (2 ½ to 3 pounds), peeled and cut into 2-inch pieces
2 pounds small or medium shrimp, peeled and deveined
¼ cup chopped green onion, green part only
2 tablespoons chopped fresh parsley leaves
Steamed long-grain white rice, for serving
Steps:
1. Heat the oil in a heavy-bottomed Dutch oven over medium-high heat and, when hot, add the flour. Whisk to combine and continue to cook, stirring constantly, until a medium roux is formed (it should look a bit darker than peanut butter), about 10 minutes. (If the roux begins to brown too quickly, reduce the heat to medium or medium-low and take your time—it is important that the roux not be burned at all or the stew will have a bitter taste.) As soon as the roux is the right color, add the chopped onion and cook until soft, stirring occasionally, 4 to 6 minutes.Add the garlic and cook for 2 minutes. Stir in the stock, little by little, and bring the sauce to a gentle boil. Add the bay leaves, black pepper, cayenne, thyme, and 4 teaspoons of the salt and reduce the heat so that the sauce just simmers. Cook, stirring occasionally, until the floury taste is gone, 30 to 45 minutes.

2. Add the potatoes and continue to cook, uncovered and stirring occasionally, until the potatoes are very tender and the sauce is thick and flavorful, 30 to 40 minutes longer. (Add a bit of water or chicken broth to thin the gravy should the stew get too thick during the cook time. The sauce is meant to be thick and rich but not pasty.)

3. Toss the shrimp with the remaining ½ teaspoon salt. Stir the shrimp, green onion, and parsley into the stew and continue to cook until the shrimp are just cooked through, 3 to 4 minutes. Taste and adjust the seasoning if necessary. Remove the bay leaves. Serve the stew in shallow bowls over hot white rice.

6 to 8 servings
 
 
Rich Shrimp Stock
(as written in the cookbook Sizzling Skillets and Other One-Pot Wonders)
This stock is so easy to make, yet so flavorful—make a batch every time you have shells and heads from fresh shrimp and you'll never have to worry about where to get shrimp stock again. You'll find that toasting the shells in oil before adding the water gives added depth to this stock, which can be used in countless ways.
Ingredients
1 to 1 ½ pounds shrimp shells and heads
1 tablespoon vegetable or olive oil
14 cups water
1 large onion, unpeeled, roughly chopped (the onion peel deepens the color of the stock)
½ cup roughly chopped celery
2 small carrots, roughly chopped
2 cloves garlic, peeled and smashed
2 bay leaves
1 teaspoon salt
2 teaspoons black peppercorns
3 sprigs fresh thyme
2 large sprigs fresh parsley
Steps:
1. Rinse the shrimp shells and heads in a large colander under cold running water and allow to drain.

2. In a large stockpot, heat the oil over medium-high heat. When hot, add the shrimp shells and cook, stirring occasionally, until the shells are pink and toasty-fragrant, 4 to 6 minutes.Add the water and all the remaining ingredients and bring to a boil over high heat, skimming any foam that comes to the surface. Reduce the heat to medium-low and continue to cook at a slow simmer until the stock is flavorful, 45 to 60 minutes.

3. Strain the stock through a fine-mesh sieve into a large heatproof bowl and allow it to cool completely. Cover and refrigerate for up to 3 days before using. (The stock may also be placed in airtight containers and frozen for up to several months.)

About 12 cups

Note: You can easily double the ingredient amounts to make a larger batch of stock.
To save space in the freezer, you can reduce the stock further after straining and discarding the solids. Just add water to the defrosted stock to reconstitute as needed.
 
 
Be sure to visit:
Emeril's Official Website Emerils.com
Emeril's Facebook Page facebook.com/Emeril
Next time we will feature Emeril's recipe for Red Bean and Rice Soup from the slow cooker chapter.
Bon appétit!
CCR
=:~)
©2011 CCR