Some of the freshest shrimp I have seen in years, and the heads were tight with very little orange color fade and some even had none. They smelled like the ocean and had not hint at all of that typically "shrimpy" odor that most people associate with seafood. These were obviously just caught within days. We purchased about 5 pounds of the large, head-on shrimp at Earp's Seafood Market.
The Shrimp Stock
Once we peeled the heads I rinsed them several times under cool tap water and then covered them with just enough filtered water and put the pot on a very low heat. Once the liquid came to a slow simmer I adjusted the heat to prevent boiling and allowed the shrimp heads to simmer slowly for several hours. Then I strained the shells from the stock and allowed it to cool. I used some of the stock as the boiling liquid for the shrimp later on. Sorry, no photos of the heads or stock.
Boiled Shrimp
Once the shrimp stock cooled some I added about 2 cups of the shrimp stock along with 4 cups of water then added about half an onion cut into chunks, three ribs of celery cut into chunks, and ten garlic whole and peeled garlic cloves to a large stock pot. I also added about a tablespoon of Crystal hot sauce, 1/2 a tablespoon of red pepper flakes and a dash of Worcestershire sauce. I brought this all to a boil and allowed it to simmer for about 15 minutes, then brought back to a rolling boil, at which time I then dropped in the shrimp and allowed them to cook until pink. Once the liquid is drained through a colander the shrimp and other ingredients are transferred to a serving platter and ready to peel and eat with some cocktail sauce.
Eat To Live and Seafood
This meal was a part of our Good Friday seafood dinner. The Eat To Live diet allows for the consumption of seafood or fish twice per week. Overall fish has a nutrient density of 15, which is actually low on the line with 100 being the highest and 0 being the lowest. According to the nutrient-density scores that Dr. Fuhrman provides it is based on the total phytochemicals, antioxidant activity, and total vitamin and mineral content in any given food ingredient.1
Dr. Fuhrman explains early on that some fish and seafood is more beneficial than others, especially with levels of mercury found in their flesh. The fish with the lowest mercury levels include salmon, flounder, sole, tilapia and trout. He also mentions that fish higher up the food chain seem to have the most levels of pollution absorption, such as tune, swordfish, and shark. He also suggests that seafood such as shrimp, scallops and oysters which are lower on the food chain have less of a risk of absorbing pollution as a whole.2
This recipe was prepared on Eat To Live, Week 1 Day 5 and 6, and linked from Eat To Live, Week 1 Day 5&6 of our ETL diet, you can follow our progress at Eat To Live.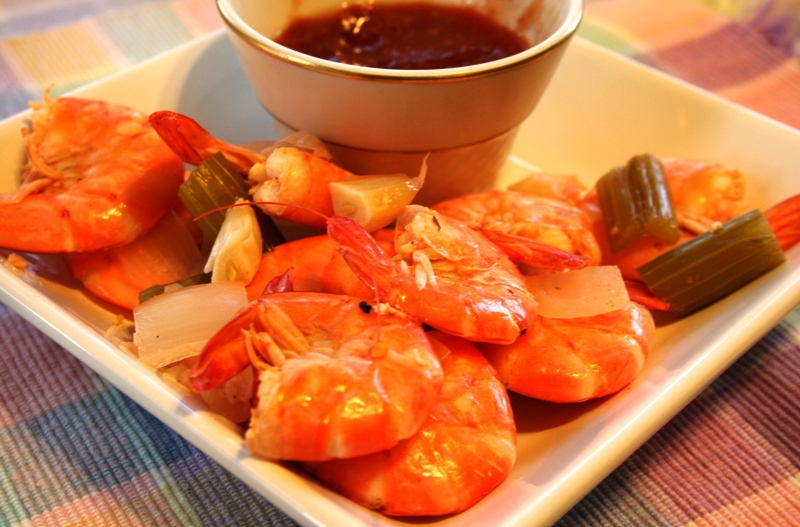 1Furhman, Joel, Eat To Live, pp. 120-121, ©2003.
2Furhman, Joel, Eat To Live, pp. 128-130, ©2003.