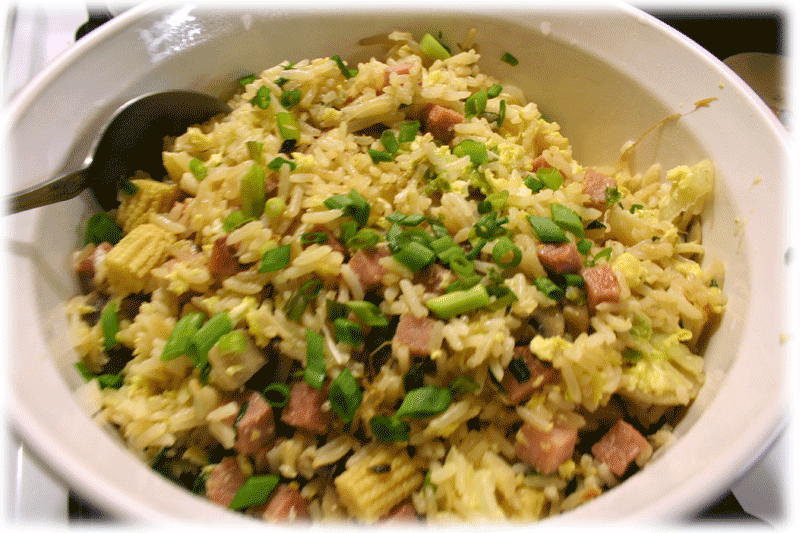 For some reason, there are not many Chinese restaurants around our area. Plenty of sushi restaurants that also serve some hot entrée selections, and some of the take out type places are here and there, but there are not many options for upscale Chinese dining. We tried one such take out place a few months ago and were not impressed. When we lived in New Orleans we would venture into Gretna, LA and China Doll Restaurant and they are famous for their China Doll Fried Rice, it has crawfish tails, baby shrimp, ham, eggs, sprouts, pork, onions, green onions, baby corn and other ingredients, we miss them very much!
Therefore, I took it upon myself to brush up on my stir-fry techniques this weekend and read up some pages in The Thousand Recipe Chinese Cookbook, by Gloria Bley Miller. While most readers here know me as Cajun Chef Ryan, I am only limited to the flavors and tastes of mother earth's bounty, and that includes ethnic flavors and worldly cuisines far beyond the reaches of our American borders.
Many times when I want to throw together something quick and easy and to use what I have on hand, I will make some stir-fry rice or vegetables with some meat. This time around, I decided to consult with those who know better and re-tool or hone my stir-frying skills and techniques. This recipe is adapted from the basic stir-fried rice recipe found on page 679 of The Thousand Recipe Chinese Cookbook and includes the options for meat, canned and fresh vegetables. A few notations and variations help explain why there are so many ways to make the same dish, and why each restaurant will have their own style of fried rice too.
I used a ½-pound of ham cubed for my meat, ½-cup of baby corn, ½-cup of water chestnuts for the canned vegetables, and 2 cups of shredded Chinese cabbage, 1-cup mung bean sprouts and ½-cup fresh mushrooms for the fresh vegetables. I also added 1 tablespoon of fresh minced garlic to this dish. Since we do not own a wok anymore I just used one of my large sauté pans for the stir-fry, and it works well, the advantages of having a wok is the ability to heat and cook ingredients quickly and with the speedy stirring technique, everything stays inside the walls.
My real first experience with stir-fry was during my culinary apprenticeship in the early 1980's. Our class provided the food at a dinner party for the Louisiana State Legislature in Baton Rouge and we created a world cuisine menu, in that menu I developed and ran the service on a stir-fry vegetable station. I staffed a huge wok with portable heat, lots of thinly sliced Bok Choy, carrots, mung bean sprouts, and snow peas, black mushrooms with red and green onions and sesame oil with some soy sauce too. It was a hit to say the least. Many people were intrigued with the huge wok in the dining room and the stir-fry station giving off lots of heat and smoky sesame oil filling the dining room with that wonderful fresh aroma. Now you can recreate the same atmosphere in your home with this recipe. In addition, tomorrow I will share with you the accompanying entrée served with this stir-fried rice, the Stir-Fried Chicken.
NOTE: Click on images for a larger view.
Serves 6 to 8 portions.
Ingredients
4
Cups
Cooked rice
1 ½
Cups
Cooked meat or seafood (see list for selection options)
1
Cup
Canned vegetables (see list for selection options)
3 ½
Cups
Fresh vegetables (see list for selection options)
½
Cup
Green onions, chopped (divided)
2
Lg
Eggs, beaten
2
Tbsp
Sesame oil (divided)
2
Tbsp
Soy sauce
½
Tsp
Salt
1
Tsp
Sugar
2
Tbsp
Sherry
1
Tbsp
Optional: Chinese parsley, (cilantro) chopped
Procedure Steps
1.
Break up and separate the cooked rice if it has been previously cooked and chilled.
2.
Dice or shred the meat, seafood and vegetables. Keep the fresh vegetables separate from the canned, and be sure to drain all liquids from the canned vegetables.
3.
Heat 1 Tbsp sesame oil in a large deep pan or wok. Add ½ the green onions and stir-fry a few times to evenly coat and heat. Then add the fresh vegetables and stir-fry to soften lightly.
4.
Add the canned vegetables and the cooked meat stir-fry to heat through and blend then remove all ingredients from the pan or wok.
5.
Heat remaining 1 Tbsp sesame oil to smoking, then add the rice and heat through completely.
6.
Return the vegetables and meat to the pan with the rice and fold in with a spatula to blend well and heat through.
7.
Quickly blend in the soy sauce, salt, sugar and sherry.
8.
Fold in the beaten egg with a spatula and turn off the heat just as the eggs begin to set.
9.
Serve hot with the remaining green onions and or chopped Chinese parsley (cilantro)
NOTES: When fried rice is eaten as a main dish, accompanied only by soup, allow about 1 cup cooked rice per person plus whatever ingredients are added. When the fried rice is served with other dishes, allow between 1 ½ to 2 cups of rice per person.
VARIATIONS:
For the oil, substitute lard or bacon fat.
For step 1, if the rice is cold heat the rice through first and remove from pan. Then cook the meat and vegetables and add the seasonings. Then return the rice to the pan and mix well to blend. Then add the eggs to finish.
Before adding the cold rice in step 5, combine it first with the beaten eggs, salt and sherry. Cook as in step 5 but over a medium-high heat, then continue with step 6, but omit steps 7 & 8.
In step 7, for the soy sauce substitute either 6 Tbsp oyster sauce and omit the sherry and sugar, or add 1 ½ Tbsp shrimp paste and omit the salt, sherry and sugar.
In step 7, if the rice seems too dry, add 4 – 6 Tbsp stock or vegetable liquids with the seasonings.
In step 7, darken the rice as the restaurants do, by adding a few Tbsp of brown gravy or 1 Tbsp bottled gravy concentrate.
In step 7, add with the seasonings egg threads made with 1 or 2 eggs or scrambled eggs cut in pieces then omit step 8.
In step 8, instead of adding the beaten eggs, make and indentation in the middle of the cooked rice and break the eggs into it. Let cook a few seconds, and then stir the eggs into the rice until they begin to set.
Omit step 8, leaving out the eggs altogether.
For vegetarian fried rice, double the vegetables and omit the meat or seafood.
For the cold cooked rice, substitute fresh rice that has been cooked only 10 minutes after it reaches the boiling point. Add this in step 4 with the meat and vegetables and stir-fry briefly to reheat. Then cook, covered 10 minutes more over low heat and the rice will finish cooking in the liquids of the other ingredients and then omit steps 5 and 6.
Meats for Basic Fried Rice
Roast pork, beef or lamb
Roast duck or turkey
Boiled or baked ham
Bacon, pan-fried
Chinese sausage, steamed
Seafood for Basic Fried Rice
Crabmeat, flaked
Lobster, boiled and diced
Shrimp, cooked
Vegetables for Basic Fried Rice
Baby corn
Bamboo shoots
Bean sprouts, blanched
Bok Choy
Carrots, blanched
Celery, blanched
Chinese cabbage
Cucumber (added at the very end in step 7)
Green onions
Green peas, parboiled
Lettuce
Mushrooms, fresh, canned or dried (soaked)
Onions
Peppers, red, orange, yellow, green or a combination
Pimentos
Raisins
String beans, parboiled
Tomatoes, peeled (at the very end in step 7)
Water chestnuts