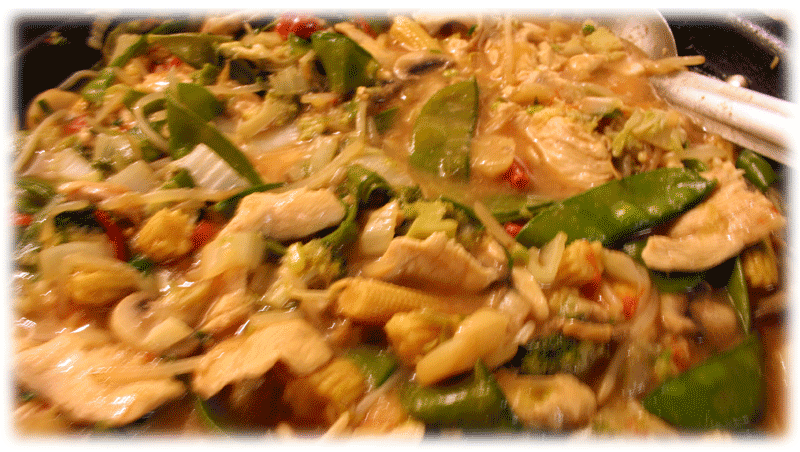 The Stir-Fried Rice recipe posted yesterday provided many variations for substituting ingredients, flavors, and the same holds true for Stir-Fried Chicken. There are options for preparation techniques as well as similar substitutions for the vegetable selections in this one. Following recipe guidelines from The Thousand Recipe Chinese Cookbook by Gloria Bley Miller and found on pages 305-306, here are the basic ingredients, steps, notations and variations for creating this dish at your home. I have also added the option of substituting a little brandy in place of the sherry, in step 2.
For this recipe, I used a combination of broccoli florets, shredded Chinese cabbage, sliced button mushrooms, mung bean sprouts, diced tomatoes from the garden, and snow peas for the fresh vegetables and water chestnuts with baby corn for the canned vegetables. The 4 to 6 cups of vegetables seems like a lot at first, but when using Chinese cabbage it tends to shrink by a large volume and therefore requires a bit more than you think in the outset of the recipe, it will cook down. If you are using vegetables that do not cook down much then 4 cups will be just right.
Note: Click on images for a larger view.
Serves 6 to 8 portions
Ingredients
3
Each
Chicken breasts, boneless, 6 oz. each approximate
6
Slices
Ginger root, fresh, minced (approx 1 Tbsp)
3
Stalks
Green onions, chopped
3
Tbsp
Cornstarch
4
Tbsp
Sherry (or 2 Tbsp sherry & 2 Tbsp Brandy)
½
Cup
Water
1
Tsp
Salt
4 – 6
Cups
Vegetables (see list of options below)
3
Tbsp
Sesame oil (divided)
3
Tbsp
Soy Sauce
1
Tsp
Sugar
1 ½
Cups
Stock, chicken or vegetable
 
Procedure Steps
1.
Cut the chicken breast into thin slices.
2.
Combine the minced ginger root with the green onions, cornstarch, sherry, water, and salt, toss with the chicken, and allow marinating for at least 15 minutes.
3.
While the chicken is resting, slice the vegetables as selected from the list below.
4.
Heat 1 ½ Tbsp of the sesame oil in the wok or sauté pan and add the chicken and stir-fry until it begins to brown (2 – 4 minutes). Remove from the pan.
5.
Heat the remaining sesame oil in the pan and add the fresh vegetables and stir-fry until tender, then add any canned vegetables and heat through. Sprinkle with the soy sauce and sugar.
6.
Stir in the stock and heat to a boil, then reduce to a simmer, cover and continue until the vegetables are tender. Return the chicken to the pan and stir well to reheat and blend the flavors, or about 1 minute. If the sauce is not the proper consistency or thickness to your liking, add 1 Tbsp cornstarch slurry and stir well to incorporate.
NOTE: In addition to the list from the Stir-Fried Rice recipe, vegetables and other ingredients incorporated in any combination of the following, with some duplicated here:
Onions, broccoli, tomatoes, mushrooms (fresh, canned, dried – soaked), black mushrooms, Chinese cabbage, walnuts, cashews, peanuts, bamboo shoots, water chestnuts, celery, almonds, green peas, cucumber, asparagus, green peppers, red peppers, Chinese turnips, green onions, Bok Choy, spinach, or lettuce, mung bean sprouts, snow peas, and baby corn.
Variations: Dice the chicken and vegetables or cut both into strips.
For the ingredients in step 2, substitute either of the following mixtures:
3 Tbsp each cornstarch, soy sauce and sherry.
3 Tbsp soy sauce, 2 Tbsp oil, 3 Tbsp cornstarch, 1 tsp salt, dash of pepper, and 3 garlic cloves minced.
For step 6, add with the stock 1 ½ tsp sugar, ¾ tsp salt and 2 Tbsp soy sauce.