Serves 8 to 10 portions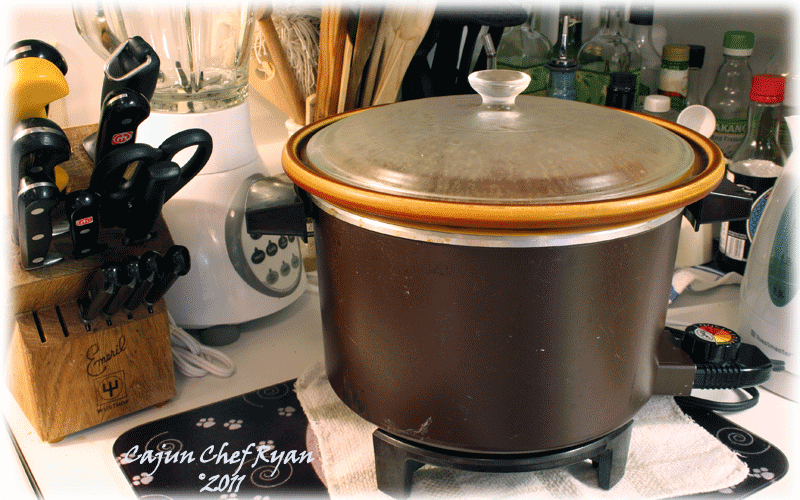 Do you like slow cooking? We love slow cooking! Our slow cooker has paid for itself a thousand fold, and being that it is over 20 years old, it keeps on heating on! Our old crock pot in the image on the left is a Dazey, Model DCP-6, and it holds up to 6 quarts, we even use it for deep-frying with the crock insert removed.
Monique picked out from one of our one-pot cookbooks and in particular for slow-cooker specials and slowly simmered suppers this recipe. The wonderful thing about slow-cookers is you just set up all the ingredients, turn on the heat to the required setting and forget about it…well at least for 5 to 10 hours, depending on the recipe. Then you can enjoy a great one-pot meal!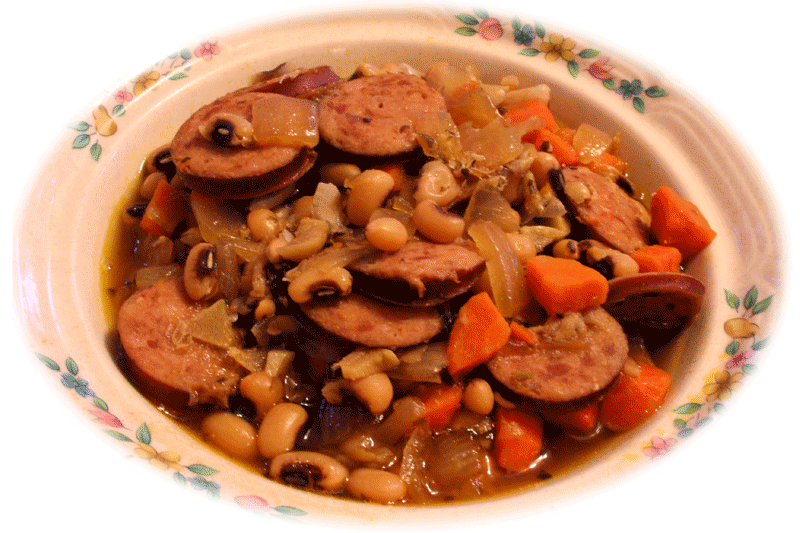 The original recipe called for Andouille sausage, the spicy Louisiana favorite, the store brand Andouille looks nothing like the kind you get in La Place, Louisiana so we substituted some Polish Kielbasa in its place and it is some good. For more on Andouille, please click the hot link to delve. Served over rice this stew is perfect for the cold weather we are getting these days. You too can warm up inside with a bowl of this hearty black-eye pea stew!
Note: Click on images for a larger view.
Ingredients
1
Lb.
Black-eye peas
1
Lb.
Smoked sausage, cut into ¼-inch slices
1
Cup
Onions, medium diced
½
Tsp
Salt
1
Tbsp
Crystal Hot Sauce
8
Cloves
Garlic, minced
4
Each
Bay leaves
2
Tsp
Thyme
2
Tsp
Parsley
8
Cups
Chicken stock
Procedure Steps
1.
Combine all ingredients in a slow cooker and put on low heat setting for 6 to 8 hours.
2.
Discard the bay leaves and adjust seasoning to taste. Serve over steamed rice if desired.