My first cooking venture was during the summer of 1974 and I was 13 years old with not much to do but sit and watch TV all day. The local PBS station WYES in New Orleans would air the French Chef and then the Frugal Gourmet back to back around 10 or 11 am every morning. I got into the habit of watching them most mornings and I was enthralled with their talent and cooking techniques.
I was especially moved by Julia Child in one segment where she spent the entire episode on French Omelets. She explained how the eggs for an omelet are mixed ever so slightly with some water and not milk, that was intriguing. I had always seen my mom make scrambled eggs with milk, but Julia explained that the water helps to fluff up the eggs by creating some steam as they cook in the pan. Her dialogue and demonstrations also highlighted that once you learn to make the basic omelet you can make them in 100's of varieties and flavors.  She thoroughly demonstrated the "flip", it's all in the wrist you know, and that set me off on my real first kitchen adventure.
While home alone I proceeded to break about two dozen eggs before I finally mastered the ubiquitous omelet "flip"! I cleaned up my mess and eggs that were all over the floor, stove and counter tops and started to think of how I was going to answer my mom when she saw all the eggs in the house were gone! Well, she took it in stride and was just happy that I cleaned up after myself, but there was some method to her madness too! I soon was asked to cook breakfast on weekend mornings and sure enough I soon became known for my omelets. Even while visiting at friends houses as a teenager I would end up making everyone omelets. On some occasions we would even make special trips to the grocery for unique omelet filling ingredients like cream cheese with chives, smoked oysters, wild mushrooms, various speciality cheeses and even some wild ones that did not go so well like a sauerkraut omelet.
Fast forward nine years to 1983 and while an apprentice at the Hyatt Regency Hotel New Orleans I was assigned to the omelet station on Sunday Jazz Brunch for 2 years. We would have a station of 4 burners and half a dozen saute pans lined up along with various ingredients such as onions, bell peppers, mushrooms, diced ham, shredded cheddar, shrimp, and other stuff that customers wanted in their omelet. It became a great skill and show flipping 4 omelet pans in sequence in front of an admiring crowd. It was a lot of work standing up for 4 hours straight from 10:00 am to 2:00 pm every Sunday, but I really honed my omelet flipping skills.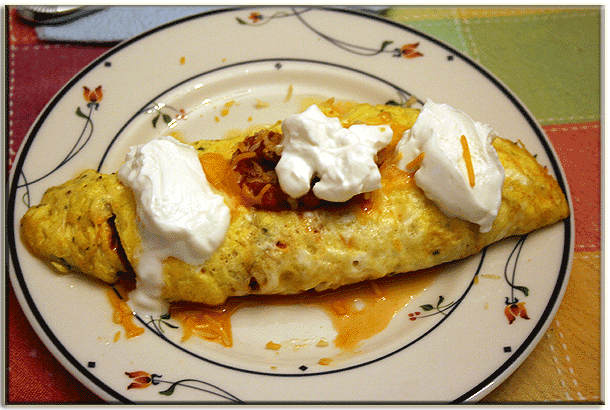 Fast forward to today; since we were short on time and had some eggs on hand I made some individual omelets for dinner and decided to make some Southwest Style Omelets with some onions, tomatoes, salsa, shredded taco cheese and sour cream. In just about 20 minutes I had dinner on the table and everyone was happy. I re-told my Julia Child omelet story again (my family really is nice to listen to the story every time we have omelets) and we enjoyed a nice dinner. Ben put some sour cream on top of his and thought it would make a nice photo too!
There are plenty of omelet variations out there and different techniques for each of them, here is my recipe for a Basic Plain French Omelet, you can add your own fillings.
Basic Plain French Omelet 
Ingredients

2

Each

Eggs, large

1

Tbsp

Water, cool

¼

Tsp

Salt

¼

Tsp

Black pepper, cracked

1

Tsp

Parsley flakes

½

Tbsp

Butter

 
Procedure Steps

1.

Crack the eggs into a small bowl and add the water, salt, pepper and parsley

2.

With a fork or wire whisk gently fold the ingredients together but do not over mix

3.

Heat a 6" sauté or omelet pan until very hot then add the butter to melt

4.

Pour in the omelet egg mixture and using a rubber spatula gently fold the cooked edges of the egg over and under without scrambling

5.

When the omelet is about 80% set up flip it over and then add your filling of choice

6.

If you want to have a filling ingredient such as cheese this is when you add it to the omelet

7.

Once the omelet is set and cooked turn it onto the serving plate with what is known as the tri-fold procedure. A tri-fold is where the top edge of the omelet will turn onto itself and inside and curl under.

8.

Top with more cheese or sauce of choice
 Bonne appetite!
P.S. I actually got to meet Julia Child on two separate occasions during the American Culinary Federation Convention in New Orleans, August, 1990, and also during an American Institute of Wine and Food/Macy's cooking demo event. Here is a group photo of the chefs who volunteered during one of the events with Julia Child, she was also promoting her at the time new cook book "The Way To Cook"  (that's me on the back row, second from the left)