When I made the Dill Sauce for the Herb Crusted Salmon the other day I had to squeeze out some juice from a lemon so I decided to take a motion photo of my hand rolling and pressing the lemon to break up the flesh and pulp. I have been taking more photos of food among other things like my model trains hobby as well and have started to experiment with the camera a bit. It is nice having a hobby within a hobby, such as food and photography! I have spent more time in thinking up my food compositions for possible photograph opportunities.
In fact, sometimes I get so caught up in the cooking and eating that I forget to take a photo here and there. Or, it's more like "…oh…I got to get the camera out to capture this before the sauce reaches a boil" type of moment.  Or I need to take this photo before the food gets cold, I want to eat it too you know!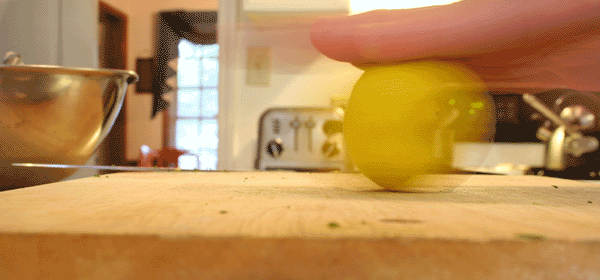 This photo was taken with the self timer and the aperture setting around f-18 for a longer shutter time opening. I thought it was a really neat shot! Especially since I had to time when I moved the lemon in sync with the timed shutter opening.
I have always been fascinated with photography and one of my all time favorite photographers is the French photojournalist Henri Cartier-Bresson (1908 – 2004) who coined the phrase and published the book The Decisive Moment which has influenced what I hope to achieve in my quest for photo excellence.
"The simultaneous recognition, in a fraction of a second, of the significance of an event as well as the precise organization of forms which gives that event its proper expression… . In photography, the smallest thing can be a great subject. The little human detail can become a leitmotif." — Henri Cartier-Bresson1
 Here are a few of my favorite Cartier-Bresson images:
Rue Mouffetard, Paris, 1954
– aka Boy with Bottles

ITALY, Abruzzo, Aquila, 1951 – Women with bread
---
  1Quoted in Modern Culture and the Arts, ed. J. Hall and B. Ulanov (New York: McGraw-Hill, 1972), p.473.