This recipe is straight from the book Diet for a Small Planet, (1982) by Frances Moore Lappé, which is the 10th Anniversary Edition. I was in New York City and spending a week in June of 1982 with my sister who lived in Manhattan at the time and found this book at a progressive bookstore.  This is the first book I bought that could be labeled within the cookbook category, but at the time it was more than just a cookbook.
This book is a statement about a way of life and living that Lappé has been espousing since the early 1970's. Eating healthy with an observance of the good bounty and all the while treading lightly on mother earth. She promotes the use of what is called "complementary proteins", combining two or more less-usable proteins to create one of a better "quality". Over the years millions of people have bought copies of this book among others by Lappé, and it is a testament to the staying power of good food and responsible eating. I am sure the 20th anniversary edition of this book has even more updates in it as the 10th did in celebrating the 1980's. Now in the 2000's there is a new surge of support and promise for locally grown, organic, unprocessed and whole foods that continues to grow. I look forward to obtaining an updated copy of this favorite book of mine, the paperback spine has broke in two and it just goes to show how much it has been used over the years.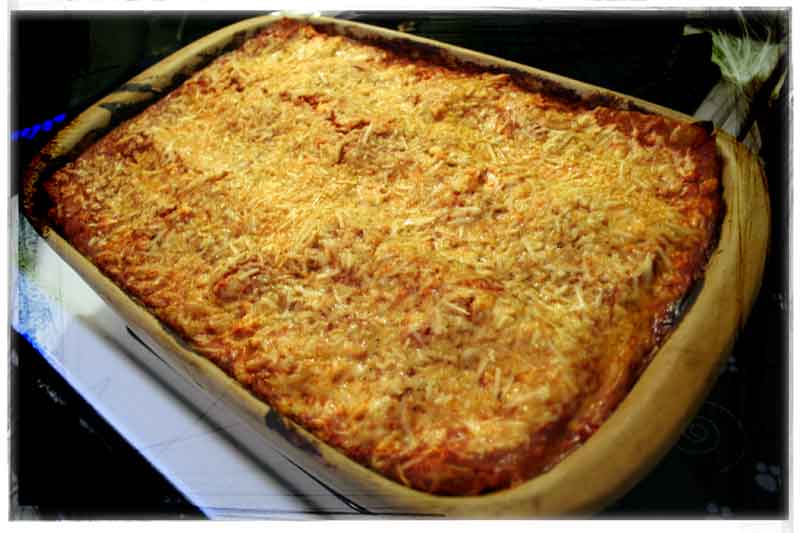 A few months ago, my stepson Bryan asked me to start putting up recipes that he could use for his new apartment life while attending Louisiana State University (LSU) in Baton Rouge, LA. So I created the College Life Cooking category and have already tagged a few posts for him. This recipe is one I made on many occasions at friends apartments when I too attended LSU in the early 1980's, it is quick, cheap and easy to make and tastes really good too. Tread lightly on mother earth, eat well, and she well provide!
Here is the recipe straight out of the book as it is presented on page 252. I've followed this procedure many times and have never had problems with it, always came out as expected.
In the 1982 edition for this recipe Lappé writes…"A nondairy favorite of Bill and Akiko Shurtleff of the Soy-foods Center in Lafayette, California, who point out that 'tofu takes the place of ricotta cheese and provides protein complimentarily for the lasagna.' Delicious hot or cold."
When I made this batch the recipe was doubled, as shown in the image at right above, it makes from 12 to 16 servings from the large casserole dish. (NOTE: Click on images for a larger view.)
Yield: 6 to 8 servings
Ingredients
8
Oz
Whole wheat lasagna noodles
2
Tbsp
Oil
1
Clove
Garlic, minced
1
Lg.
Onion, diced
8
Oz.
Mushrooms, sliced
2
Cups
Celery, diced
1
Lg.
Green bell pepper, diced
2 ½
Cups
Tomato sauce
1 ¼
Cups
Tomato paste
2
Tbsp
Soy sauce
2
Tbsp
Honey
1
Tsp
Cumin, basil, oregano (each)
28
Oz
Tofu, firm, then mashed
Procedure Steps
1.
Cook lasagna noodles, drain, and set aside. Preheat oven to 350°F.
2.
Heat oil in a skillet and sauté garlic for 30 seconds. Add the onion and mushrooms and sauté 2 to 4 minutes. Add celery and green pepper and sauté 3 minutes. Add remaining ingredients except tofu. Bring to a boil, and simmer 3 minutes.
3.
Spread a third of the sauce in the bottom of a 9×13-inch baking dish. On top of it put half the noodles, then half the tofu. (Sprinkle 1 tablespoon nutritional yeast, if desired) Repeat the layers of sauce, noodles, and tofu (and optional yeast) Top with remaining tomato sauce.
4.
Bake in oven for 25 to 30 minutes.
Complementary protein: soy (tofu) + wheat