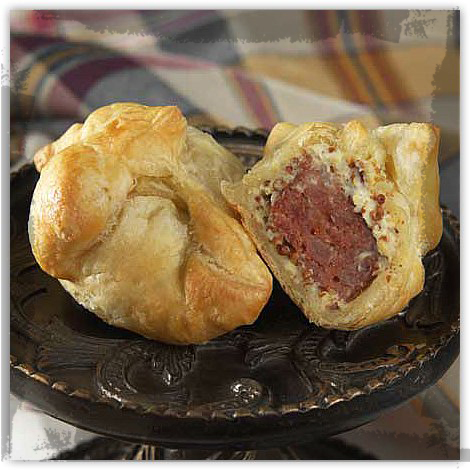 Jack Hines, owner of Foods C'est Bon Limited out of Kenner, LA introduced this hot appetizer to the masses and food service industry many years ago. Now other wholesale foodservice manufacturers are producing them as Sausage En Croute, same product, different name.  Many kitchens do not have the resources to prepare these in the hundreds or thousands, so Foods C'est Bon Limited and other companies still sell these specialties through wholesale food purveyors such as Sysco, Conco, and others. However, having prepared them myself in kitchens for years by purchasing the raw ingredients and assembling them by hand, the resulting savings in food cost outweighs the labor cost.
The hot hors d'oeuvre consists of a portion of highly spiced or seasoned sausage such as an Andouille or Cajun smoked sausage and then surrounded by puff pastry dough. Once baked in the oven for about 30 to 45 minutes at 375° F, then served warm on platters or chaffing dishes, it holds up well for several hours of service.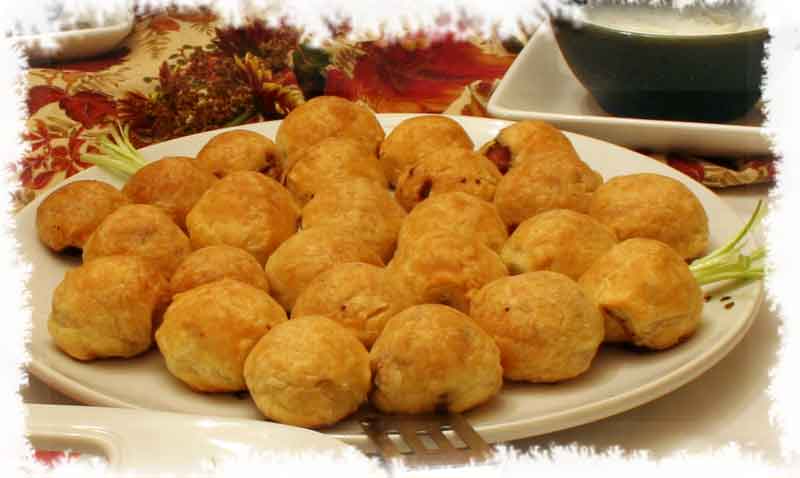 The appetizer typically accompanied with Creole mustard for dipping, or even a variety of mustards. In addition, in this version of the recipe a small dollop of the Creole mustard is put onto the puff pastry before adding the sausage portion. If Creole mustard is not available in your area, any whole grain mustard will work. The main components are any type of sausage that you prefer and sheets of frozen puff pastry dough, along with a little egg wash and Creole mustard filling out the ingredient list. Here is the simple recipe for making your own Cajun En Croute hot appetizer or hors d'oeuvre for your next holiday party or special occasion.
NOTE: Click on images for a larger view.
Yield: 24 individual hors d'oeuvres
Ingredients
1
Lb.
Sausage, cut into 24 pieces
2
Sheets
Puff pastry dough (Pepperidge Farm)
1
Large
Egg, beaten
¼
Cup
Water
½
Cup
Creole mustard
Non-stick spray
Procedure Steps Note: Pre-heat oven to 375° F
1.
Portion sausage into 24 slices per each 1-pound link.
2.
Thaw out the puff pastry dough sheets on a flat cutting surface and cut 12 squares out of each sheet for 24 squares total.
3.
Prepare an egg wash by combining and mixing the egg with the water.
4.
Place approximately ½ teaspoon of the Creole mustard into the center of each puff dough square, then place one sausage piece onto each square.
5.
Using a pastry brush gently spread the egg wash around the edges of the sausage and the exposed puff pastry dough. Then fold over the four corners of the puff dough completely surrounding the sausage and mustard with the dough. The egg wash acts as a "glue" to adhere the puff dough together.
6.
Coat a baking sheet pan with non-stick spray. Place the seam side down on a baking sheet pan and space them about 2 inches apart. Once all the Cajun En Croutes are on the pan, brush the tops and sides with the remaining egg wash.
7.
Bake in a preheated 375° F oven for 30 to 45 minutes, or until golden browned.