New Orleans could have the most distinctive soups in the nation…
According to Tom Fitzmorris, and he is probably New Orleans most known and famous food critic today. He wrote a great book too, "Tom Fitzmorris's New Orleans Food", more than 225 of the City's Best Recipes to Cook at Home. He also has The New Orleans Menu online site with restaurant listings, recipes, eat club, and his newsletter installments. He also hosts a daily week day radio show "The Food Show" from 4-7 pm on 1350 am radio.
Here is Tom's take on the top twenty distinctive soups in New Orleans, and I agree, these are all fabulous soups indeed. Although, I have not tried all of them myself, I have made many of these at some time or other throughout the years.
"You get a soup or a salad with the entree."
Bring me the soup, I say, knowing full well that a guy my age and size really ought to get the salad.
But I love soup. With the advent of weather that makes my fingers cold even inside, which makes me want to drink coffee all afternoon, which causes me to catch a cold … well, it all makes soup sound even better.
New Orleans offers the most distinctive collection of soups anywhere in the nation. The vast spectrum of gumbo alone makes our soup selection utterly unique. Add turtle soup, artichoke and oyster soup, crawfish bisque and crab-and-corn soup – all indigenous dishes – and we have a lot going on in the bowl.
The best way to survey the soup scene is by example. Here are my 20 favorite restaurant soups. All cuisine is fair game. No soup lover would want to pass up Vietnamese pho or Mexican tortilla soup.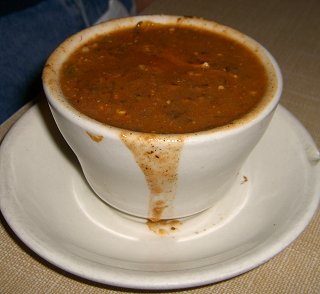 1. Turtle soup, Brennan's (417 Royal St., New Orleans) Enjoy turtle soup while you can; it may not be around much longer. We've gone through at least three turtle species, all now endangered, just in 27 years I've been writing this column. They're now snappers, coming from places like Kansas and North Carolina.
This is the best in town, made with all-turtle meat, a great texture and spice level and enough tomato to mellow the taste.
2. Gumbo ya-ya, Mr. B's (201 Royal St., New Orleans) Mr. B's will not reopen until January but no list of soups could exclude its incomparable chicken-Andouille gumbo, the best gumbo of any kind around.
3. Crab-and-corn soup, Vincent's (7839 St. Charles Ave.; New Orleans, 4411 Chastant St., Metairie) A spectacular version served in a hollowed-out, toasted French bread loaf.
4. Oyster stew, Brigtsen's (723 Dante St., New Orleans) A reduction of oyster liquor with green onions and fresh oysters. They also make a fine oyster Rockefeller soup sometimes.
5. Zarzuela, Rio Mar(800 S. Peters St., New Orleans) This Spanish variation on bouillabaisse is made with a tomatoey broth, mussels, clams, shrimp and other seafood, spiced and scented with saffron. Best dish in the house and that's saying something.
6. Seafood gumbo, Fury's (724 Martin Behrman Ave., Metairie) Freshly made in the old (lighter) style with lots of crab, shrimp, and okra.
7. Pho, Pho Tau Bay (113C West Bank Expressway, Gretna) The original and best location of this Vietnamese soup specialist sends out its tub-sized broth with beef, noodles, herbs and hot sauce. Don't try to figure out the "right" way to eat it; there is no wrong way.
8. Oyster-artichoke soup, Mandina's (4300 La. 22, Mandeville; 3800 Canal St., reopening in January) Since the demise of LeRuth's and La Riviera, Mandina's takes the mantle for the best version of this superb combination.
9. Hot and sour soup, Trey Yuen (600 Causeway Blvd., Mandeville) They actually make this to order, as the freshness of the mushrooms attests. Great balance.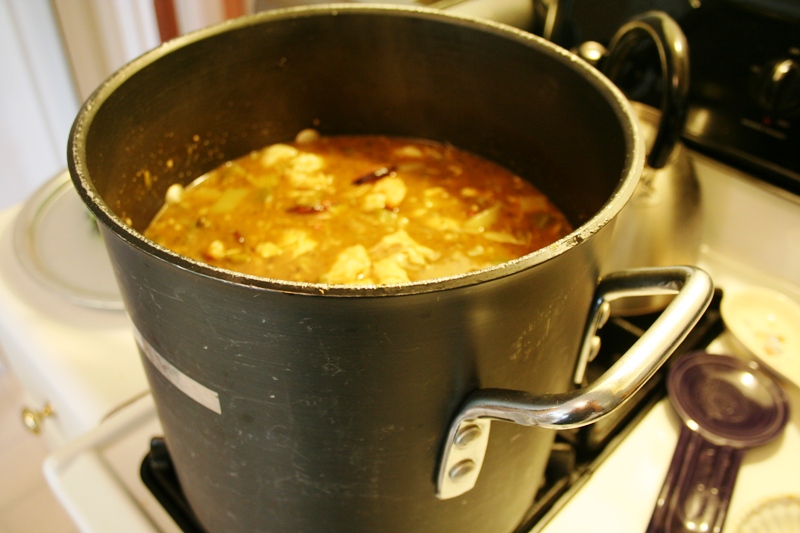 10. Chicken-Andouille gumbo, Bozo's (3117 21st St., Metairie) Offbeat: not just chicken and sausage, but also shrimp and okra in there. No roux. You don't know how good this is until you've gone halfway through the serving.
11. Turtle soup, Commander's Palace (1403 Washington Ave., New Orleans) Commander's famous turtle soup involves a unique recipe that combines veal and turtle with spinach and a few other things. Different from Brennan's.
12. Quail gumbo, La Provence (25020 U.S. 190, Lacombe). Most unusual: a dark-roux chicken gumbo, with a whole quail, stuffed with jambalaya, sitting in the center.
13. Seafood gumbo, Drago's (3232 N. Arnoult Road, Metairie). Drago's makes gumbo a day in advance. A great one, made with a little tomato and a lot of seafood. Also good here: spinach soup with oysters.
14. Tortellini in brodo, Mr. John's Ristorante (2111 St. Charles Ave. New Orleans) This is a wonderful and rarely seen Northern Italian soup, little cheese-stuffed raviolis in an intense, clear, slightly peppery chicken stock.
15. Tom yum goong, La Thai Cuisine (933 Metairie Road, Metairie) One of the classic Thai soups, a clear broth with shrimp, red pepper and the ginger-like galangal. They also make a fine green curry, chicken and coconut milk soup.
16. Oyster soup with cream, Arnaud's (813 Bienville St., New Orleans) Oysters stewed in milk or cream is an old and wonderful idea. Nobody does it better than Arnaud's, which also does a fine shrimp bisque and turtle soup.
17. Cappuccino-style shrimp(or crabmeat) and mirliton bisque, Le Parvenu (509 Williams Blvd., Kenner) A light soup whose cream component floats in a foam on top.
18. Lentil soup, Casablanca (3030 Severn Ave., Metairie) They make many soups here, all marvelous, all starting with a great vegetable stock. This is always around, but if they have split pea soup, get it.
19. Seafood soup, Korea House (3547 18th St., Metairie). An enormous bowl of fish stock with all sorts of fish and shellfish with a spicy sauce you add to your taste, plus noodles. Wonderful on a cold day.
20. Roasted garlic soup, Bayona (430 Dauphine St., New Orleans) When garlic is cooked down a lot, it becomes nutty and wonderful.