As part of the Foodbuzz Tastemaker program CCR was selected to participate in a cheese tasting sampling Sargento natural cheese against any processed cheese of our choice. As part of the Foodbuzz Tastemaker Program, I received a $25 American Express gift card to use toward the purchase of:
¤ One package of your favorite Sargento natural cheese variety
¤ Choice of cheese pairings (crackers, dried fruit)
¤ Choice of processed cheese to compare to Sargento.
The Competitors
Sargento Sharp Cheddar VS Generic American Cheese
Sargento Sharp Cheddar VS Generic American Cheese
One the left side is our competitor, the generic processed cheese food, American cheese. And on the right side is our challenger, the package of Sargento Natural Sharp Cheddar. Both cheeses squaring off in our taste sampling test.
Before we get to the actual tasting I wanted to set an even playing field, so I eliminated any parings of cheese, crackers, wine, or such, as I wanted this to be a straight competition between the two fighting cheeses.
So, let's get started! Introducing…on the left side we have the generic store brand processed American cheese food product, which weighs in at fifteen ingredients. On the right side we have the Sargento Natural Sharp Cheddar cheese weighing in at just six ingredients. Some of the ingredients are similar, such as some form of milk, annatto for food color, and enzymes.
Round one! Ding! Ding! Ding! When we compare the two products on the ingredients lists the Sargento cheese wins hands down. In fact every ingredient in the Sargento cheese is a naturally occurring substance and is easy to pronounce. The processed cheese "food" has many scientific components that make you wonder if this really is a food product at all!

Winner Round One: Sargento
---
Round Two! Ding! Ding! Ding!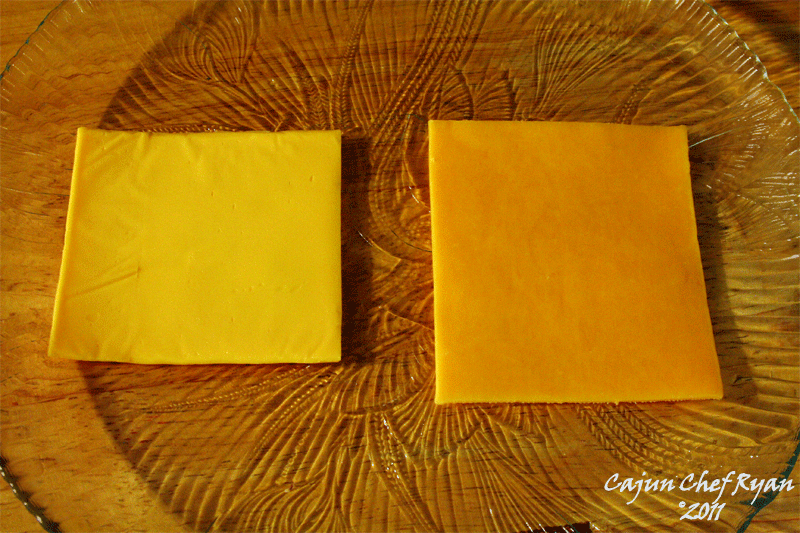 Sargento Sharp Cheddar VS Generic American Cheese
We have the two samples of cheese naked and exposed so we can see their true nature. On left again is the generic American processed cheese food, and on the right is the Sargento natural sharp cheddar. In this comparison we are looking at the conformation, color, shape, and texture of the two cheese slice samples. The American cheese has a bright yellow color with a somewhat glossy sheen, it also displays several grooves where the plastic wrapper molded it's shape somewhat, exposing the very pliable and formed product. It looks as if it were formed from a semi melted state then pressed into the plastic as a blob of cheese, not actually a true slice. The Sargento cheese slice appears as if it were actually sliced from a block of real cheese, take a look at the bottom of the slice and you will notice several grooves where the natural cut has left some "flashing" so to speak. The Sargento sharp cheddar has a darker, richer color, more redolent of a real cheese that has been naturally aged, and not created along with and by some man-made products and food coloring.
Winner Round Two: Sargento
---
Round Three! Ding! Ding! Ding!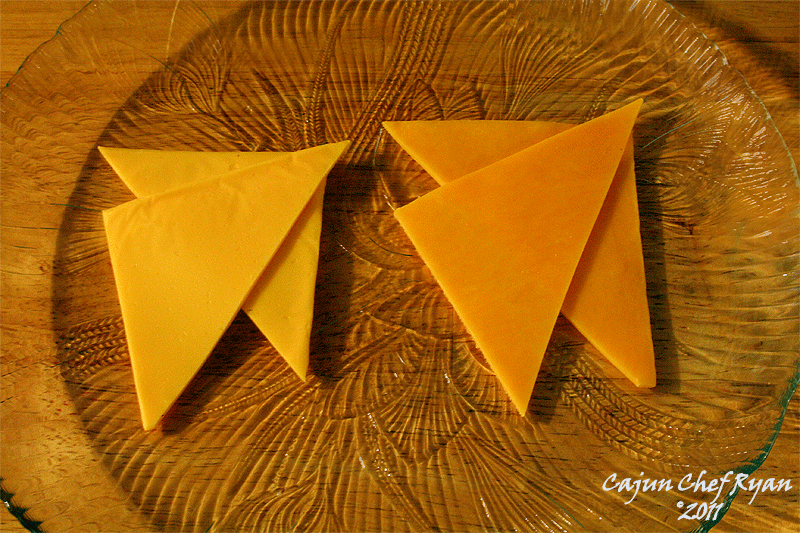 Sargento Sharp Cheddar VS Generic American Cheese
In this round I wanted to cut both cheese samples to get a feel for their texture, appearance, and how they hold up under pressure being on naked display. The processed American cheese product cuts with a slight rubbery texture, and while the cut lines are smooth, it does tend to pull a bit while using the knife, which means you have to pay special attention to making the cuts or it might fall apart. The Sargento cheese cuts in an easy distinct and solid line, no pulling or tearing occurred while it was sliced into the diagonal piece.

Winner Round Three: Sargento
---
Round Four! Ding! Ding! Ding!
The fourth and final round is the most important taste test. Using a blind taste testing I was given one slice of cheese to taste and smell, and this was probably the easiest test of the four rounds. Hands down the Sargento cheese won! The American processed cheese has a soft and pliable texture and mouth feel, it melts into a smooth yet sticky texture and has that "gooey" quality about that can only be compared to other processed cheese textures. The Sargento cheese has a deep rich cheddar smell, the texture is soft yet firm enough to have a little bite and chew. The sharp taste is redolent and exhibited in it's strong complex flavor profile which has a slight tangy edge that's a little sweet, nutty, slightly bitter, and herbaceous. In a nutshell, it has some flavor!
Winner Round Four: Sargento
I have to admit that the cards are stacked against any processed cheese food, just about any other cheese would win hands down against any American cheese processed food product. Now, I would like to propose a challenge to Sargento to match itself against any farmhouse brand cheddar cheese and see how that fight goes down!
Bon appétit!
CCR
=:~)
©2011 CCR