Yield: 8 portions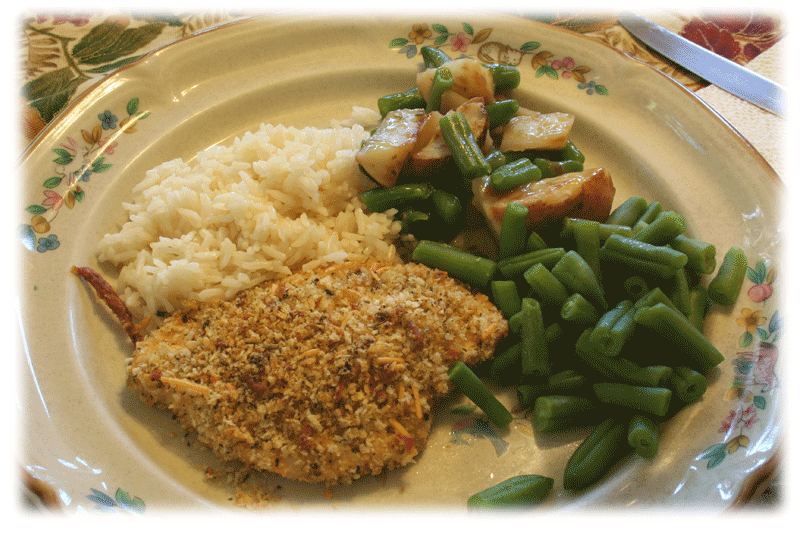 This dish results in a quick, easy and quite tasty chicken breast, the recipe highlights butter and garlic for a "batter" and Panko breadcrumbs with Italian seasonings and three cheeses for a breading, then it is finished in the oven for a perfectly roasted delight. Served with rice and green beans for sides our meal last night was on the table in less than an hour from prep to dining.
Similar to a scaloppini style the chicken breasts cut into thin portions, which allow them to benefit from a shorter cooking time. The preparation techniques are a slight modification from typically prepared pan sautéed chicken or veal scaloppini, which can utilize a combination of flour and or an egg wash coating, or just seasoned flour then seared in a hot pan with either clarified butter or olive oil and then finished in the oven. This recipe uses the butter garlic mixture to coat the chicken breast in place of an egg wash and then roasted in the oven instead of the pan sauté method.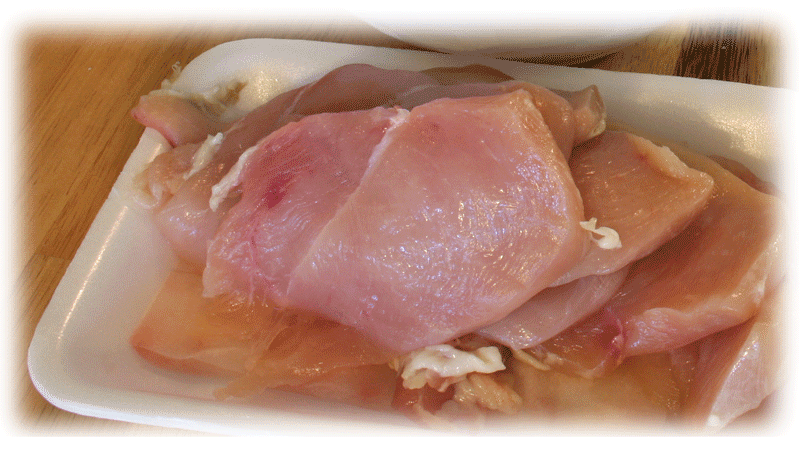 As an option and in addition, for a true scaloppini the meat is pounded even thinner to smaller than a ¼-inch thickness, I've omitted this step, however, if you wish the chicken breasts can be gently pounded even thinner after the cutting and then proceed with the recipe. Typically, scaloppini portions are so thin that chefs will say you should be able to see through the slices, of course this is an exaggeration, but the point is for a true scaloppini the portions are to be as thin as possible. Note: Click on images for a larger view.
Ingredients
4
each
Boneless, skinless chicken breasts, 4 ounces each, cut
4
Tbsp
Butter, melted
½
Tbsp
Fresh lemon juice
1
Tsp
Worcestershire sauce
1
Tsp
Garlic powder, divided
½
Tsp
Garlic salt
5
Cloves
Garlic, minced
½
Tsp
Fresh ground black pepper
1 ½
Cups
Panko breadcrumbs
1
Tbsp
Parmesan cheese, fresh grated
2
Tbsp
Sharp cheddar cheese, fresh grated
2
Tbsp
Mozzarella cheese, fresh grated
1
Tbsp
Italian seasoning blend
½
Tsp
Barbecue rub mix, (I used my Finger Lickin' Rub)
 
 
Non-stick cooking spray
Procedure Steps             Note: Preheat oven to 375° F.
1.
Rinse under cool water and pat dry the chicken breasts, then laying flat on a cutting board cut each breast in half to form 8 thin portions. These are similar to scaloppini style portions. 
2.
In a small bowl melt the butter in microwave for 20 to 30 seconds, and then add the lemon juice, Worcestershire sauce, ½ tsp garlic powder, garlic salt, minced garlic and fresh ground black pepper. Stir well.
3.
In a shallow pan, combine the Panko breadcrumbs with the parmesan cheese, cheddar cheese, mozzarella cheese, Italian seasoning and the rub spice mix. Combine well.
4.
Coat a baking sheet pan with the non-stock cooking spray. Coat the chicken breast in the butter garlic mixture then dredge the chicken breasts in the breadcrumb mixture making sure an even coating adheres well, and then transfer to the baking pan. Top the chicken breasts with the remaining breadcrumb mixture.
5.
Roast in the 375° F oven for 30 minutes or until golden brown and chicken is cooked through.