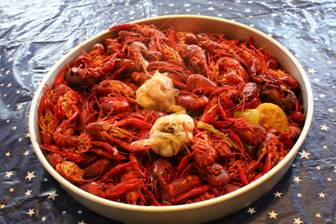 Throwing a crawfish or seafood boil is as much of an event as it is having something good to eat. I like to compare it to what New Englanders have as their clam bakes on the beach; we Gulf and Atlantic Coasters also have our crawfish and seafood boils. In addition to crawfish some of the other popular ingredients for boils include blue crabs, shrimp and even lobster. When we lived in New Orleans you could count on us having a crawfish boil every spring around Easter time for the family and friends and always planned on anywhere from 2 to 4 sacks of live crawfish and plenty of iced cold beer. There is nothing like sitting at your picnic table lined with newspapers and peeling the tail and sucking the head, then washing it all down with an iced cold beer. Yes, you heard me right, "Suck da head, peel da tail"; it's a popular phrase in south Louisiana and also the title of the famous song by the locally known rock band the Radiators, also known for their "Fish Head Music". For a quick "How To" on peeling boiled crawfish check out this PDF at Louisiana Seafood dot com. I am so excited to be selected for the July 2009 Foodbuzz 24 Meals, 24 Blog's, 24 Hours event and especially so that I can share the exotic adventures of enjoying fresh boiled crawfish, crabs and shrimp as well.
Crawfish heads typically will have an amount of the orange colored fat along with some of the tasty boiling liquid juices stored within the confines of the shell. Sucking on the head will release the combined fat and juice concoction along with a burst of spicy seafood boil for extra kick…peel the tail and then take another sip of the iced cold beer. Yeah you rite char! And after a dozen or so of these your lips are tingling with spicy deliciousness and it's time for some more garlic-boudin covered French bread.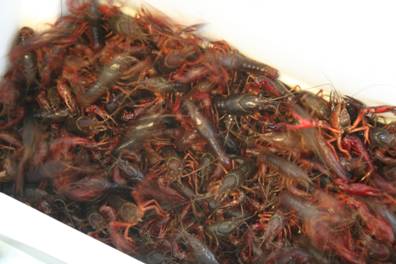 Over the years the prices for live crawfish in Louisiana have wavered depending on seasonal conditions including the amount of rainfall and if it was a really cold winter. Crawfish enjoy warmer conditions and a moderate amount of rain. In the mid-1980's a sack of live crawfish would run anywhere from ¢0.27 to ¢0.49 per pound. The last time I bought a couple full sacks of live Louisiana crawfish in 2004 they were running around $1.29 per pound. Most sacks hold around 40 to 45 pounds each, and typically for a crawfish boil you want at least 3 to 5 pounds per person. Crawfish is sold year-round but they are in their prime season from early spring through the early summer months in south Louisiana, the only months when they are not so plentiful are from July through October. In fact they are so popular during the Catholic Lenten period that the price typically continues to jump until Easter, and then the price drops once the demand for seafood starts to wane. After mid-summer they also get bigger and are harder to peel, but are still good and tasty to eat regardless, just a few chipped our broken finger nails, that's all. In Louisiana the Bell River crawfish are some of the best because they are natural wild caught crawfish, and a good many crawfish these days are also farmed in ponds from various aquaculture sources throughout the State.
According to the Louisiana Seafood Promotion and Marketing Board web site Louisiana leads the nation in crawfish production, producing more than 90% of the domestic crop. Live Louisiana crawfish are typically available November-June and can be farmed or wild caught. The combined average yield of Louisiana farm raised and wild crawfish is between 75-105 million pounds a year, with an economic impact of more than $120 million for the state of Louisiana. Louisiana has more than 1,000 crawfish farmers and more than 800 commercial fishermen who catch wild crawfish.i
The most crawfish I ever have ever boiled in one setting was during a Delgado Community College Alumni Association Crawfish Boil fundraiser on a Saturday in the spring of 1987. We ordered 50 sacks of them, and what amounted to around 2,200 pounds of crawfish and an entire day with 4 huge pots and boiling 2 to 3 sacks in each pot at a time. It was an all day affair serving some 800 folks who came out to enjoy a nice spring day and eat some crawdad…oh and enjoy a few beers too!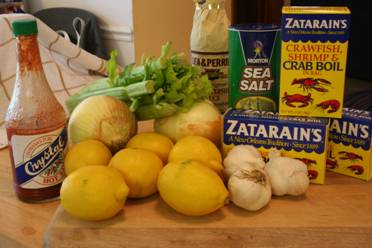 In North Carolina there are a few crawfish farmers that harvest their pond raised from May through June each year. While the price for live crawfish is typically around $6.00 per pound here in NC we have bought anywhere from 10 to 20 pounds from Wheeler's Crawfish Pond which is located in Louisburg, NC, and is a short drive for us. They are the cleanest crawfish we have ever eaten, with no mud under the finger nails after polishing off a batch proves just how clean they really are in the Tar Heal State. According to the North Carolina Department of Agriculture and Consumer Services, the total crawfish production accounts for 3% of all state aquaculture and less then 1% of the U.S. crawfish production.ii
Monique requested that I boil up some crawfish so we made a call and we were able to find 10 pounds that Mr. Tony pulled out for us and $60.00 later he loaded up our ice chest with some live crawling mud bugs. The seasonal availability in NC is extended a bit due to the cooler weather but the peak of the season was a few weeks ago. Not one of them were dead, in fact a funny line from the "You know you are from Louisiana…" routine is when you go to a crawfish boil and someone says "don't eat the dead ones" and you know what they are talking about. After you boil the crawfish they are all dead, but you can tell which ones were dead before they were boiled because their tails will be straight out and not curled under, the crawfish that were boiled alive will have curled tails and the "dead" ones will not.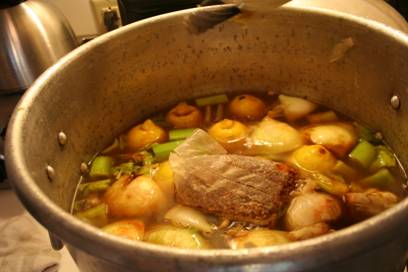 What follows is the preparation and procedures for boiling a small stove-top batch of crawfish in your kitchen. However, I must say that this is not the typical procedure for boiling crawfish, they are usually boiled in much larger pots and outside on a propane burner. Since we were only boiling 10 pounds it would take 2 batches to get them done in the small 5 gallon stock pot with a fitted basket. You can also use the same procedure and method if you are going to boil some crabs or shrimp too. However, if boiling shrimp they should be removed from the boiling liquid as soon as they turn pink, or they will over cook.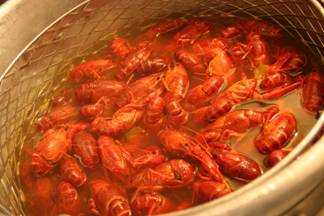 This home stove top recipe is a modification from one that I would typically utilize for a full blown outdoor crawfish boil. And in this instance I did not add any other side items such as corn, sausages, artichokes or potatoes. At your typical crawfish boil you will find new red potatoes, corn on the cob, boudin or other raw sausages and on occasion whole artichokes added to the boiling liquid prior to adding the crawfish. The added side items absorb a lot of the spicy flavors, especially the rice packed boudin sausage. A real treat is to take some crusty French bread and spread on some of the boiled whole garlic cloves and some of the boudin sausage, this makes a great side dish between peeling the crawfish.
Small batch stove-top method (2 batches)
Ingredients
3
Gal
Water
2
Large
Onions, quartered
6
Each
Lemons, halved
4
Bulbs
Garlic, whole
1
Head
Celery, large diced
2
Bags
Zatarain's Crab Boil spice
2
Tbsp
Worcestershire sauce
2
Tbsp
Crystal Hot sauce
1
Tbsp
Cayenne pepper
1
Cup
Salt
10
Lbs.
Live crawfish
Procedure steps
1.
Add the 3 gallons of water to a 5 gallon or larger stock pot and add 1 onion, 3 lemons, 2 bulbs garlic, and ½ the celery and one bag of the crab boil spices. Since this is done in two batches we will save the other half of the onion, lemons, garlic, celery and crab boil spice for the second batch. Add the entire remaining ingredients with the exception of the crawfish. If you wanted to include some new potatoes, corn, artichokes, sausages, etc…this is the point where you would add them as well. If adding these items just remember to put the fitted basket into the liquid first.
2.
Cover the pot and bring to a boil and allow it to simmer on medium high heat for 15 minutes.
3.
Bring heat to the highest setting and add 5 pounds of the crawfish to the basket then gently lower it into the boiling liquid. Cover and simmer another 5 minutes then turn off the heat and allow the crawfish to soak for 15 minutes. This will enhance the flavor of the tail meat and will also finish cooking the potatoes, corn, etc…
4.
Remove the basket and allow excess liquid to drain then transfer the contents to serving platters or in the traditional method dump the boiled ingredients directly onto the newspaper lined table.
5.
Add the other ½ of the remaining onions, celery, etc to the pot, cover and bring to a boil again and repeat steps 2 through 4 for the second batch of crawfish.
6.
Any left over crawfish should be peeled and the tails saved for other preparations. A few ideas for other such preparations include making crawfish bisque or a crawfish chowder with the left over tails, corn, onions, celery and new potatoes.
---
I held the saucier position at the Hyatt Regency Hotel in New Orleans for a good part of my second year of apprenticeship from the 1983 to 1985 period, and during the height of every crawfish season I was tasked with frequently putting on a batch of boiled crawfish for the restaurants. Below is the preparation that was utilized at the Hyatt Hotel in the mid-1980's. Typically the crawfish were served cold in the Courtyard Restaurant buffet and on seafood buffets for special functions, banquets and events. We typically boiled 2 sacks at a time, which is an equivalent of 80 to 90 pounds of crawfish. This method can also be tailored for the outdoor propane burner preparation for large batches and full blown crawfish boil parties and events, which is typically what I would employ with our family seafood boils.
Large batch outdoor method
Ingredients
15
Gal
Water
30
Each
Lemons, cut in half
20
Bulbs
Garlic, cut in half
12
Each
Crab boil seasoning bags, 3 oz each
20
Oz
Crab boil liquid
12
Oz
Cayenne pepper
3
Lb
Salt
4
Each
Onions, quartered whole
1
Bunch
Parsley
12
Oz
Crystal hot sauce
10
Oz
Worcestershire sauce
6
Oz
Beef base
12
oz
Lemon juice
2
Sacks
Live crawfish, 40 lbs each average
Procedure
1.
Fill water in large stock pot, steam kettle, or boiling pot and add all the above listed ingredients except the crawfish.
2.
Bring to a boil and simmer for 15 minutes to incorporate the flavors.
3.
Add the crawfish and stir to keep even cooking throughout.
4.
Keep heat on high to bring back to a boil while covered. Boil for 5 minutes or less.
5.
Reduce heat and allow it to sit for 10 minutes as the crawfish rise to the top of the liquid and for flavors to concentrate in the crawfish.
6.
Remove crawfish from liquid and serve at once, or for future cold service pan out crawfish in deep hotel pans and as an option with half the boiling liquid in the pan to further enhance the flavor and chill on rack in walk-in refrigerator immediately.
---
Here are a few photos from some other seafood and crawfish boils we have had over the years.
Crab and Shrimp Boil – Summer 2004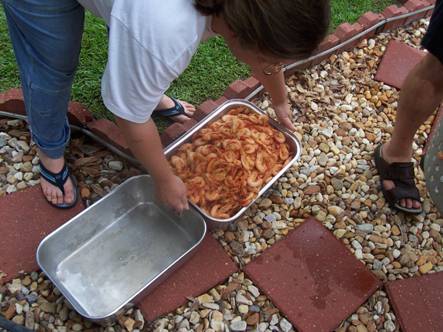 Boiled Shrimp, about 20 pounds of large shell-on fresh shrimp from the Gulf of Mexico
Live Blue Crab, Ben holding the crab with the long tongs to keep from getting pinched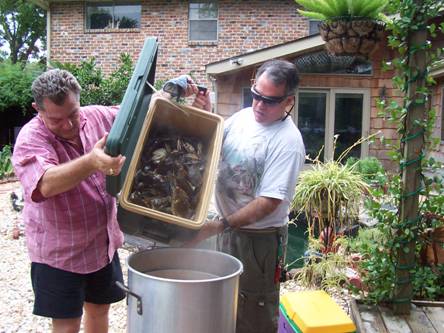 Live blue crabs getting put into the boiling liquid for their eventual demise, and our dining pleasure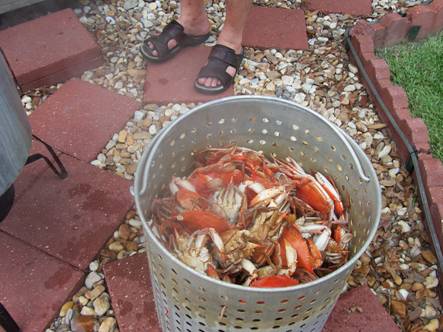 Hot Boiled Crabs just out of the boiling liquid and steaming too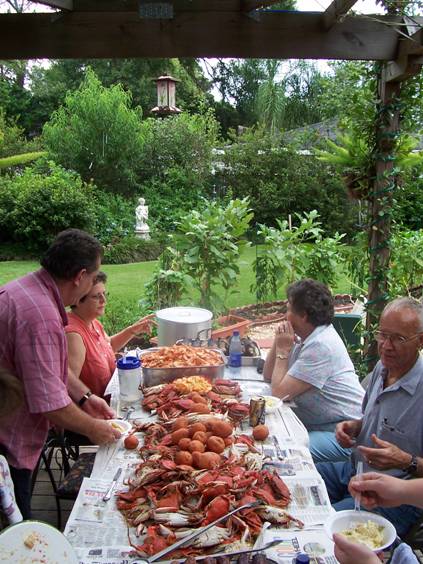 Boiled Seafood Feast with crabs, shrimp, new potatoes, garlic, onions and dipping sauces
---
Crawfish Boil – Spring 1992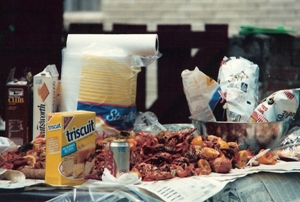 Crawfish and such on the newspaper lined table
A batch of boiled crawfish ready
---
Delgado Alumni Association Crawfish Boil – Spring 1987
Purging and playing with the crawfish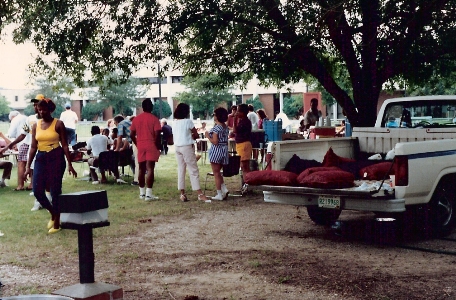 A pickup truck load of crawfish sacks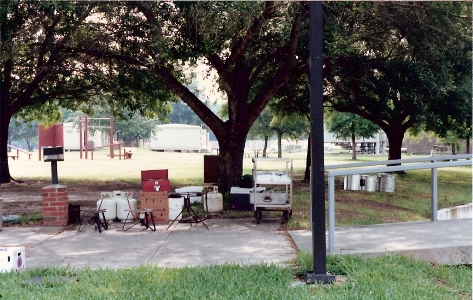 The boiling stations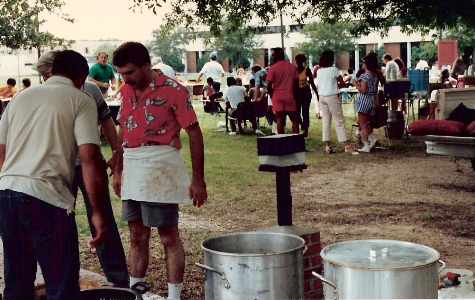 Getting the pots ready
---