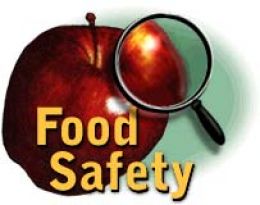 In recent years I have noticed the increased frequency of incidents and reports describing contaminated food items or food-borne illness outbreaks. Just in the last 18 to 24 months or so I can remember a few of them off the top of my head, such as green onions contaminated with E Coli at Taco Bell's across the northeast, salmonella tainted tomatoes from Florida and Mexico, spinach recalled due to E Coli, baby formula from China contaminated with melamine. Today I read about dioxins found in pigs in Ireland and now they are being culled from the food supply chain.
In the restaurant business Food Service Sanitation is one of those "must have" courses that also includes a certification exam to ensure students are able to understand all the facets of food-borne illness and how to prevent it from happening. In the restaurant industry most local or county governments require establishments to post and prominently display their most recent inspection rating. In our area most of the places seem to be in the 90-100 range, with a few in the low 90's and very few if any at the 100 rating. When we go to restaurants now one of the first things that Ben looks for is the food safety sanitation inspection rating, and knowing it is in the 90's makes you feel like it should be safe to eat their food, but you never really know what the restaurant got marks off and have to wonder some.
Have you ever opened up a food item that you purchased at the grocery only to find that it has spoiled or is rotten before the expiration date? Or have you gotten home from the grocery and noticed that the dairy product is past the expiration date because you forgot to check the date?  Typically I am really good about checking the expiration or "Use By" dates on packaging and a few weeks ago I remember some yogurts were over a week out of date and they were still on sale in the dairy case! Amazing that these items were not culled and pulled from the shelves. I know that most cultured dairy products are okay a few days past expiration, but more than 10 days is really pushing it.
Or have you opened up a frozen item days later your purchase and noticed that the product appears to have been thawed and re-frozen? This indicates that the item was stored out of refrigeration long enough and then re-frozen, also indicating a lack of proper shipping. Products like this create a high risk food item, and needs to be returned. I have also noticed lately at the grocery that fresh strawberries seem to go bad sooner than before. I will buy a container of them and within less than a week they start to mold and deteriorate. This indicates to me that the strawberries were shipped and held out of refrigeration for extended periods, or there is some inventory overstocking and they are not selling fast enough.
How concerned are you about the state of our food supply? Do you think that sanitation requirements and regulations set by the FDA, USDA and local government health and safety organizations for restaurants, food processors and food suppliers is strong enough?  How much control do we really have in knowing that our food supply chain is going to be safe? Many questions to ponder and discuss.