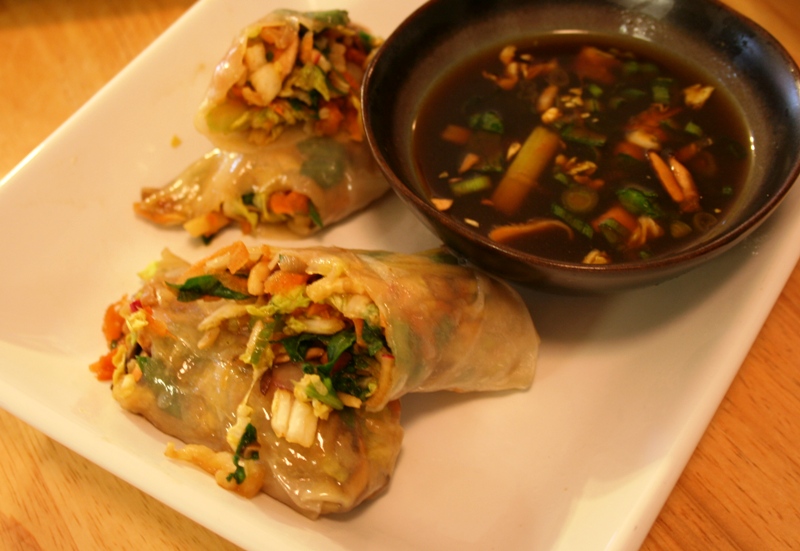 Taking what was originally a recipe for steamed egg rolls and turning it into pan steamed spring rolls took a little tweaking, but not much.
This recipe is adapted from the book American Wholefoods Cuisine, by Nikkie & David Goldbeck, and found on page 73 from the appetizers and hors d'oeuvres chapter in the hardcover, 1983 edition, which I have cherished since the day I put down $17.95 for my copy some time ago. Indeed, my passion for wholefoods cuisine began at home in my formative cooking years even before the professional apprenticeship.
The Goldbecks were way ahead of the their time back then, and I am happy to report that they are still alive and well promoting their spirit and healthy lifestyle online at Healthy Highways.
The tweaking involved making this an entree portion size, which required increasing the ingredient volumes by five times, and omitting the eggs and salt to meet the Eat To Live guidelines. The original recipe leaves open the filler ingredient list to 2 ½ cups of slivered vegetables, including green onions, celery, green peppers, carrots, mushrooms, green beans, cabbage, and cold cooked rice as suggestions.
For our version I used some left over brown and white rice, Napa cabbage shredded, carrots, green onions, mushrooms, celery, spinach, and radishes. The procedure was modified as well since it calls for making thin egg crepe-like wrappers, we used hydrated rice paper sheets for spring rolls, and instead of steaming them in a covered vegetable steamer, I pan steamed them in some vegetable stock.
This expanded recipe yields about 18 spring rolls, since we like to have enough for several days meals and lunch too. And with the Eat To Live lifestyle, you can eat up to 1 cup of starchy grains and unlimited cooked vegetables each day.
See the step-by-step photo's below for views of some ingredients and assembly procedures for making the rolls by hand.
Ingredients
1
Cup
Cooked and chilled brown rice, or combination of rice's
4
Cups
Napa cabbage, shredded
1
Cup
Carrot, shredded
1
Cup
Green onion, chopped
1
Cup
Celery, julienne
2
Cups
Shiitake mushrooms, julienne
2
Cups
Spinach, fresh, chopped
½
Cup
Radish, julienne
½
Cup
Soy sauce
½
Cup
Sherry
1
Tsp
Oriental Chili hot sauce
18
Sheets
Rice paper wrappers
¼
Cup
Oriental mustard, i.e. wasabi
½
Cup
Vegetable stock
Procedure Steps
1.
Combine all the vegetables and rice in a large bowl and mix well. Add the soy sauce, sherry, and hot sauce, and toss well to coat, then marinate for several hours. When ready to assemble, drain the marinating liquid from the vegetables and reserve the liquid for a dipping sauce.
2.
Hydrate the dried rice paper wrapper sheets one at a time in a small cool water bath, and then add a small amount of the mustard in the middle of the wrapper and about ½ cup of the drained marinated filling, and then fold up the ends and sides to enclose.
3.
These can be eaten cold, or can be heated by adding the vegetable stock to a large saute pan and carefully adding the spring rolls and turning over once to heat through.
Step-By-Step Images
The marinated filler vegetables, rice paper sheets, and cool water bath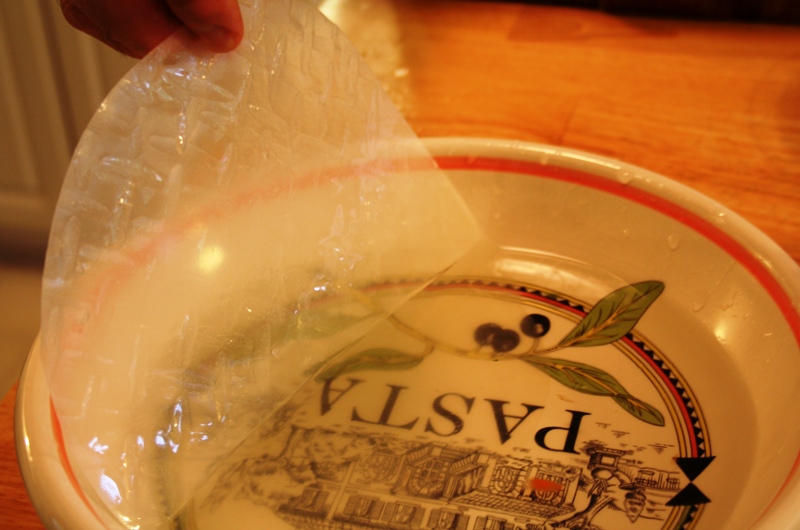 Rice paper soaked in water for 1 minute and drained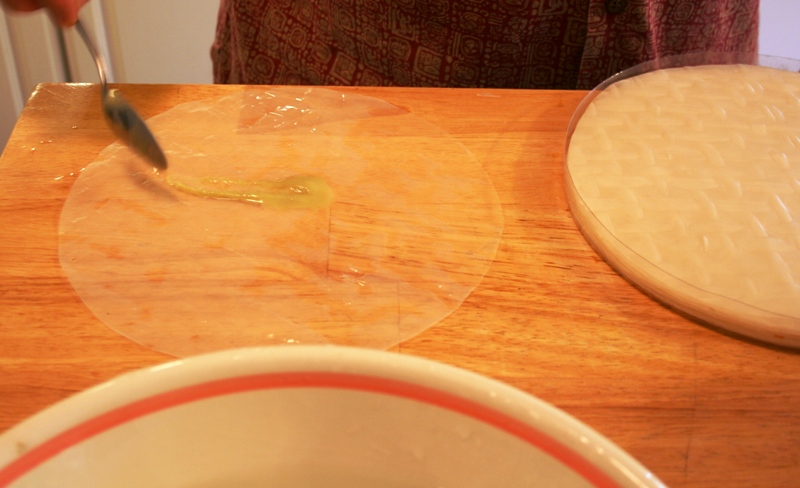 Spooning on the wasabi mustard to the center of the wet rice paper sheet
Rolling up the spring roll by hand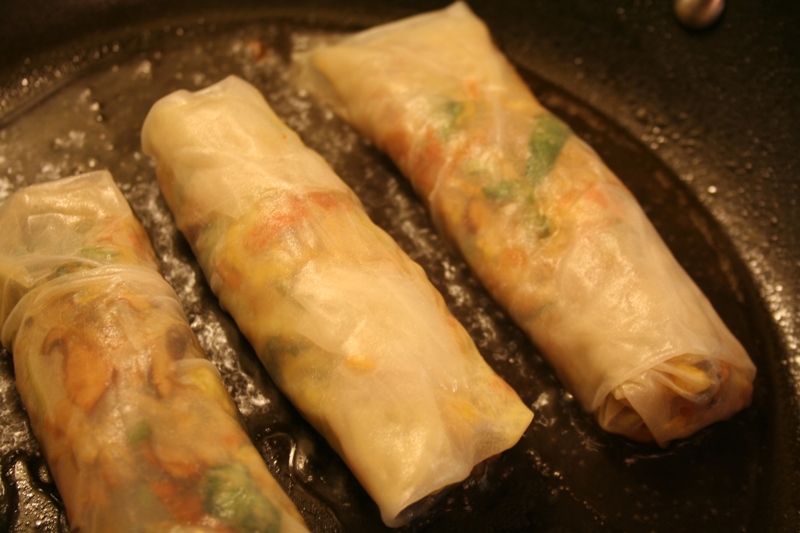 Pan steaming the spring rolls
This recipe was prepared on Eat To Live, Week 5, and linked from Eat To Live, Week 5 Recap of our ETL diet and lifestyle, you can follow our complete progress at Eat To Live. Week 5 recap will be live by Monday, May 3, 2010.