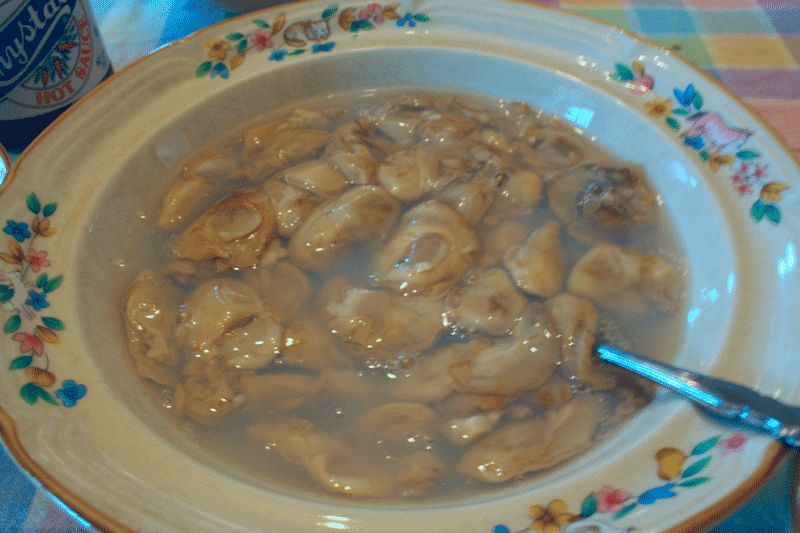 For Good Friday this year we decided to finally make the trek to the south side of Raleigh and check out two seafood markets we have been hearing about over the years. Coming from Louisiana we always had our choice of seafood on a regular basis, especially in the spring months when crabs, shrimp and crawfish are always plentiful. I wrote a short wish list of items we would look for such as halibut, cod, oysters, crabs and shrimp.
We first went to Earp's Seafood Market (1414 South Saunders Street, Raleigh, North Carolina 27603) and after spending $73 and change we walked away with 2 lbs. catfish fillets, 1 quart fresh shucked oysters, 1 lb. jumbo lump crabmeat and 2 lbs. large shell-on shrimp. We asked about live blue crabs and the owner said his blue crab supplier was in Florida for a week and it would be next weekend before he gets any in again to sell.
A few mental notes for the next visit to Earp's – they do sell frozen crawfish tail meat imported from China, so that will only do in an absolute pinch. But they also have frog legs, scallops and just about any fish. Grouper, salmon, catfish, haddock, pollock, trout, red snapper, and flounder were also available on our visit.
We then drove just a few minutes away to Capital Seafood (676 Maywood Ave, Raleigh, NC 27603) and they had live blue crabs available for $4.99/lb so we picked out 10 of our own and they weighed in at around 2 lb. We were happy with our "catch" and drove home to proceed with our seafood extravaganza.
Once home I immediately set up a stock pot with 3 quarts of water and some seasonings to boil the crabs and shrimp, in the meantime we started eating the raw oysters. Of course we had to whip up a small batch of remulade and cocktail sauces to go with the bivalve delights. Once the crabs and shrimp were done we sat down to our Good Friday Seafood Dinner complete with raw oysters, boiled crabs and boiled shrimp with potatoes, garlic, onion and celery. Lassez le bonne temps roule!
Monique picked about 4 ounces of crabmeat from the remaining crabs and the next day I combined that with the 1 lb of jumbo lump we bought and created a crabmeat stuffing. We saved the crab shells and I cleaned them up allowing them to dry overnight before stuffing. What follows is a simple yet delicious crabmeat stuffing, perfect for stuffed crab shells which we did, or stuffed founder (Bruning's Style) or for stuffing anything from artichokes to catfish.
Crabmeat Stuffing / Stuffed Crabs Recipe
Yield: 10 servings

Ingredients

¼
Cup
Red onions, finely diced
½
Cup
Green onions, finely chopped
¼
Cup
Celery, finely diced
2
Tbsp
Parsley, fresh chopped fine
1
Lb
Jumbo lump crabmeat, cleaned
1
Tsp
Cajun spice blend
1
Tsp
Crystal hot sauce
½
Tbsp
Worcestershire sauce
Juice from
½ a lemon, fresh squeezed
½
Tsp
Coarse sea salt
½
Tsp
Black pepper
2
Large
Eggs, room temperature
½
Cup
Mayonnaise
1
Cup
Panko bread crumbs (divided)
1/2
Cup
Italian bread crumbs
10
Each
Crab shells, cleaned and dried
Procedure Steps (Pre-heat oven to 450° F.)
1.
Reserve a ½ cup of the Panko bread crumbs and have the crab shells ready on a sheet pan.
2.
In a medium bowl combine remaining ingredients and mix well until smooth.
3.
With empty crab shells on a sheet pan evenly fill them with the crabmeat stuffing then evenly sprinkle the remaining Panko bread crumbs on top of each.
4.
Place in the pre-heated oven and bake for 20 minutes, or until golden brown on top and heated through.
5.
Serve immediately.