If you read my post on Polenta with Feta, Tomatoes, and Kalamata Olives dated June 4, 2010 you know that we are fairly new to working with polenta. In that recipe we used a refrigerated polenta product found in the produce section of the store, and it was fairly good. However, this time around we tackled the procedure for making polenta from a recipe of ingredients including corn meal, milk, parmesan cheese, fresh basil, fresh garlic, and chili pepper flakes.
And the result, we will never go back to store bought polenta again!
Polenta is similar to grits in being a corn based product that is cooked with a liquid ingredient, along with spices, cheeses, and protein, then thickened up a bit and served either warm or paned, cooled and shaped. It has a similar characteristic in that of a blank canvas, add you own combination of spices, herbs, vegetables, protein, dairy, and you have an endless array of combinations and permutations with this polenta.
The vegetables in this roasted recipe can include any of your favorite, here are some suggestions; asparagus cuts, sweet peppers large diced, zucchini sliced, mushrooms quartered, yellow squash sliced, red onions sliced cauliflower florets, broccoli florets, baby carrots or slices, eggplant large diced, cucumbers. The vegetables used in this recipe are included in the ingredient list below.
The recipe…
Ingredients
6
Cups
Vegetables: sweet green peppers large diced, zucchini sliced, mushrooms quartered, yellow squash sliced, red onions sliced, tomatoes large diced
¼
Cup
Plus 1 Tbsp Olive oil
¼
Tsp
Plus ½ Tsp Sea salt
½
Tbsp
Garlic, minced
½
Tsp
Crushed red pepper chili flakes
2
Cups
Milk, skim
2
Cups
Vegetable stock, divided
1
Cup
Cornmeal, yellow
1
Tbsp
Fresh basil, chopped
1
Cup
Parmesan cheese, shredded, divided
2
Cups
Mixed baby greens
Procedure Steps
1.
Preheat oven to 375°. In a large bowl combine the vegetables with ¼ cup of the olive oil and ¼ teaspoon of the sea salt. Toss well to evenly coat, then add the vegetables to a 9×13 roasting pan. Roast in oven, uncovered for about 15 minutes, the stir once and return to oven, continue to roast for another 15 minutes or until al dente, or crisp but not over cooked.
2.
Meanwhile, to prepare the polenta heat the 1 tablespoon of olive oil in a large sauce pan over medium heat. Then add the garlic and red chili pepper flakes and saute for about a minute or two, stirring often. Stir in the milk and 1 cup of vegetable stock, and bring to just under a boil. The liquid will steam up just a bit, but will not be boiling. While the garlic / stock / milk mixture is simmering combine the remaining 1 cup of vegetable stock with the corn meal and stir together well to a smooth paste. Slowly add the cornmeal mixture to the hot milk mixture, stirring constantly. Bring this to a boil, and then reduce heat to low. Cook this uncovered for about 10 minutes, or until the mixture has thickened, stir frequently. Fold in the fresh chopped basil, and ½ cup of the shredded parmesan cheese along with the remaining ½ teaspoon of sea salt.
3.
To serve, spoon the warm polenta into a serving plate or bowl, then top with the roasted vegetables, then garnish with the remaining parmesan cheese and mixed baby greens.
Optional: Pour the warm polenta into a greased sheet pan and smooth the mixture evenly into the pan. Allow to cool to room temperature and set up, then cut into portions, such as squares, or cut out rounds with a mold, then serve as above.
Dinner is served …another view…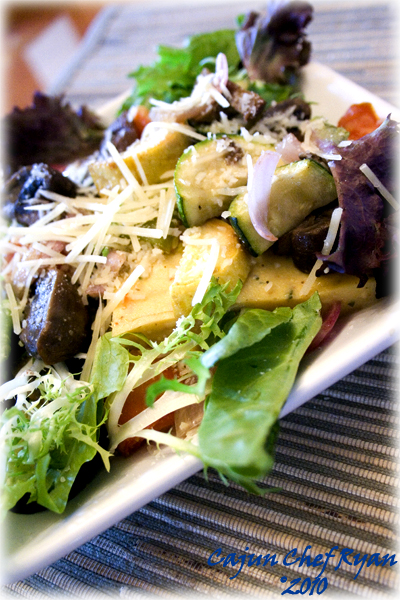 Bon appetite!
CCR
=:~)
©2010 CCR