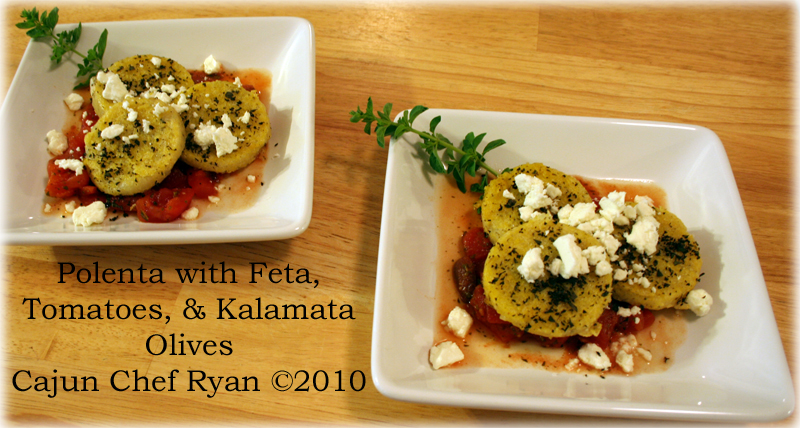 Regional and Mediterranean inspirations fuel the ingredients in this recipe, as polenta preparations can be found in various forms, including corners of the world ranging from Albania, Austria, Italy, and Turkey for European influences to Brazil and the Southwest from the America's.
Polenta is made from white or yellow cornmeal, either coarsely or finely ground depending on the region and desired texture. While there are many variations and preparations for homemade polenta ranging from a quick 12-minute microwave version, to three hours made on the stovetop as told by Bill Buford in his book Heat.
This recipe is meant to be a quick weeknight favorite that can be prepared in less than thirty minutes from prep to table, and ready-made polenta can be found in the produce section of most grocery stores. Typically, prepared polenta is sold in one-pound tubes, which can be easily cut into desired portions.
If, however, you wish to make your own polenta, here is a recipe that is quite good and makes a batch of polenta in just under an hour; it is a recipe presented by Alton Brown on Good Eats on an episode entitled True Grits, Savory Polenta.
Ingredients
1
Tbsp
Olive oil
1
Lb.
Polenta, cut into 12, ½ inch slices
3
Tbsp
Oregano, fresh, chopped, divided
3
Cups
Tomato Concasee
12
Each
Kalamata olives, pitted, quartered
1
Cup
Feta cheese
½
Tsp
Black pepper, fresh cracked
4
Sprigs
Fresh oregano
Procedure Steps
1.
Heat the olive oil in a large sauté pan and cook the polenta for 4 to 5 minutes per side, or until browned. When done, remove them, keep warm in a covered dish, and sprinkle with half of the fresh chopped oregano.
2.
Add the tomatoes, olives, black pepper, and remaining chopped oregano to the sauté pan and bring to a boil, then reduce heat to a simmer for about 10 minutes.
3.
Evenly spoon the tomato sauce onto four plates, then top each plate with three slices of the polenta, then sprinkle ¼ cup of feta cheese to the top each, and garnish each with an oregano sprig.