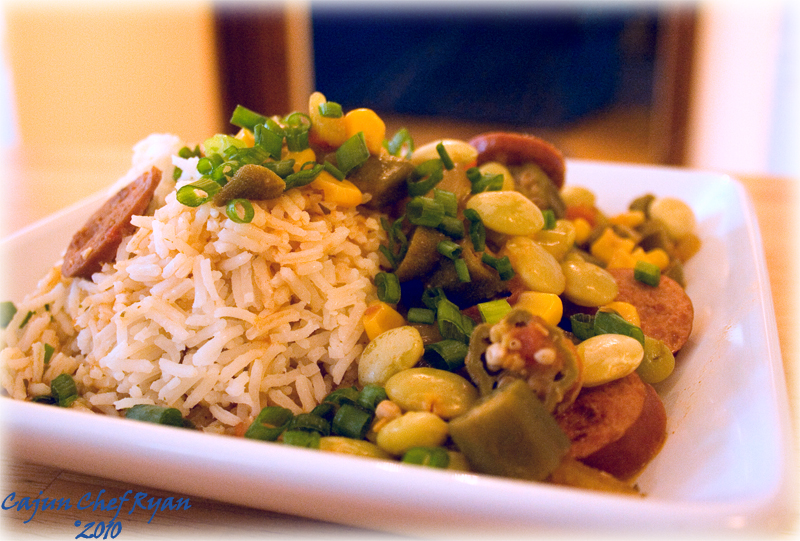 Our friend Janet came bearing gifts from her garden again and bestowed upon us a mess of okra from the winding down plots in the back yard patch. Monique and I decided to honor the okra with splendid fashion by building around it's foundation a version of our own Succotash, with a Creole angle. What makes this a Creole variety is the use of the Cajun/Creole Trinity, the onions, celery, and bell pepper which is the American version of the French mirepoix. Of course, the okra and tomatoes brings this dish to the deep roots of Creole and southern Louisiana heritage.
Succotash derives its original meaning from the Narragansett word msickquatash, which translated from the Native American Mohegan-Montauk-Narragansett language as "boiled corn kernels". This dish has evolved over time to include lima beans, other beans, tomatoes, sweet peppers, and sausages or pork based proteins in some southern versions. Our version includes this and the fresh garden okras, creating a unique one-dish meal when accompanied with some fresh cooked rice complete the assembly.
TIP: One cup of uncooked white rice will yield about three cups of cooked rice. As a rule of thumb, use two cups of water for each one cup uncooked rice, with a pinch of salt. Bring to a boil, cover and reduce heat to a simmer for twenty minutes. Fluff with a fork, and remain covered for another 5 minutes.
The recipe…
Ingredients
1
Tsp
Olive oil
1
Lb.
Turkey kielbasa, cut into ¼-inch slices
1
Cup
Onion, chopped
1
Cup
Celery, chopped
1
Cup
Green bell pepper, chopped
4
Cloves
Garlic, minced
2
Each
Bay leaves
2
Cups
Corn kernels, cut from fresh corn
2
Cups
Lima beans, shelled
4
Cups
Tomatoes, diced
1
Cup
Chicken stock
4
Cups
Okra, cut into ¼-inch slices
1
Tbsp
Thyme, fresh chopped
1
Tsp
Sea salt
½
Tsp
Fresh cracked black pepper
1 ½
Tsp
Crystal hot sauce
6
Cups
Cooked rice
½
Cup
Green onions, chopped
Procedure Steps
1.
Heat the olive oil in a large stock pot over a medium-high heat and brown the sausage for about 5 minutes. Add the onions, celery, and bell pepper and sauté until soft, or about 8 to 10 minutes, stirring often, then add the garlic and stir well.
2.
Add the bay leaves, corn kernels, lima beans, tomatoes, chicken stock, okra, and thyme. Bring to a boil, cover and turn heat down to low and simmer 20 to 25 minutes, or until lima beans and okra are tender. Stir occasionally. Add the salt, pepper, and hot sauce and season to taste.
3.
When ready to serve portion out ½-cup servings of rice with 1-cup of the Creole Succotash, then garnish with the chopped green onion.
I hope you enjoy this recipe as much as we all did. This recipe makes about twelve servings. If you want to speed up the process you can use frozen corn, frozen lima beans, and frozen okra, and you can cut the simmer time down to 10 to 12 minutes or so.
Dinner is served …another view…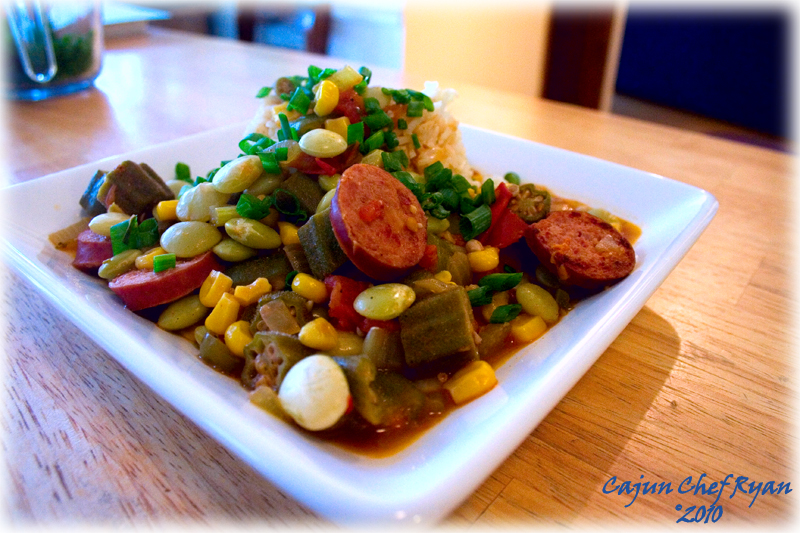 Bon appetite!
CCR
=:~)
©2010 CCR