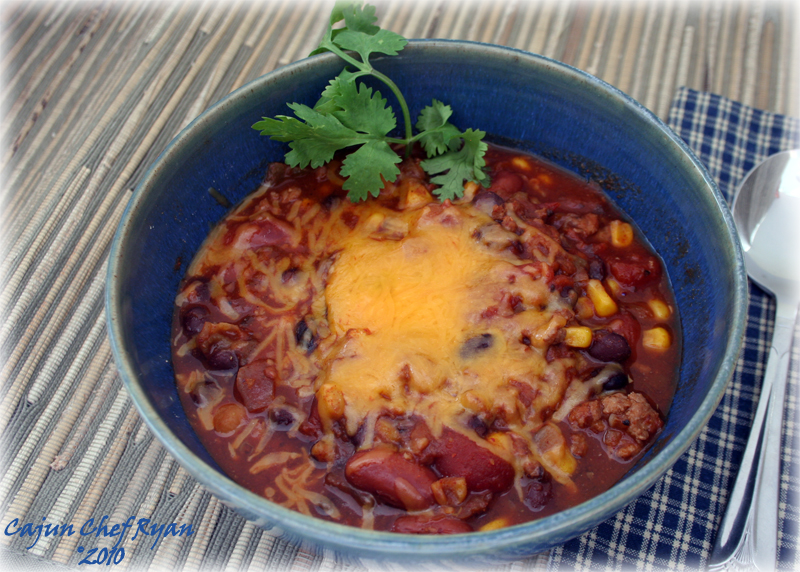 This is another crock pot slow cooker recipe that is sure to please any chili fan! Quick and easy to prepare, just add the ingredients to the crock pot and in about six to eight hours on medium heat you are ready to eat. I used a pint of my Fire Roasted Tomato Sauce for this recipe, and if you have the time or have some on hand this is a great sauce, if not, then 2 cups of other tomato sauce will suffice…I guess!
We made this dish as our contribution to the Wake Forest – Rolesville High School Band Parent's Booster kickoff dinner meeting. The band gave us a preview of their halftime show routine, and then a short volunteer meet and greet, followed by the dinner. Since the meeting was set for 5:30, we needed something that would be easy to make and warm up, this fit the bill.
Monique even got to march with Ben in a short portion of the movements, it was a hoot! Each band member had one parent shadow them in the first movement of the routine and it was hysterical!
The recipe…
Ingredients
1
Tbsp
Olive oil
1
Lb.
Ground turkey
1 ½
Cup
Red onion, diced
¼
Cup
Shallots, minced
2
Tbsp
Garlic, minced
1 ¾
lb.
Tomatoes, diced
2
Cups
Red kidney beans, cooked
2
Cups
Garbanzo beans, cooked
2
Cups
Black beans, cooked
2
Cups
Whole kernel corn
2
Cups
Fire Roasted Tomato Sauce
1
Tbsp
Worcestershire sauce
¼
Cup
Chili powder
¼
Cup
Smoky Paprika
1
Tsp
Cumin, ground
1
Tsp
Red chili flakes
½
Tsp
Cinnamon, ground
Optional
Shredded cheese and sour cream
Procedure Steps
1.
In a large saute pan heat the olive oil then saute the onions, and shallots until translucent, and then add the garlic, and ground turkey meat. Brown the meat until pink is gone.
2.
Add the browned turkey mixture to the crock pot, then add the remaining ingredients and stir well. Cover the crock pot and turn on the slow cooker to a medium setting. Allow to cook in the slow cooker for 6 – 8 hours.
3.
Stir well occasionally, serve with shredded cheese and/or sour cream of desired. And garnish with fresh cilantro if desired.
Dinner is served …another view…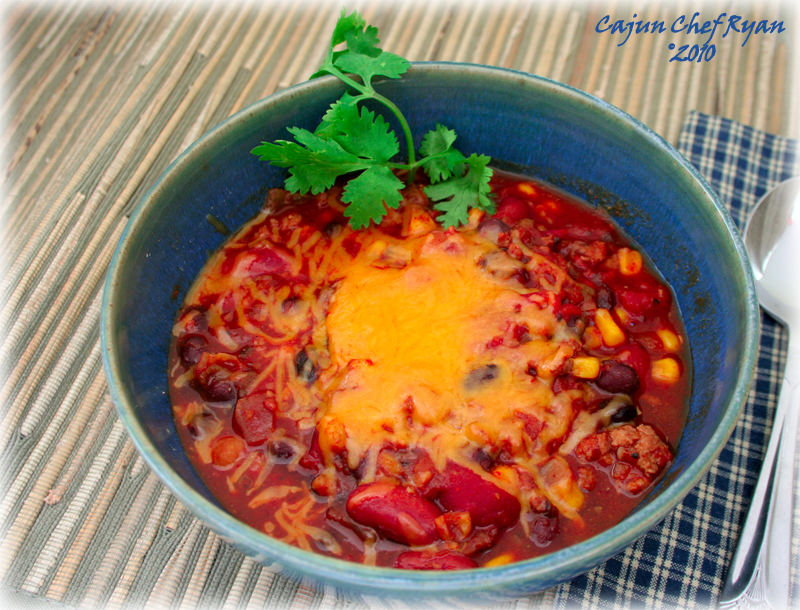 Bon appetite!
CCR
=:~)
©2010 CCR