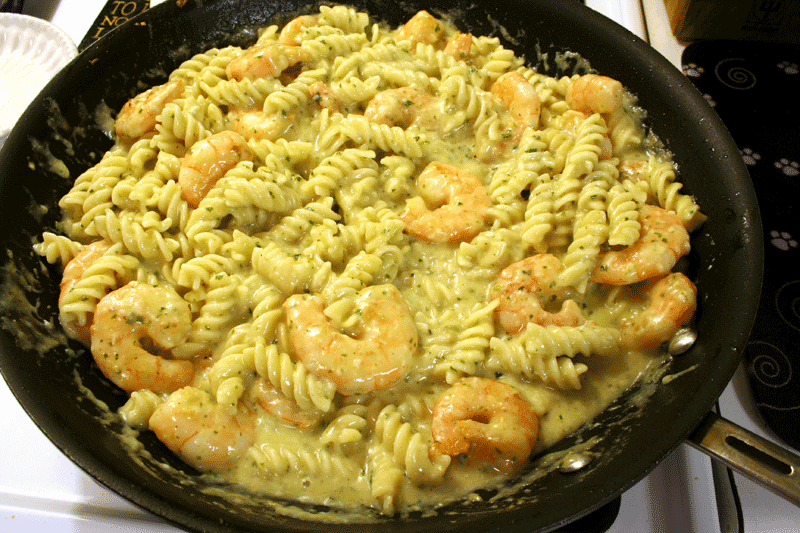 This is an adaptation of an appetizer that was very popular at the Columns Hotel during the time of Chef Chris Canan and Chef Brian Coats under the Michael's Management tenure in the 1984 to 1986 period. The appetizer menu item was listed as Shrimp and Pesto Alfredo – Shrimp, Basil, Garlic, Cream and Fettucine $4.25. (PDF – Click link to view Columns Hotel menu) The pesto was prepared in advance but was made just about every 2 to 4 days, and the shrimp and pesto pasta dish was prepared to order on the lunch and dinner menu at the sauté station.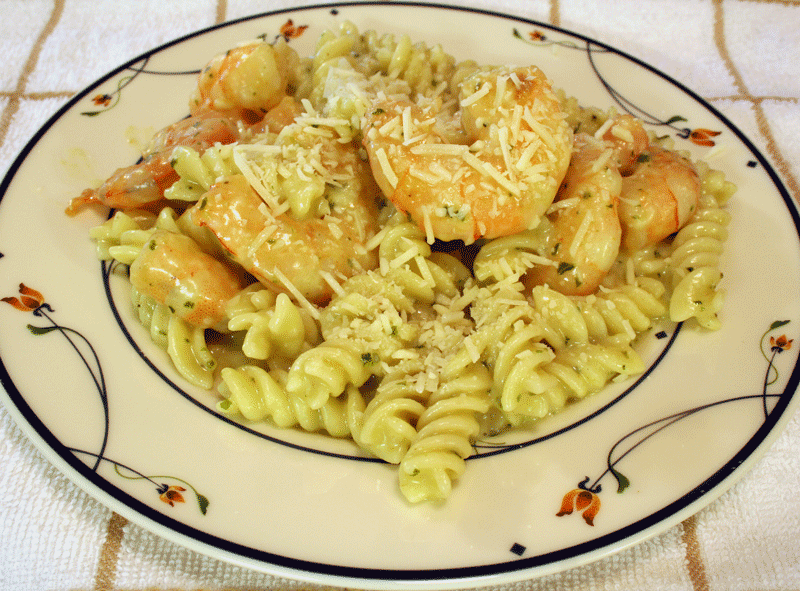 At the restaurant as orders came into the kitchen a small 6-inch sauté pan was put on the fire with a small amount of clarified butter and heated up then 4 to 6 ounces of small peeled and deveined (P&D) shrimp were added with a touch of salt and white pepper mixture. The shrimp were sautéed just a minute or so then a tablespoon of pesto and about a cup of heavy cream were added along with about a quarter cup of fresh grated parmesan cheese. This was all stirred up well and allowed to simmer until the cream thickened up a bit. Then the pre-cooked fettuccini was tossed in and heated through, once plated more fresh grated parmesan cheese was sprinkled on top and the dish was garnished with fresh basil. This dish sold like hot cakes and many would order a double portion as an entrée.
Following in the basil and pesto series and utilizing some of the fresh basil from our front yard herb garden, this recipe makes enough for 6 to 8 servings and I've also added some extra flavoring ingredients with the addition of a touch of chicken base and some Worcestershire sauce. In this recipe the fettuccini has been replaced with Rotini and the shrimp are a 21-30 count size, however, any of your favorite pasta and any size shrimp work well for this dish, just ensure to adjust the cooking times for your particular pasta and sized shrimp.
Ingredients
1
Quart
Heavy cream (or milk thickened with cornstarch slurry)
Pinch
Nutmeg
½
Lb.
Parmesan cheese, shredded
¼
Cup
Basil Pesto
½
Tbsp
Chicken base
½
Tbsp
Worcestershire sauce
½
Tbsp
Olive oil
1
Lb.
Shrimp, peeled and de-veined (P&D), any size
1
Lb.
Rotini, cooked and drained
To taste
Salt and white pepper
Procedure Steps
1.
Heat heavy cream in a large sauce pan and allow to simmer until thickened. Whisk often to prevent boiling over. Or, for a low fat and lower calorie preparation use milk and bring to a simmer and thicken with cornstarch slurry.
2.
Over medium low heat add the nutmeg and parmesan cheese and fold in to mix well.
3.
Add the basil pesto, chicken base, and Worcestershire sauce mixing evenly into the sauce and continue simmering over a low heat.
4.
Add the olive oil to a large sauté pan over a high heat. Add the P&D shrimp and sauté until they are pink, then add the sauce and fold in the pasta to heat through. Then season to taste with salt and white pepper.