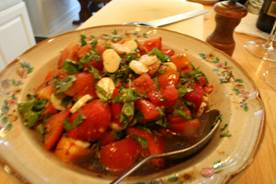 Following in my basil series is this recipe that we have made a handful of times in the past few months. It is found on many a restaurant menu as either an appetizer in a neatly arranged presentation or as a similar salad. This perennial favorite takes on an easy and quick preparation as a marinated salad with fresh grown heirloom tomatoes and fresh basil both harvested from our front garden. With the addition of some sliced mozzarella string cheese, this salad is marinated with just enough balsamic vinaigrette dressing to coat the tomatoes, basil and cheese.
Ingredient quantities vary depending on the number of ripe tomatoes ready from the garden, but this particular batch was made with 4 of our heirloom tomatoes, a large handful of fresh basil which was cut into a chiffonade and about 4 ounces of the string cheese sliced into rounds. All this was tossed with about ¾ cup of balsamic vinaigrette dressing with some salt and fresh cracked black pepper to taste.
A chiffonade is a culinary procedure for preparing leafy greens such as spinach, mint or in this case with basil where it is cut into long and thin strips. The leaves are stacked together and then rolled tightly into a cigar or tube shape, then thinly cut across the top with a sharp knife and resulting in the long thin ribbons. The word "chiffon" is French for "rag" which refers to fabric-like strips that result from this cutting method.