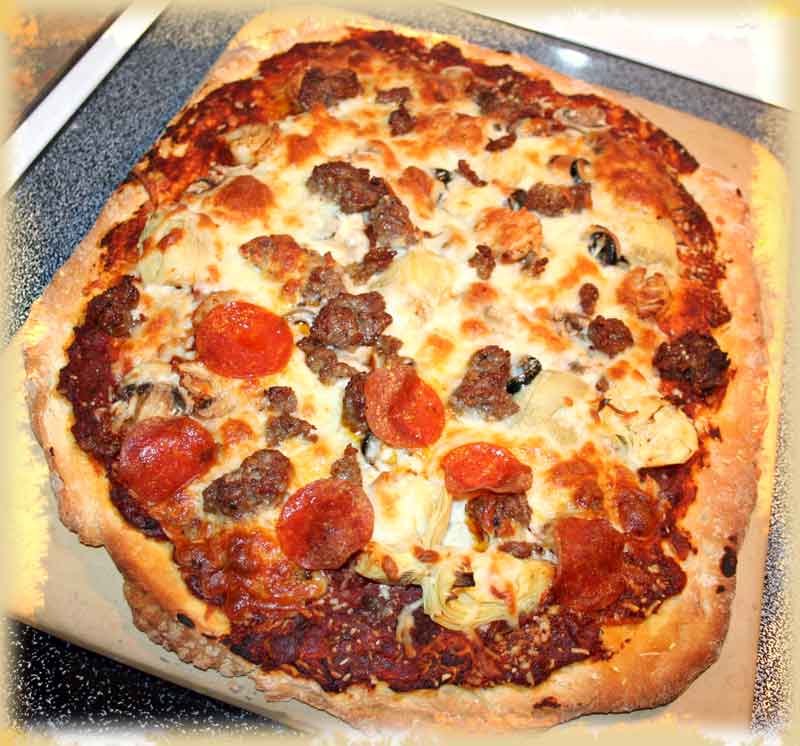 We have prepared hand made pizzas on several occasions and is quite fun to do when staying in a cabin, which is what we did on our first night at the Paradise Point cabin last week for our Christmas trip which I posted about our adventures and misadventures earlier in the week with Mountain Christmas Cabin Adventures.
A short note of apology! If you reached any of my web pages recently and got a warning about malware being installed from the site, this issue has been resolved. A third-party ad link was the suspected culprit. This message from Google Webmaster tools: A review for this site has finished. The site was found clean. The badware warnings from web search are being removed. Please note that it can take some time for this change to propagate.

I apologize for any inconvenience this may have caused any of my visitors, it is certainly an issue that has caused much headache and pain that was very unexpected. I know of a few other foodie bloggers who have had the same issue crop up for their sites, and it is no fun being targeted by hackers and also having your site blacklisted in the process. Now, back to the pizza recipe.
This is a simple and quick from scratch and hand made pizza dough recipe. Below this is a list of suggested toppings, and my quick tomato sauce recipe too.
Pizza Dough
Ingredients
1
Pack
Active dry yeast ( 2 tsp)
1
Tbsp
Sugar
1
Cup
Water, warmed to 110° F.
3
Cups
All purpose flour
1
Tsp
Salt
1 ½
Tbsp
Olive oil, divided
Procedure Steps
1.
Dissolve the yeast and sugar in the warm water and set aside to activate the yeast for about 5 minutes.
2.
In a large mixing bowl combine the flour and salt, then make a well in the center of the dry ingredients and pour in 1 Tbsp of the olive oil and then add the yeast mixture. Stir until it begins to form a ball. Then turn it out onto a clean, floured surface.
3.
Kneed the dough for 5 minutes, or until it becomes a smooth, elastic ball. Set the oven to 170° F to set up was is known as a proofing box.
4.
Lightly oil the ball and a large bowl with the remaining olive oil. Place the dough in the bowl, and cover with a slightly damp kitchen towel.
5.
Set the bowl with the covered dough in a warm 170° F oven then turn off the heat.
6.
Allow the dough to double in size, or about an hour and thirty minutes.
7.
Remove the dough from the bowl and punch down, then cut into two equal portions, or about 12 ounces each. Pre-heat oven to 500° F.
8.
Roll each portion into a ball, (If desired you can refrigerate or freeze the dough if necessary) then working with a lightly floured surface, stretch the dough and work it with your fingers or a rolling pin to form a 16-inch circle, this will be the crust. Do this for each dough ball for two pizzas. The outer edge of the circle should be a little thicker than the body, forming a rim.
9.
Add the tomato sauce (see recipe below) in a thin layer. Then add any toppings, typically cheese, toppings, and then more cheese.
10.
Transfer pizzas to a pan or pizza stone, then put them into the pre-heated 500° F. oven and bake until the crust is golden brown and the cheese is melted, 10 to 15 minutes, or longer if the oven does not heat exactly to 500° F.
If you want that crisp, restaurant-quality pizza crust in your own home, cook your pizza on a pizza stone. A pizza peel is a handy tool, too, for transferring your pizzas to and from the oven. A Pizza Stone and Peel Set is inexpensive and adds professional pizzazz to the pizza making event.
Family eagerly anticipating some pizza!
Quick Pizza Tomato Sauce
Ingredients
½
Tbsp
Olive oil
1
Cup
Onions, chopped
6
Cloves
Garlic, minced
2
Tbsp
Rosemary, fresh chopped
1
Cup
Merlot, or red wine
½
Can
Tomato paste, 6 ounces
1
Can
Tomato sauce, 14 ounces
1
Tbsp
Italian seasoning blend
To taste
Salt and black pepper
Procedure Steps
1.
Heat olive oil in a saucepan and sauté the onions and garlic until soft, then add the rosemary and stir well.
2.
Add the red wine and allow it to reduce a bit, then stir in the tomato paste until incorporated and then add the tomato sauce and allow to simmer for a few minutes.
3.
Add the Italian seasoning and continue to simmer for at least 30 minutes.
4.
Season to taste with the salt and black pepper.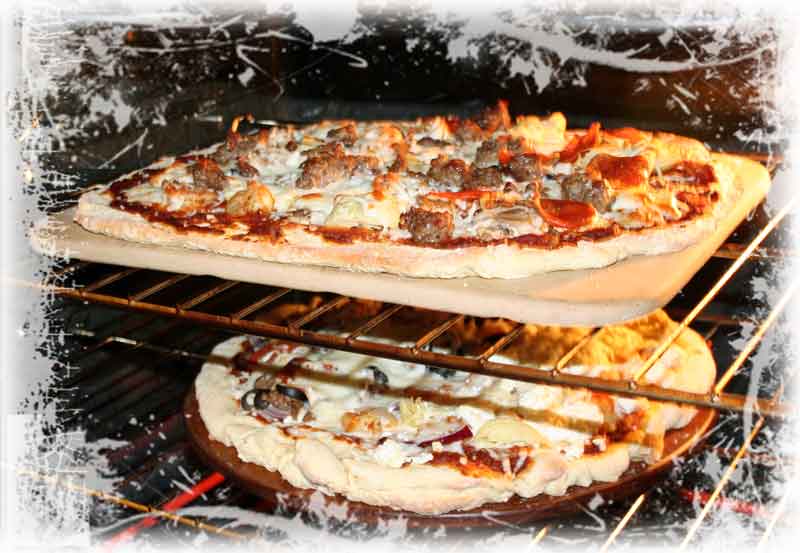 A Short List of Suggested Toppings
Meats
Italian sausage, browned and drained
Bacon, cooked, drained and chopped
Canadian bacon
Pepperoni
Shrimp, pre-cooked
Crabmeat
Anchovies
Boneless chicken strips, pre-cooked
Vegetables
Bell peppers, red, green, yellow, sliced
Red onions, sliced
Artichoke hearts, quartered
Capers
Black olives, sliced
Green olives, sliced
Celery, sliced
Spinach leaves, steamed
Broccoli, par-boiled and chilled
Cauliflower, par-boiled and chilled
Cheeses
Feta cheese, crumbled
Mozzarella cheese, shredded
Provolone cheese, shredded
Romano, Parmesan, or hard Ricotta cheese, shredded