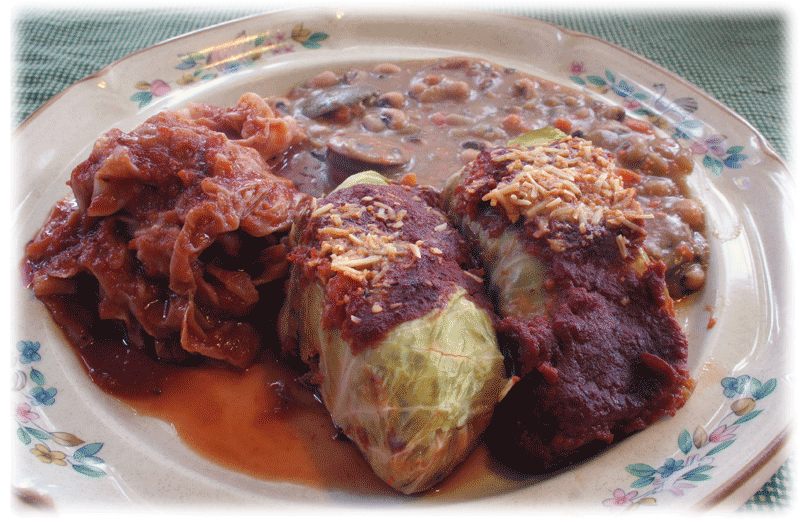 For New Year's we decided to continue in following with the tradition of cabbage for money, black-eyed peas for health, and pork for wealth, and the perfect way to combine a few of this into one dish! Therefore, we set out to make our cabbage roll stuffing with some Italian sausage, which contains ground pork, and stuffed inside the cabbage, this combines two of the required ingredients. We had some leftover black-eyed-pea soup that I re-heated and thickened with a bit of Wondra flour to make it a side dish. In addition, with some left over tomato sauce and cabbage leaves, we combined those to make a smothered cabbage in tomato sauce.
Monique and I decided that these cabbage rolls would be our new New Years Day dinner tradition, and next time around will include some fresh black eyes in the stuffing, making the perfect trifecta good luck treat.
Happy New Year!
Ingredients
Cabbage
To cover
Water
1
Whole
Cabbage, 5 lb. average
1
Tsp
Salt
Stuffing
1
Tbsp
Olive oil
2
Cups
Onions, diced
1 ½
Cup
Celery, diced
6
Cloves
Garlic, minced
1
Lb.
Italian sausage with pork
1 ½
Tbsp
Rosemary, fresh chopped
1
Tsp
Garlic salt
½
Tsp
Black pepper
2
Cups
Rice, cooked and chilled
2
Tbsp
Paprika
2
Large
Eggs, beaten
2/3
Cup
Italian breadcrumbs
Sauce
1
Can
Tomato paste, 6 oz.
6
Oz.
Red wine
1
Can
Crushed tomatoes, 28 oz.
1
Tbsp
Italian seasoning
1
Tbsp
Worcestershire sauce
Topping
½
Cup
Parmesan cheese, shredded
Procedure Steps    Note: Click thumbnails for a larger view.
1.
Put the whole cabbage into a large stockpot and cover with water, add the salt and bring to a boil. Continue boiling to soften the cabbage leaves. While the cabbage is cooking start preparations on the stuffing and then the sauce.
1.
For the stuffing: Heat the olive oil in a large sauté pan and add the onions and celery and sauté until translucent then add the garlic and continue over the heat for a few more minutes.
2.
Add the raw Italian pork sausage and brown until all pink is gone. Add the rosemary, garlic salt, and black pepper and stir well to incorporate and continue to heat through a few more minutes.
3.
Transfer the sausage and vegetables to a large bowl and allow cooling to room temperature, and then add the cooked rice, paprika and stir well. Then add the beaten eggs, and then the breadcrumbs to form the stuffing.
4.
For the sauce: In a medium saucepan add the tomato paste, red wine, crushed tomatoes, Italian seasoning, and the Worcestershire sauce, combine well and bring to simmer for 30 minutes.
5.
Once the cabbage leaves are tender, pull them gently from the bottom stem one leaf at a time using a pair of metal tongs, and drain them in large bowl, allowing them to cool before stuffing.
6.
To stuff the leaves cut the tough stem portion of about 2 inches from the bottom in a V shape, then add about ¼ cup of the stuffing at the bottom of the leaf. Then starting from the bottom roll the leaf around the stuffing then fold the edges over and then continue rolling. Place stuffed cabbage rolls onto a greased baking pan.
7.
Once you have the baking pan full of cabbage rolls, top with the tomato sauce and then add the grated parmesan cheese.
8.
Bake in a pre-heated 350° F. oven for about an hour or until heated through and sauce is bubbling and cheese is browned.