Inspirational moments…
Bakery is always one of those segments in the kitchen repertoire that always gives me that warm fuzzy feeling inside.
Wafts of savory, yeasty, floury, cheesy, and herbed breads fill my heart and soul with the warmth of life …everlasting!
If bread is the staff of life, I was sold the first day I set eyes on my great grandmother Christofell's yeast risen rolls sitting under the sill of the kitchen window in her massive kitchen. I was only four or five then, but I still remember the kitchen scene to this day …planted in my minds eye for eternal bliss.
She with her apron on, juggling bowls, pans, whisks, mixers, spoons, a tap here, and a rattle there, meanwhile, the yeast bread resting in a quiet watch over the festivities.
Those yeasty rolls were as tall as skyscrapers lined up on Park Avenue in NYC, and the aroma even before they were baked was like a heaven sent gift from God, these rolls were alive!  And all I knew was that I wanted one…now…raw, it didn't matter!
The Recipe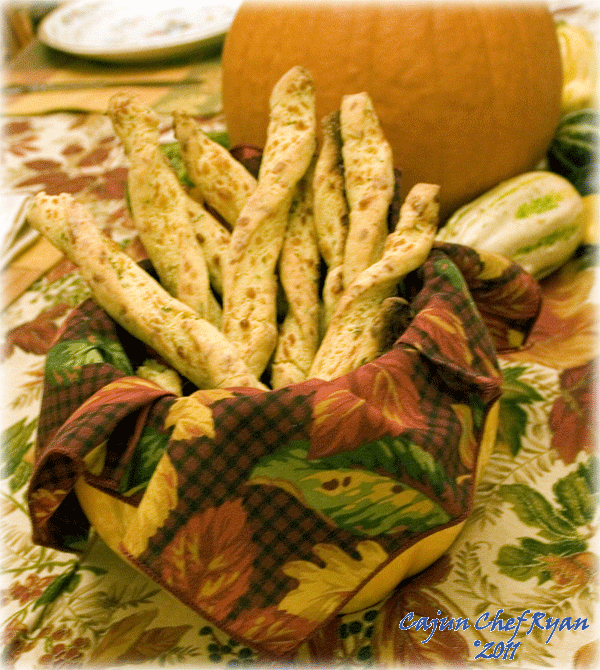 Vermont Cheddar Rosemary Bread Sticks
Today I am sharing another bread recipe; this one is a twisted stick of cheese and fresh herbed goodness!
These bread sticks are great with soups or salads, and this particular batch were served along with my Acorn Squash Soup, a fantastic accompaniment.
The shredded Vermont cheddar cheese, though it starts out white in color while fresh, when baked in these bread sticks take on an orangey yellowy hue, as you can see in the images displayed.
The fresh from the garden rosemary, always exploding with earthly herbal delight, adds a wonderful touch to these cheese bread sticks. Going out into the yard with my kitchen shears in hand, snipping off several branches of the fine herb, and coming back into the kitchen with essence of rosemary coated hands, it's like aromatherapy in my own back yard. Sniff the hands, breath in the natural goodness…oh my!
Ingredients
1½
Cups
All-purpose flour, unbleached
½
Cup
Cornmeal
1
Tbsp
Baking powder
½
Tsp
Sea salt
¼
Lb.
Butter, unsalted (1 stick), cold, diced
4
Oz.
Vermont Cheddar cheese, shredded
1½
Tbsp
Rosemary, fresh, chopped
½
Cup
Skim milk, non-fat
1
Tbsp
Honey
Procedure Steps: Preheat oven to 425°F.
1.
Stir together the flour, cornmeal, baking powder, and salt
2.
Place the dry ingredients in the bowl of a food processor, then add the cold cut butter, and process until the mixture has the consistency of coarse meal. Turn out the mixture into a large bowl, and then stir in the cheese and rosemary. (NOTE: If you do not have a food processor cut the butter into the dry mixture using two knives in a crosscut fashion.
3.
Combine the milk and honey in a separate bowl, make a well in the dry ingredients, and then pour the liquid mixture into the flour mixture, stirring with a large spoon until a soft dough forms. Work quickly and do not over mix.
4.

On a lightly floured surface, knead the dough for about ten strokes.

5.

Using a rolling pin roll out the dough in a rectangle until it is about 1/2-inch thick. Using a sharp knife, cut out sticks of dough 1/2-inch wide. Twist them into a spiral and space them about 1/2-inch apart on two un-greased baking sheet pans. Gather up the scraps, gently form into another rectangle, and cut, and then place on the sheet pans.

6.
Bake the bread sticks in the preheated 425°F oven for 15 minutes or until the tops are golden brown.
Makes about 20 bread sticks.
TIP: The bread sticks can be prepared, and placed on the sheet pan and covered with plastic wrap and refrigerated up to 4 hours before baking time. When ready to serve, have the pre-heated oven ready and place the sheet pans in the oven about 25 minutes before you are ready serve the soup.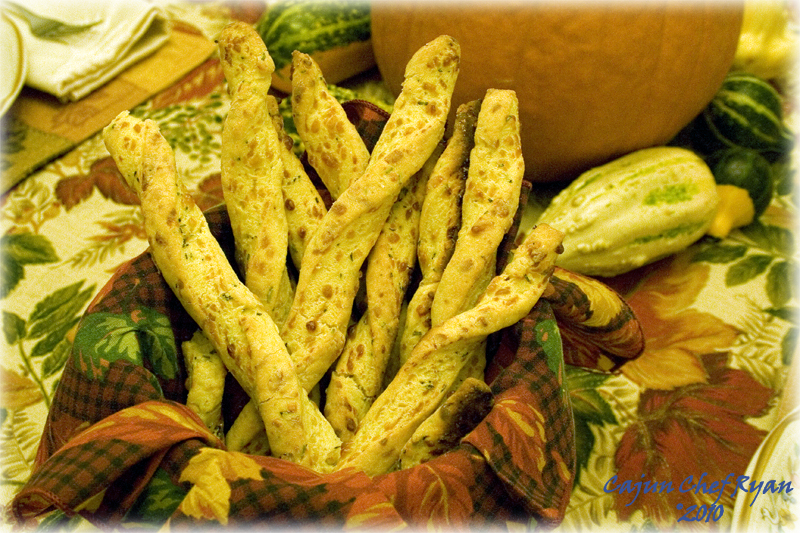 Vermont Cheddar Rosemary Bread Sticks
---
Bon appetite!
CCR
=:~)
©2011 CCR