If you have never visited Carla's food blog you need to make a click on over there to see all her wonderful offerings. In addition to all the wonderful videos, she features a dream home kitchen that many a foodie would envy, me included. Carla also highlights "Daily Menus" including holidays, and some are 1400 calories or less, being quite a healthy choice.
About Carla
Carla of "Ideal Cooking In Carla's Kitchen"
Carla Meine is currently the creator of the blog Ideal Cooking in Carla's Kitchen (ICCK) which is a video site about creating tasty recipes for those that are trying to eat healthier. She has over 30 years of experience in managing/owning companies including Godfather's Pizza, Mrs. Fields, and Sea Galley Restaurants. In her free time she plays tennis, creates new recipes for her blog, and enjoys spending time with her seven children and nine grandchildren.
Join me in welcoming Carla to the CCR blog! She has a great recipe for some light and fluffy strawberry mousse cupcakes that I know you will all enjoy!
The Recipe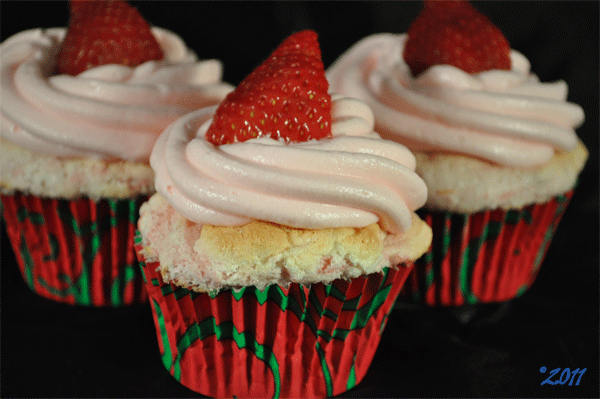 Strawberry Mousse Cupcakes
Hello Cajun Chef Ryan readers, it's really awesome to be a guest blogger for someone I read so frequently. And while I never get nervous experimenting in the kitchen for one of my blog's, you'll have to forgive me if this post isn't up to par, as guest blogging isn't something I'm used to doing. If you're not familiar with ICCK (that's okay I'll forgive you this time) it's my blog.  I'm always creating new recipes and talking about what I like and didn't like about the experiments; what pans out and what doesn't. Today, I went out on a limb with a pretty different dessert and just a basic recipe to upgrade. Though, if the empty cupcake pan at the end of the day was any indication, these Strawberry Mousse Cupcakes were a big hit with my family. The grand kids especially loved them and had no clue that they were sugarless.
There's a recipe I made for a sugarless angel food cake and it has gotten a thumbs up when I used it in a fruit truffle. I thought now would be a great time to take the recipe and see if I could turn it into a fruit flavored cupcake since I had some Sugar-free strawberry Mousse Mix in the cupboard, I thought it would be a perfect time for it. Strawberry flavored cupcakes with strawberry mousse piped on top and I really liked the results
Angel Food Cake scares a lot of people, so I made a video to show you just how easy it really is. I used a product called Sans Sucre Sugarless Strawberry Mousse Mix for frosting. (If you can't find that in your grocery store then get the Jell-O Sugarless White Chocolate Pudding and mix it up for the pie directions—using less milk—so it's really thick) Add some additional strawberry puree to that and blend. Refrigerate for at least 2 hours before using it to frost your cupcakes. 
Strawberry Mousse Cupcakes
Ingredients
1½
Cups
Skim milk
2
Pkgs
Sans Sucre Sugarless Strawberry Mousse Mix
7
Medium
Strawberries, divided (Save 3 of them to garnish the cupcakes)
2
Tbsp
Sugar Free Strawberry Jam
1
Cup
Egg whites (6-7 large eggs)
¾
Tsp
Cream of Tarter
¼
Tsp
Salt
1
Tsp
Vanilla
¾
Cup
Somersweet Baking Blend (you can use sugar or sugar substitute), divided
¾
Cup
Sifted Cake Flour
Procedure Steps
1.
Take skim milk and pour into a bowl. Add Strawberry Mousse Mix. With electric mixer blend on low for about a minute then increase speed to high for 5 minutes. Cover and refrigerate.
2.
Prepare muffin tin with 12 liners. Preheat oven to 350 degrees.
3.
Puree 4 strawberries with strawberry jam in a blender until smooth.  Set aside.
4.
Pour egg whites into the bowl of a stand mixer along with cream of tarter, salt and vanilla.  Beat until stiff enough to form soft peaks but still moist and glossy.  Add 6 Tbsp of sugar or sugar substitute, 2 Tbsp at a time, continuing to beat till egg whites hold stiff peaks (see video below).
5.
While eggs are beating, sift cake flour with remaining 6 Tbsp of sugar or sugar substitute 2 times.  When eggs have reached a stiff peak sift a third of the flour mixture into the egg whites and gently fold into them.  Repeat 2 more times until you have folded in all the flour mixture.  Then gently add the strawberry puree to the mixture and fold it in leaving a swirling affect.  Scoop batter into muffin tins leaving a cap on each of them.  Even though they rise in the oven they will fall a little upon cooling and this way they will still have a cap on them.  Bake for 10-12 minutes until the tops are brown.  Let cool completely.
6.
Take mousse from refrigerator (prepared in step 1) and place in a pastry bag with star tip (or your favorite frosting tip) and pipe mousse on the top of each cupcake.  Slice the remaining three strawberries into 4 pieces each and place one on the top of each cupcake.  Place back into refrigerator until ready to serve.
This recipe makes 12 cupcakes. 
Each one has 90 calories, 2 fat grams, 13 carbs and 4 grams of protein.
The Video
And here is her specially produced video just for this blog post!
Happy viewing!
Thank you so much Carla for sharing with us this wonderful light and healthy dessert treat!
Bon appetite!
CCR
=:~)
©2011 CCR