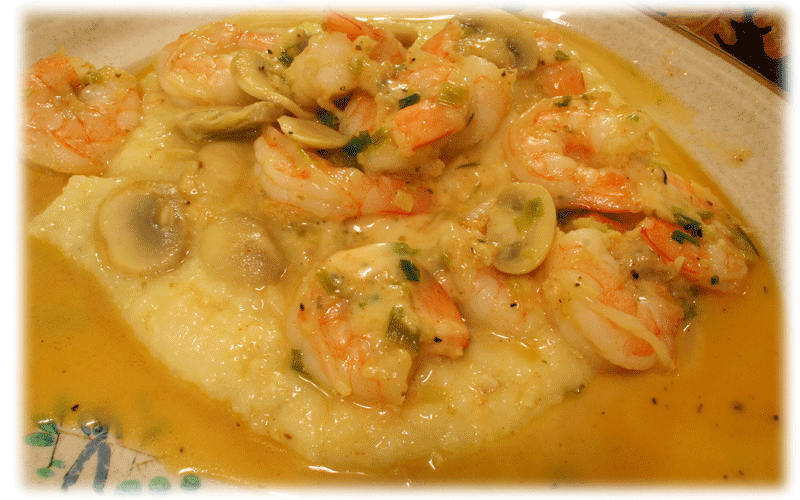 A few months ago, Ben got braces put on his teeth, and the staff at Gladwell orthodontics pleasantly treated us for what typically would be a traumatic event, had turned into a delightful time. You might be wondering what orthodontic braces have in common with a seafood dish, and you would be correct! Turns out that I was wearing my
Emerils.com polo-style shirt with the logo that day and the assistant asked me if I worked for Emeril. The answer of course was yes I did, and no, not currently. Eventually the discussion turned to food, which seems to happen for me a lot, and the receptionist asked if I had a good recipe for shrimp and grits. At the time, I did not have an answer, but told her that a shrimp étouffée served over grits would most likely be very good, and that there was a recipe for that on my site.  To this day, I have not tried the étouffée over grits, but now have this true shrimp and grits recipe to share. Therefore, Gladwell staff, this one is for you!
Shrimp and Grits is a Carolina favorite served up and down the coastline and into the Piedmont regions, found on many a local restaurant menu and seems to be a favorite for Sunday brunch menus as well. Now I have had Grillades and Grits, the old New Orleans favorite which is sort of veal stew served over grits, and it is some good too!
This recipe inspired by the Cooking up a Storm cookbook, with a few slight variations. The original recipe, found on page 137, has the preparation setting up the grits in a casserole dish and then finishing in the broiler or oven with the shrimp and cheese sauce. Therefore, a casserole style dish transforms into a plated entrée with this variation listed here.
Serves 6 portions
Ingredients
4
Tbsp
Butter
4
Cups
Chicken stock or broth
1
Cup
Grits, instant or 5-minute
½
Lb.
Jarlsberg cheese or Swiss cheese, grated
½
Lb.
Button mushrooms, sliced
¾
Cup
Green onions, finely chopped (white and green parts)
4
Cloves
Garlic, minced
½
Cup
Dry white wine
2
Lb.
Shrimp, medium-sized, peeled and deviened
1
Tsp
Cajun Spice Blend
Procedure Steps
1.
"In a large saucepan, bring the chicken stock to a boil and add the grits, stirring well. Cook until thick but still pourable, about 5 to 7 minutes. Stir in ½ of the cheese and allow it to melt into the grits well. Turn off the heat and reserve for plating.
2.
In a large sauté pan, melt the butter over medium-high heat and sauté the mushrooms, green onions and garlic for 4 minutes, or until mushrooms are soft. Add the dry white wine and allow it to reduce just a bit, and then add the shrimp and the Cajun spice blend. Stir well and continue to cook until the shrimp are slightly undercooked. Then fold in the remaining ½ of the shredded cheese and allow it to melt into the shrimp and sauce, stirring frequently.
3.
Portion the grits evenly onto 6 serving plates and then spoon the shrimp evenly over them. Serve immediately. A side of cheesy garlic bread goes well with this dish.