In New Orleans there used to be a local pastry shop known as McKenzie's Bakery, just about every neighborhood in the city had one. You could drive to Algiers, Gretna, Uptown, Downtown, Mid-City, Metairie, Gentilly, Westwego, or the Lakefront and you could find one of the 47 or so locations. For over sixty-five years, the New Orleans culinary landscape shaped by their popular desserts, pastries and baked goods, yet the love affair would eventually come to an end.
In May of 2000, the Entringer family announced that the company was closing up all their shops, but there was a short sigh of relief when a new owner announced plans to re-open some of the store locations, however within a year, they too filed for bankruptcy and by 2001, McKenzie's Bakery had closed it doors forever. Some of the old locations have been converted to new businesses and some of the old neon remains, as in The Creole Creamery location in Uptown New Orleans.
Some of the beloved treats that McKenzie's were famous for were the pastry shells, or in the New Orleans vernacular, called "patty shells". These are small vol au vent brioche-like pastry shells fresh baked and sold by the dozen. The shops had a time keeping up with them around the holidays and during Carnival (Mardi Gras). Several catering menus around town included these on holiday fare, and would feature such savory items as Oyster Patties, Bienville Patties or Rockefeller Patties (all served warm), or even dessert patties with chocolate mousse or with fruit custards too.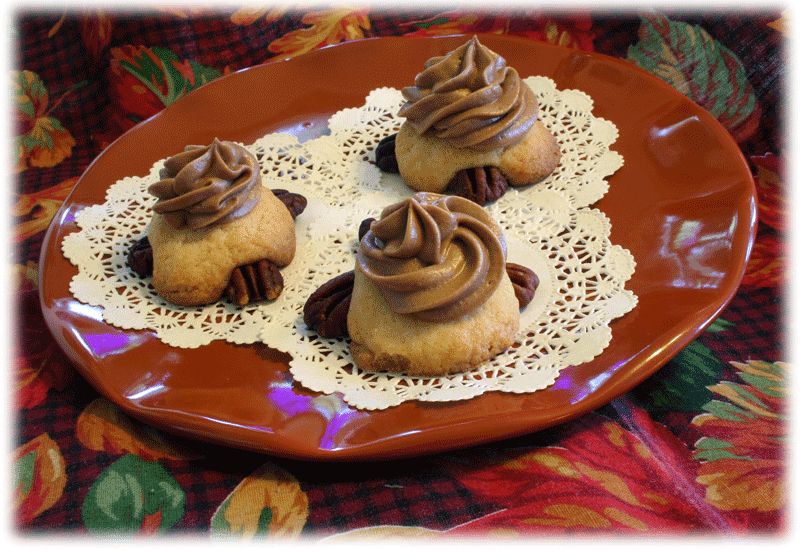 McKenzie's were also famous for their ladyfingers, buttermilk drops, Blackout Cake, wine cakes, King Cake, Halloween Cookies and the Chocolate Turtle Cookies featured in this post. And one of Monique's all time favorite McKenzie's Bakery favorites is these little baked cookie morsels with pecans and chocolate frosting, she will be surprised when she finds about 4 dozen of them in the kitchen today.
On December 11, 2008 National Public Radio broadcast a segment with an interview of Marcelle Bienvenue, co-author of the book Cooking Up A Storm, click on the link where you can read more about the book. This book is a great tribute to the city of New Orleans and the rich food heritage that continues to flourish four years after Hurricane Katrina. The recipes lost and found by the local newspaper The Times-Picayune is a response to the post-Katrina community pulling together lost recipes through the food section entitled "Exchange Alley" where folks traded lost and found recipes.
One if the beloved recipes in the book are a very close version of McKenzie's Turtle Cookies, found on page 294 and reproduced here with a few minor variations. There is also another variation of this recipe discovered during a short Internet research and may try that one out later…for now…here is the McKenzie's Turtle Cookie recipe…brought back to life again!
Note: Click on thumbnail images for a larger view.
Ingredients
Cookies
¾
Cup
Butter, unsalted, room temperature (1 ½ sticks)
1
Cup
Sugar
1
Lg
Egg
2
Tbsp
Milk
½
Tsp
Vanilla extract
1 ¾
Cups
All-purpose flour
1 ½
Tsp
Baking powder
¼
Tsp
Salt
½
Lb.
Pecan halves
Frosting
4
Tbsp
Butter, unsalted
2
Oz
Chocolate, unsweetened, (2  squares)
1/3
Cup
Milk
½
Tsp
Vanilla extract
3
Cups
Confectioners sugar
Procedure Steps
1.
Pre-heat oven to 375° F.
2.
For the cookies Beat with an electric mixer in a large mixing bowl the butter and sugar until light and fluffy. Then add the egg, milk, and vanilla extract and mix well.
3.
In another bowl, combine the flour, baking powder and salt.
4.
Add the flour mixture to the butter mixture and beat well to combine.
5.
Place 3 pecan halves close together on an ungreased cookie sheet pan and then scoop 1 tablespoon of the dough on top of the pecans. Be sure they are about 1 ½ inches apart and continue until all dough is used.
6.
Bake in the oven for 12 to 15 minutes, or until lightly browned on the edges, then let cool on a wire rack before frosting
Frosting
1.
In a small saucepan over low heat, melt the butter, chocolate and milk. Stir well but do not worry if it looks a bit coddled, this is normal.
2.
Pour the chocolate frosting into a mixing bowl and allow it to cool to room temperature.
3.
Add the vanilla extract and then gradually add the sugar and mix with the beater attachment of an electric mixer until smooth and thick
4.
Top each cookie with a dollop of the frosting or using a pastry bag with a star tip, pipe out the frosting into a nice iced design.