Dessert and Baking creations of Ingeborg Simpson
Sharing recipes with foodie friends has become a daily treat as the CCR blog continues to evolve into something more than I've ever dreamed of when it started out in May of 2008. In addition, it is with great pleasure that this is our first guest blog post from a fellow foodie Ingeborg Simpson. Furthermore, for someone who does not have a blog at all, but should, Ingeborg who lives in Edmonton, Alberta, Canada, is a mother of three and a grandmother of four, she is an Internet stumbler friend on Stumble Upon, the social book marking web site. Originally, from Germany, where all of her relatives live, Ingeborg moved to Edmonton in November 1957.
Ingeborg Simpson says that she learned how to cook by watching TV shows in the '70's.  She did not have a clue about cooking, let alone baking.  However, her family needed to eat and she liked to learn and experiment.  Her son was born in 1972 and while he was sleeping, she had the opportunity to watch a cooking show for half an hour.  One was a local program, the other from Toronto.  Oh, and must not forget Julia Child.  She never missed her program; she would sit there with a writing pad writing down the recipes. Ingeborg said she learned by trial and error, and yes, she admits to certainly having a few disasters.  She watched Emeril Lagasse every day, when he was on the Food Network, and enjoyed Ina Garten; she has two of her books.  Also, Anne Willan's book, "Country Cooking of France", she says is a terrific cookbook!  Ingeborg says, "I have too many cookbooks to mention."
Ingeborg's sister Heidi became a Chef; and her husband, Alex, was a Chef.  They were married 10 hours before she died at the Rosedale Hospice.  She is not sure why her sister choose this profession, but she was very good at it, Ingeborg said. Her cousin's son is learning to become a chef, and her son Robert, is Chef de Cuisine (fancy name…lol).  She also never expected him to go into this profession; he used to speak of becoming an International Lawyer or Architect.  Ingeborg said, "I don't know what happened…lol."
Here are a few examples of the typical day in the life of cooking at home for Ingeborg.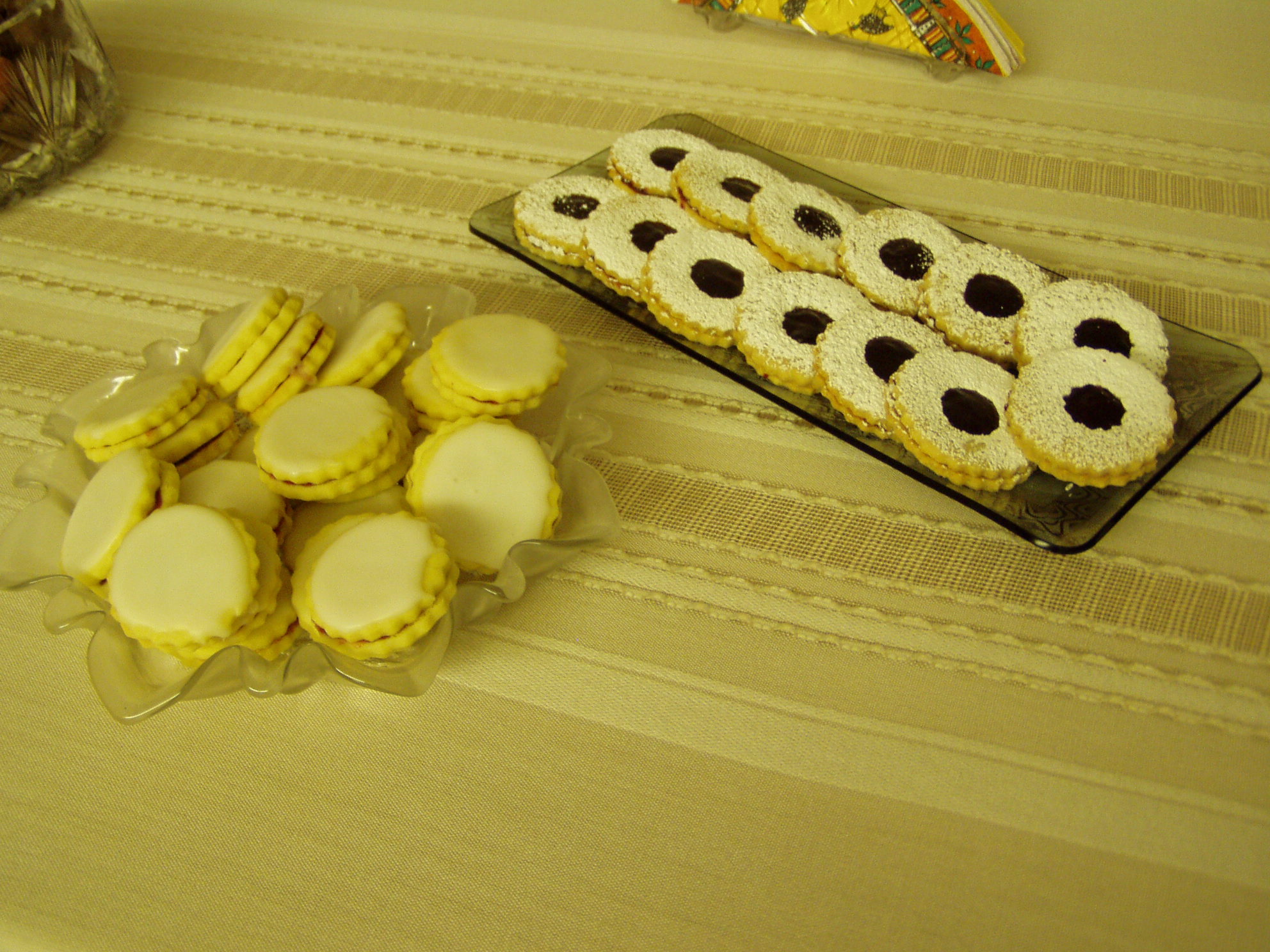 Linzer Cookies and Scottish Empire Biscuits
"Its 10:24 A.M. Saturday (12/12/09) and minus 31 C!  With the wind-chill, it is minus 40 C., but it is a sunny day, just darn cold."
Ingeborg: "Here are the two recipes.  The Scottish Empire Biscuits traditionally have maraschino cherries on top (either halved or quartered, and usually made a bit bigger), however, I didn't have any maraschino cherries, and quite frankly, I don't like it too much, as the cherry liquid, even after drying them, always gets into the icing.  The Linzer Cookies melt in your mouth!" (Note: Click on the hyperlink for the Linzer Cookies recipe.)
Ingeborg: "Right now, I am waiting for my yeast mixture to rise (45 min.).  I am making Dresdner Stollen.  This recipe makes three loaves.  This recipe also is from 1979.  The recipe comes from the White House Pastry Chef Albert Kumin."
Ingeborg also noted this in reference to the Empire Biscuits recipe, "Always, always use butter.  I have never used margarine.  I've never purchased margarine in my life!"
Empire Biscuits
Ingredients
3
Cups
Flour
1
Cup
Sugar
½
Lb.
Butter
1
Large
Egg
½
Tsp.
Baking soda
1
Tsp.
Cream of Tartar
Procedure Steps
1.
Cream together the butter and sugar (a little bit at a time); add the egg and cream some more.
2.
Add the flour gradually to form a stiff dough. Knead well. Roll out and cut into shapes with a cookie cutter. Any size cookie cutter you like.
3.
Bake at 350° F. oven for 12 – 15 minutes. Leave on wire rack to cool. Put together with raspberry jam. Top with icing when cool. Note: The cookies freeze very well without the icing.
Tiramisu

Here are some of Ingeborg's other favorite dessert creations, she said…"This is the Tiramisu recipe I have used for many, many years, but I always make it my own.  I love to use Lemoncello, Brandy, Grand Marnier, Cointreau; I've used Port and Marsala as well.  I like to experiment". (Note: click on hyperlink for the Tiramisu recipe.)
| | |
| --- | --- |
| "It's around 8:42 PM and Ingeborg is wrapping up in the kitchen from a full day of baking, "The Stollen turned out beautifully.  Soooo, delicious!  I will never buy another Stollen.  I macerated the raisins (dark and light) in a lot of rum…yummy, and added the crushed almonds just before adding to the dough.  The marzipan is in the middle.  I have to tell you, it's finger lickin' good!  I don't have a sweet tooth, but I do taste a wee bit of my baking.  I imagine my husband would like another piece tonight.  Oops, I just noticed the time; it's too late to eat now." | Stollen |
| | |
Ingeborg sent in over 30 images and it was very hard to pick from them all, but here are some of the other dessert and bakery treats that she often creates in her home kitchen.
| | |
| --- | --- |
| | |
| Chocolate-Raspberry Moelleux | Whole Wheat Bread |
| | |
| --- | --- |
| | |
| Lemon Mousse | Lemon Mousse Plated |
| | |
| --- | --- |
| | |
| Raspberry Torte (Her birthday cake) | Cinnamon Buns |
In addition, Ingeborg can be found in the kitchen on most days, she said in a recent update, "I'm off to the kitchen now. Making biscotti this morning. I think that's all the baking I'll be doing. Well, maybe I'll make a cake for the 28th. Our daughter-in-law Joanne is a nurse. She is working during Christmas, but they will be here with family on the 28th. They live in Calgary. Hope that the highway will be in good traveling condition. The weather is brutal here! It's minus 31 C. right now!"
---
Thank you Ingeborg, we are looking forward to hearing from you again soon on your baking and dessert adventures.
A question or two for my fellow foodies and  bloggers: Do you have guests post on your blog? If so, are they successful and rewarding for your blog? Would you like to submit a guest post on the CCR blog? If so, and even if you do not have a blog, please let me know by email if you would like to be a guest on the CCR blog, the contact information is located in the footer section of this page.