Monique chose this recipe from the Weight Watchers magazine "Five Ingredient, Fifteen Minute recipes" and found on page 35, this is an amazing preparation. This was our first time cooking and eating flat iron steak, and I have to say it is a very good cut of beef. Similar in shape to flank steak, but a whole other texture and flavor, this flat iron steak is also an interesting cut. It is rated by the North American Meat Purveyors (NAMP) as the second tenderest cut of beef, ranked just under tenderloin. In addition, I have to concur with the NAMP; this is not only a very flavorful steak, but very tender and juicy when grilled to medium-well doneness.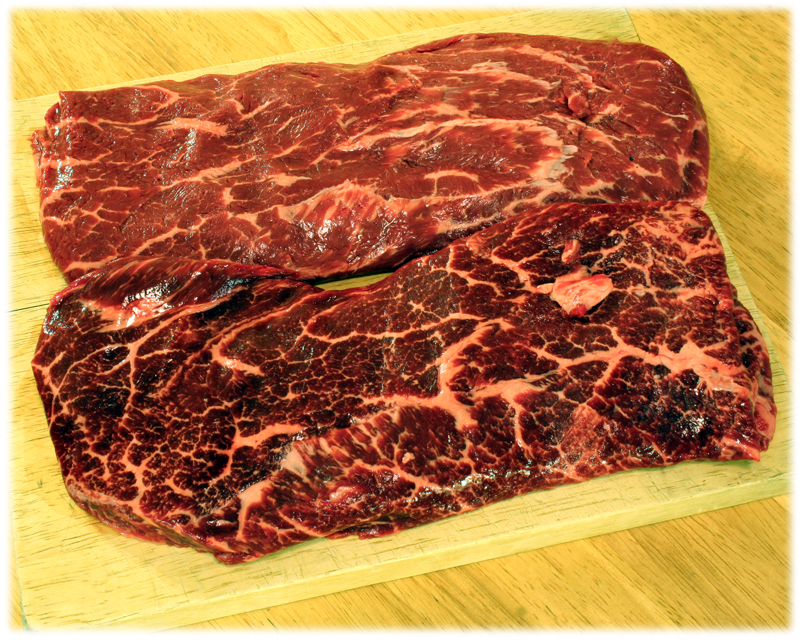 Back in the day, or around 1983 when I was taking the requisite butchering class at the apprenticeship there was no such cut of beef known as the flat iron steak. Of course, the section that the flat iron originates has always been there, it actually is derived from the #1114D Beef Shoulder, Top Blade Steak, as listed in the NAMP meat buyers.
We first tired to find some of this flat iron steak at Super Target, after our inquiry, the meat guy said they do not carry it, but that the cut was developed by researchers at the University of Nebraska and the University of Florida. This piqued my curiosity to say the least.  We did find some packaged flat iron steak at Lowe's Supermarket and scooped up two one-pound average pieces of this very interesting cut.
According to the Animal and Veterinary Sciences College of Agriculture, Meat Science and Processing Facility lab web site on Flat-Iron Steak, this cut of beef was developed with research funding by the National Cattleman's Beef Association. The link to the flat iron steak also will give you a short history on how it has come to been named "Flat Iron" steak.
We modified this recipe by doubling the quantities so we could have some leftovers, and the only other change from the original is that we had some canned pineapple rings on hand and used those instead of fresh. The original recipe has a Weight Watcher Points value of 5, each 1-pound flat iron steak yields 4 servings, or 3 ounces of cooked meat, and ¼ cup of the pineapple salsa. Calories 236, Fat 8.2g, Protein 24.4g, Carbohydrates 13.9g, Fiber 0.8g, Cholesterol 40mg, Sodium 287mg, Calcium 45mg.
Click on these images below for a larger view.
| | |
| --- | --- |
| | |
| Seasoned before grilling | On grill with green onions |
| | |
| | |
| Resting before slicing | Just sliced flat iron steak |
| | |
| | |
| Another plate view | Grilled Pineapple Salsa |
Ingredients
3
Slices
Pineapple slices (½-inch thick), cut into chunks
2
Tbsp
Brown sugar
1
Lb.
Flat iron steak
¼
Tsp
Salt
½
Tsp
Black pepper, freshly ground
Cooking spray
1
Lg.
Green onion
½
Cup
Salsa, fresh
Procedure Steps
1.
Prepare the grill.
2.
Sprinkle pineapple chunks with the brown sugar. Sprinkle the steak with the salt and pepper on both sides.
3.
Grill pineapple chunks on grill and cook on each side until browned and tender, or about 4 to 6 minutes. Combine the pineapple with the salsa and set aside.
4.
Spray the grill with the cooking spray. Grill the flat iron steak for 4 minutes per side or to desired doneness. Four minutes will be just at around medium-rare, depending on the grill heat. Add the green onions and grill for just a few minutes on each side. Chop the green onions and add them to the salsa.
5.
Remove the steak from the grill and allow it to rest for at least 5 minutes. Slice the steak against the grain in thin pieces.  Serve with the pineapple salsa.