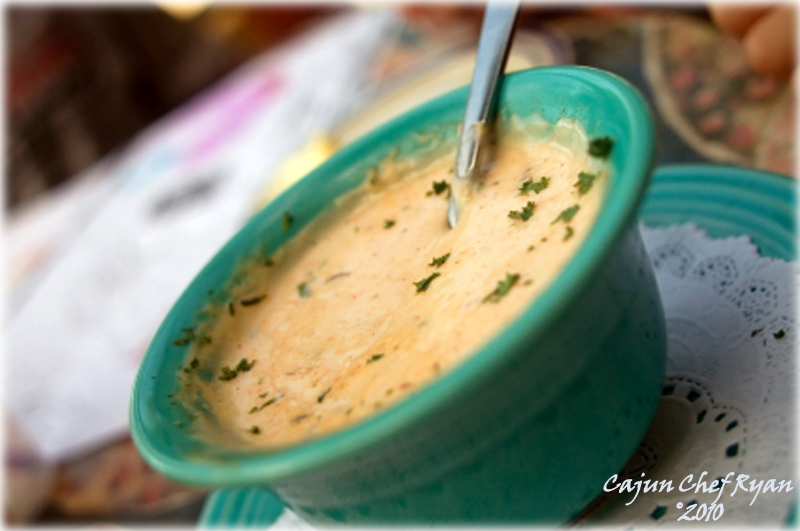 Creole Crab and Corn Soup
Been on a soup kick lately with the cooling temps and thought it would be nice to share a seafood style of soup on this cold Friday in November.
Here is my version of a southern favorite, crab and corn soup, and this one is a hearty soup and would make a meal on it's own with a side of fresh baked bread or maybe a salad.
NOTES: 1.) The first part of this recipe is making a stock, and while the procedures are fairly consistent with the restaurant version, you can still make this one at home; the quantities have been reduced for most home kitchens. The total time to prepare the stock portion of the procedures is about 2 ½ hours, so a warning to you as this is not a quick recipe.
2.) In the stock portion of the ingredients you will notice that the items are "chunked", this means a very large course chopping, in fact the onion only needs to be cut into eights and the carrot into 1 inch or large pieces, you get the idea right?
3.) You will need to shuck and clean the four ears of corn before making the stock and soup.
4.) Gumbo crabs are small blue crabs that have been cleaned and dressed but uncooked, and add an incredible flavor to seafood soups and gumbos. Gumbo crabs are skinnier, less desirable crabs that wouldn't get used for their meat. They are sold with the back shell already removed to allow the stock or gumbo liquid access to the meat and fat within, resulting in delicious flavor.
5.) To get the eight cups of trinity (onions, celery, bell peppers) chopped you will need about 2 2/3 cups each of onions, celery, and bell peppers chopped.
6.) For the ¾ pound of blond roux you will need about ½ pound of melted butter and ½ pound of flour, see making a roux for steps needed.
Ingredients
Stock
1
Large
White onions, coarse chunked
1
Large
Carrot, chunked
2
Ribs
Celery, chunked
1
Bunch
Leeks, chunked
1
Bulb
Fennel, chunked
4
Cloves
Garlic, whole
4
Each
Corn husks and cobs
1
Tsp
Black peppercorns
2
Each
Bay leaves
1
Sprig
Thyme, fresh
3
Quarts
Oyster liquor, seafood stock, or clam juice
2
Lbs.
Gumbo crabs, cleaned and dressed ( or shrimp shells)
Soup
2
Tbsp
Butter, melted
8
Cups
Trinity (onions, celery, bell pepper) chopped
4
Ears
Corn, kernels cleaned from cobs
1
Quart
Heavy cream
¾
Lb.
Blond roux
2
Lbs.
Lump crab meat
1
Tbsp
Worcestershire sauce
½
Tbsp
Crystal hot sauce
To taste
Salt and white pepper
Procedure Steps:
1.
Stock: Bring all the ingredients to a boil except the crabs or shrimp shells, and then reduce heat to a simmer for two hours. Then add the gumbo crabs or shrimp shells and simmer for another 30 minutes. Strain the stock and reserve liquid allowing it to cool. Discard the solid ingredients.
2.
In a large stock pot melt the butter and then sweat the trinity and corn until soft. Add the stock and bring to boil, and then reduce heat to a simmer for 20 minutes. Skim any scum from the top of the liquid. Whisk in the blond roux and continue to simmer 30 minutes or until thick.
3.
Add the heavy cream and bring back to a simmer, allow to simmer another 10 minutes to heat through.
4.
Fold in the lump crab meat, and then add the Worcestershire sauce, Crystal hot sauce, and the salt and white pepper to taste.
To Serve: Ladle an 8 ounce portion in each bowl and garnish with fresh chopped parsley.
Yield: approximately 24 1-cup portions
Bon appetite!
CCR
=:~)
©2010 CCR