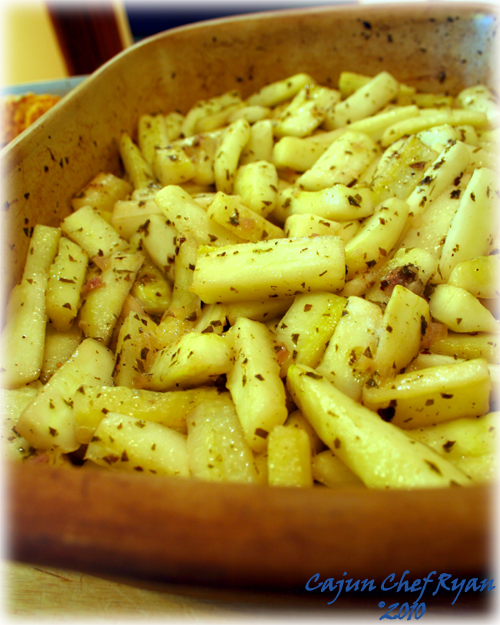 Braised Cucumbers
Cucumbers have natural high moisture content, and when handled correctly will result in a tastefully crispy side item to any main dish. The trick is to remove the excess wetness without compromising flavor and texture by gently tossing the cucumbers in a mixture of salt, sugar, and white wine vinegar and allowing them to soak for at least thirty minutes and up to several hours. This semi-brine solution helps release the excess moisture and preserves the flavor, and it also removes any bitterness in European cucumber varieties.
Ingredients
6
Large
Cucumbers
2
Tbsp
White wine vinegar
2
Tsp
Sea salt
½
Tsp
Sugar
3
Tbsp
Butter, melted
¼
Cup
Shallots, minced
1
Tbsp
Basil, fresh, chopped
½
Tsp
White pepper
2
Tbsp
Parsley, fresh, chopped (optional)
Procedure Steps:
1.
Peel the cucumbers, and then cut them in half lengthwise. Scoop out the seeds with a spoon. Cut into lengthwise strips about ½-inch wide. Then cut the strips into 2-inch long pieces.
2.
In a large bowl combine the white wine vinegar, sea salt, and sugar, stir to dissolve. Then toss in the cucumbers and allow them to marinate between 30 minutes and up to 2 hours.
3.
Pre-heat oven to 375º F. Melt the butter in a sauté pan and sweat the shallots until soft, and then toss the cucumbers into a 9×13 baking dish and toss with the butter shallot mixture, basil, and white pepper. Place in the middle rack in the oven and roast for 30 minutes. Remove from oven and stir well, then roast for another 30 minutes, or until the cucumbers appear cooked, yet still have a hint of a crispy texture.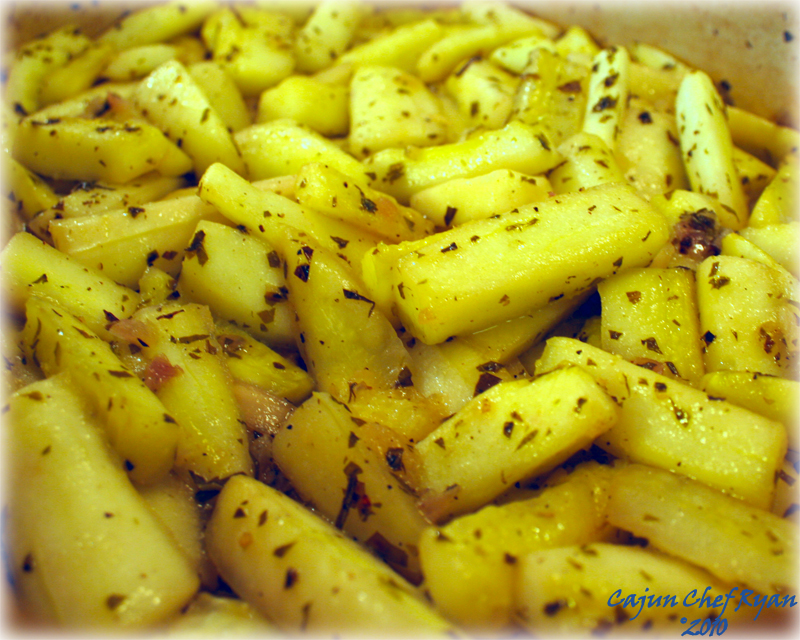 Braised Cucumbers…another view.
To Serve: For Parslied Cucumbers, toss with the fresh chopped parsley and serve immediately.
Yield: 8 to 10 servings
Variation: Creamed Cucumbers: Bring 2 cups of heavy cream to a boil, and then reduce heat to a simmer and continue until it has reduced by half and has thickened to a sauce consistency.  Use a wire whisk and stir often to prevent the cream from boiling over, or scalding on the bottom. Season the cream with salt and white pepper to taste, stirring well with the whisk. Fold the warm cream sauce into the braised cucumbers, and then sprinkle with 1 tablespoon of fresh chopped parsley.
Dinner is served …another view…
Braised Cucumbers served with Oven Fried Catfish and Herb Roasted Potatoes.
Oven Fried Catfish recipe
Herb Roasted Potatoes recipe
Bon appetite!
CCR
=:~)
©2010 CCR