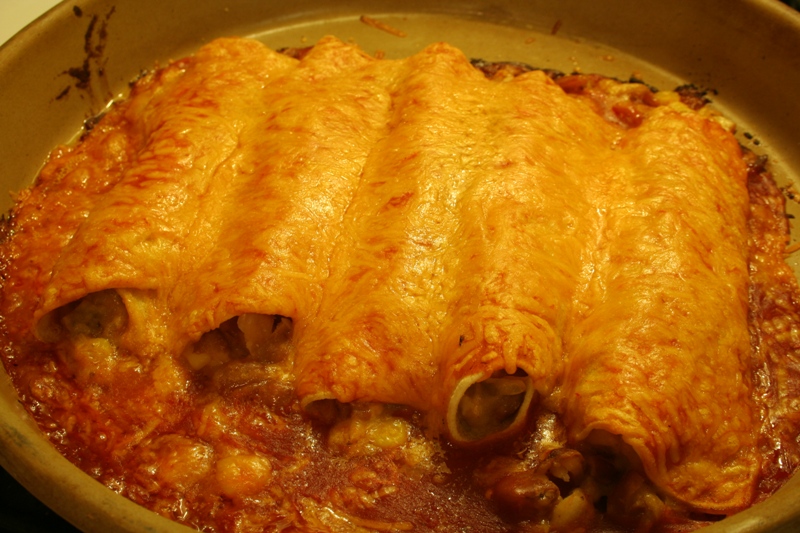 Lately I have been on a trend of making my own breads, snacks, and now with this recipe I made my own tortillas for this enchilada recipe. Eventually when the jar of store bought mayonnaise runs out I will start making my own mayo in small 2-cup batches, besides saving a lot on the grocery bill, I also know what ingredients are in my preparations. No more partially hydrogenated fat for us! The pan of baked enchiladas shown on the left are some of the extra that did not fit in our other baking dish, these looked great on their own!
Currently about half-way through reading the book "Eat to Live" by Joel Fuhrman, M.D., and he has some startling medical breakthrough findings that are quite eye opening. And with our focus of going back to simpler, whole, and unprocessed foods, it makes sense to make from scratch whole grains and unadulterated foods from just about everything we are eating these days. More on ETL and Dr. Joel in another post!
Ingredients
2
Cups
Pinto beans, cooked
1 ½
Cups
Whole kernel corn, sweet white and yellow mixed
¼
Cup
Onion, grated
4
Cloves
Garlic, minced
1 ½
Cups
Cheddar cheese, shredded
2 ½
Cups
Enchilada sauce, divided
24
Each
Corn tortillas (see recipe link below)
Cooking spray
Procedure Steps
1.
Combine the pinto beans, corn, onion, and garlic in a bowl and then add ½ cup of the cheddar cheese and ¼ cup of the enchilada sauce, and stir well to combine.
2.
Warm the fresh made tortillas and then spread about 2 tablespoons of the bean and corn mixture down the center of each tortilla, then roll then up and place them in a baking dish coated with cooking spray. Ensure that the seam side is down.
3.
Once all the tortillas are stuffed, evenly pour the remaining enchilada sauce over the enchiladas and then sprinkle the remaining 1 cup of shredded cheddar cheese.
4.
Cover the baking pan and bake for 30 minutes in the 375° F oven, or until bubbly. Serve three enchiladas per portion.
Corn Tortillas
I followed this recipe closely, and could not have written it better myself. At the time, I did not have a tortilla press and used the backside of a large sauté pan to press the masa dough balls into rough tortillas using plastic wrap. We bought a new tortilla press this past weekend at the Smithfield Outlets from Kitchen Connection, and I hope to get some use out of it soon. The corn tortilla recipe and the steps to making them is taken verbatim from the back of the MASECA corn masa mix bag. I doubled the recipe and had a few extra tortillas left over, in addition I wanted more than need for error or mistakes.
This recipe is another from the Weight Watchers "Simple & Classic Home Cooking" and found on page 76 in the meatless main dishes. It has a nutritional value listed as 413 calories, 67.3 carbohydrates, 9.7g fat, 6.6g fiber, 18.5g protein, 19mg cholesterol, 721mg sodium, 416mg calcium.